Welcome to this week's Dark Web roundup, where we delve into the latest unsettling incidents that have emerged from the depths of the hidden online realm. Our SOCRadar Dark Web Team has been busy digging up some serious findings that you need to know about.
From the sale of French citizen data to a credit card leak associated with Jeeves, a database breach linked to Ferrari, and a high-profile victim of the notorious AlphVM Blackcat ransomware group, the digital landscape remains treacherous.
So, let's dive into these stories to better understand the ongoing and concerning activities happening in the darker corners of cyberspace.
Get your free Dark Web Report now and find out if your data has been compromised.
Data of French Citizens are on Sale

SOCRadar Dark Web Team has identified a post where a threat actor is advertising the sale of alleged data pertaining to French citizens. The dataset reportedly contains 8,354,147 records and is indicated to be fresh. The sample data provided includes personal details such as names, gender, physical addresses, phone numbers, and e-mail addresses. The post includes a link to Telegram for further details.
50K Credit Cards of Jeeves are Leaked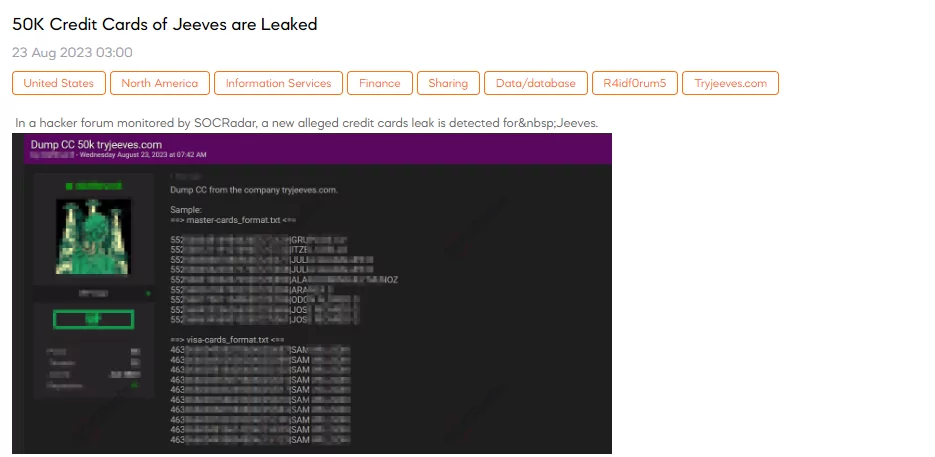 SOCRadar Dark Web Team analysts have uncovered a new alleged credit card leak reportedly associated with Jeeves. The post indicates the availability of dumped credit card information, categorized in files named "master-cards_format.txt" and "visa-cards_format.txt." The provided format for the leaked credit card data includes details such as CC number, expiration month and year, CVV (Card Verification Value), and cardholder name.
Database of Ferrari is Leaked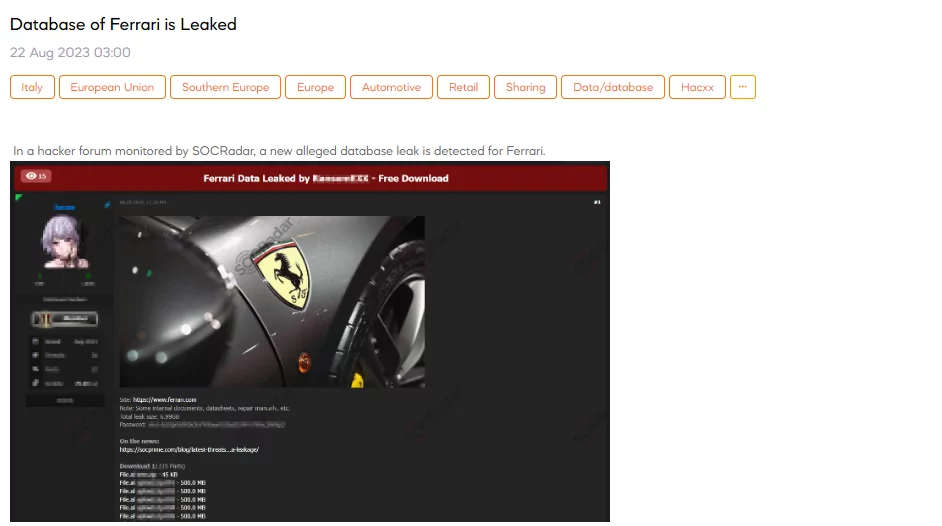 SOCRadar Dark Web researchers found a post about a new alleged database leak associated with Ferrari. This breach is said to include internal documents, datasheets, repair manuals, and similar materials. The reported size of the leak is approximately 6.99GB.
The New Ransomware Victim of AlphVM Blackcat: Seiko Group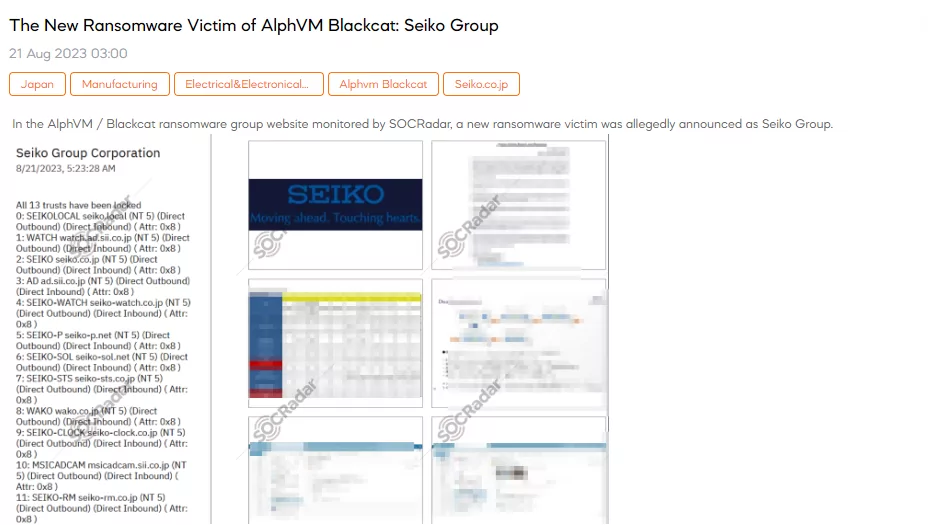 ---
A SOCRadar Dark Web Team researcher has discovered a post on the AlphVM BlackCat dark web platform. According to the post, one of the victims of the AlphVM Blackcat ransomware is reported to be the Seiko Group. The threat actor behind the ransomware claims that the stolen data encompasses highly sensitive materials, including watch designs, images, e-mails, passports, and other confidential information.
Powered by DarkMirror™
Gaining visibility into deep and dark web threats can be extremely useful from an actionable threat intelligence and digital risk protection perspective. However, monitoring all sources is simply not feasible, which can be time-consuming and challenging. One click-by-mistake can result in malware bot infection. To tackle these challenges, SOCRadar's DarkMirror™ screen empowers your SOC team to follow up with the latest posts of threat actors and groups filtered by the targeted country or industry.

---