Welcome to this week's dark web summary from SOCRadar. Our vigilant Dark Web Team has been working around the clock to keep you updated on the latest cyber threats. This week, we have detected a series of significant database leaks, including those of popular social media platforms like TikTok and Instagram. A Mexican Youth Institute (IMJUVE) database is on sale, while Yahoo! experiences another alleged breach. Furthermore, unauthorized admin access to a Spanish online shop is being openly sold. Read on for a detailed look into these developments.
Find out if your data has been exposed.
Database of TikTok is Leaked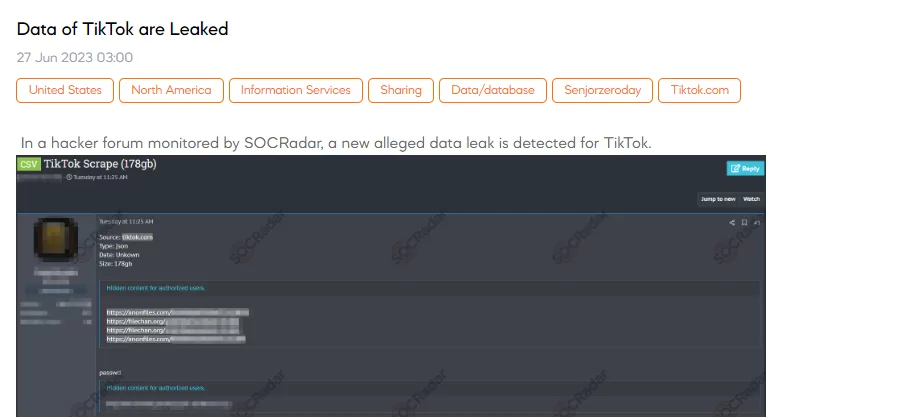 The SOCRadar Dark Web Team has detected a new alleged data leak concerning the TikTok database. The leaked data is reportedly in JSON format and originates from tiktok.com. The date of the leak is unknown, but the data size is reported to be 178GB. Another threat actor shared the same alleged leak on a different forum during the same week. This threat actor claimed that the data originates from 2022, suggesting it may consist of older records.
Database of Instagram is Leaked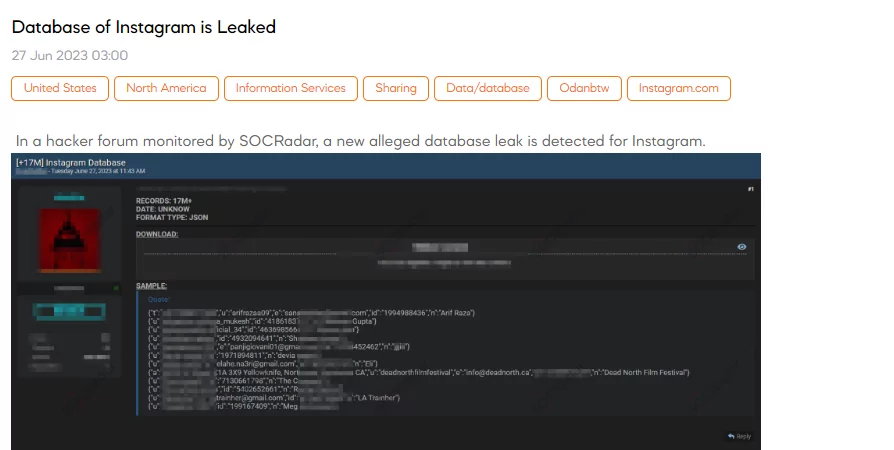 A SOCRadar dark web analyst recently discovered an alleged database leak for Instagram. The leaked data reportedly contains over 17 million records in JSON format, including usernames, email addresses, phone numbers, addresses, and names. The nature of the data suggests that it may have been collected from open source.
Database of IMJUVE Instituto Mexicano de la Juventud is on Sale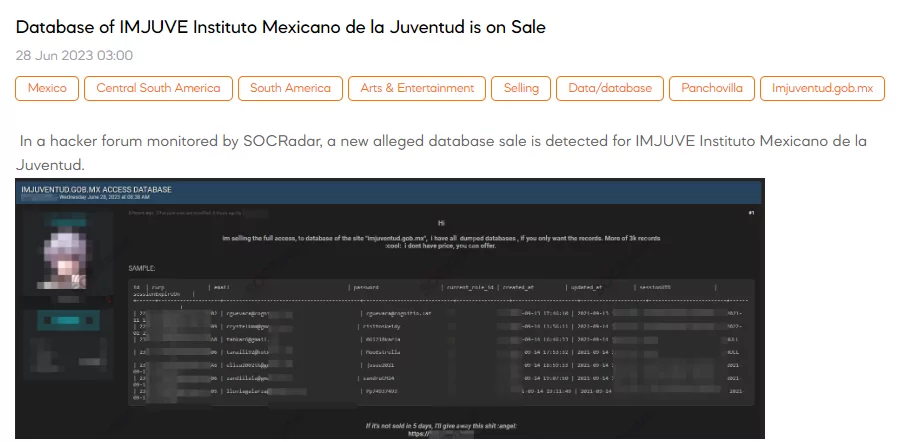 The SOCRadar Dark Web Team has detected a new alleged database sale concerning IMJUVE Instituto Mexicano de la Juventud. The threat actor claims to be selling full access to the website's database "imjuventud[.]gob[.]mx" stating that they have all the dumped databases available. Additionally, they mention having more than 3,000 records for sale.
Database of Yahoo! is Leaked

A SOCRadar researcher has detected a new alleged database leak for Yahoo! accounts. The researcher has discovered information regarding a potential breach of Yahoo! account data. Further details, such as the size of the leak and the specific information compromised, have not been provided.
Unauthorized Admin Access Sale is Detected for a Spanish Shop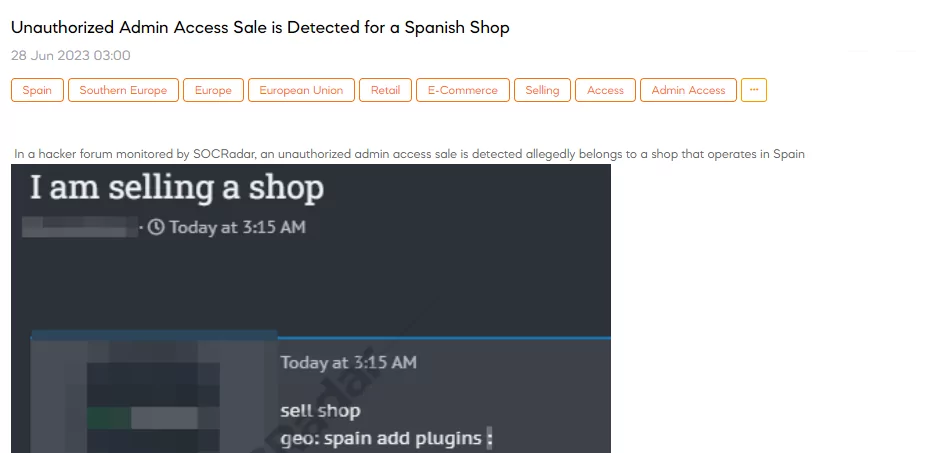 On June 28, SOCRadar noticed an unauthorized sale of admin access allegedly belonging to an online shop operating in Spain. The threat actor claims to be selling administrative access to the shop, with the location specified as Spain. The unauthorized access sale includes the added plugins for the shop, indicating potential additional functionalities. The threat actor further provides the number of orders for June (364) and May (467), suggesting the activity level within the shop. The price for the admin access is listed as $150.
---
Powered by DarkMirror™
Gaining visibility into deep and dark web threats can be extremely useful from an actionable threat intelligence and digital risk protection perspective. However, monitoring all sources is simply not feasible, which can be time-consuming and challenging. One click-by-mistake can result in malware bot infection. To tackle these challenges, SOCRadar's DarkMirror™ screen empowers your SOC team to follow up with the latest posts of threat actors and groups filtered by the targeted country or industry.

---