We are overjoyed to pull back the curtain on a new initiative from SOCRadar – Treemium! This new initiative, rooted in our commitment to environmental stewardship and robust cybersecurity, is set to redefine the way we think about issue reporting.
Together, we can leverage the power of issue submissions and environmental responsibility to shape a more secure and sustainable digital world.
Starting to be a part of Treemium; just send bugs:
No credit card needed
Report any issue you encounter on the platform in seconds
We plant a tree in the name!
After that, we will send the tree certificates to your email.
How to be a Part of Treemium: A Cyber Security Initiative Investing in the Future
Treemium, at its heart, ingeniously fuses the worlds of bug reporting with the pursuit of a healthier planet. Through your participation in Treemium, you are not just strengthening our platform's digital fortification, but you're also becoming an agent of positive environmental change.
Whenever you stumble upon issues – be they bugs, typos, visual inconsistencies, or anything in between – on our platform, reporting them becomes an effortless task. In doing so, you aid us in the ceaseless evolution of our initiatives. Your keen eye will be the catalyst for enhancement, as it helps us refine and fortify our defenses, promising a more secure platform for all.
Report, Reward, and Replenish with Treemium
Treemium is the digital realm. Each bug you unearth becomes a beacon of hope for our planet as we commit to planting a tree for every reported issue. Through this remarkable synergy of cybersecurity and environmental responsibility, we aim to sculpt a digital world that's not only secure but sustainable.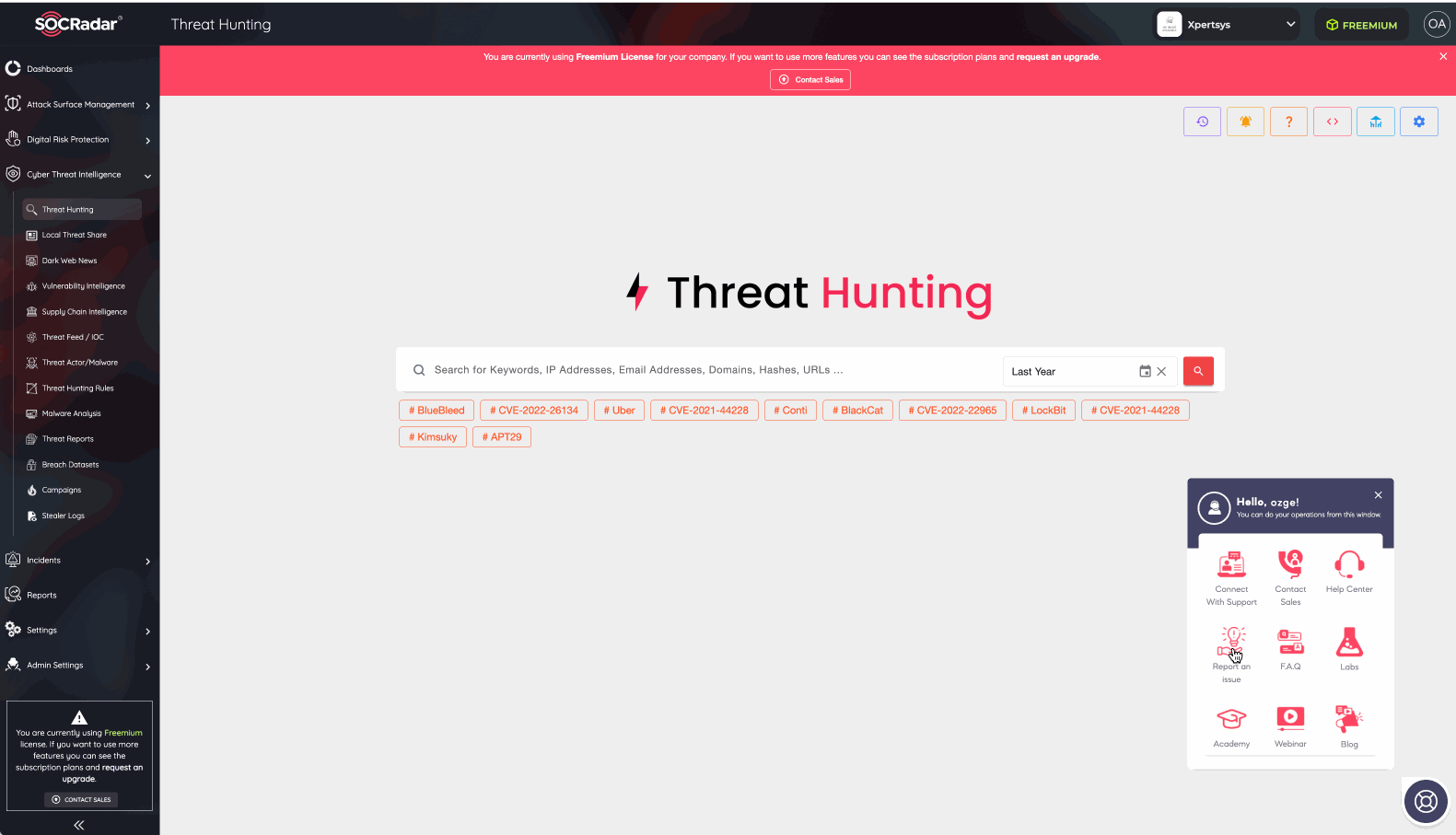 How Can You Report a Bug on SOCRadar?
Submitting issues and bugs is quick and effortless, taking only seconds of your time. When you encounter issues and bugs in our platform, follow the steps below to submit the issue and make the future greener.
Navigate to the page with the issue, and click on the button in the bottom right corner of the screen to open the help menu.
Click "Report an issue" to open the issue submission screen.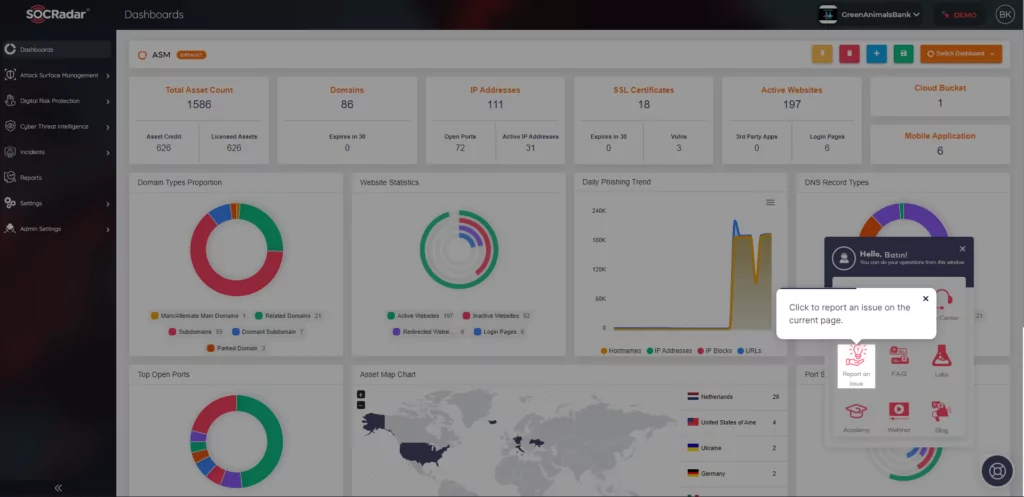 After including the necessary comments and highlights, click the button on the top right to submit the issue!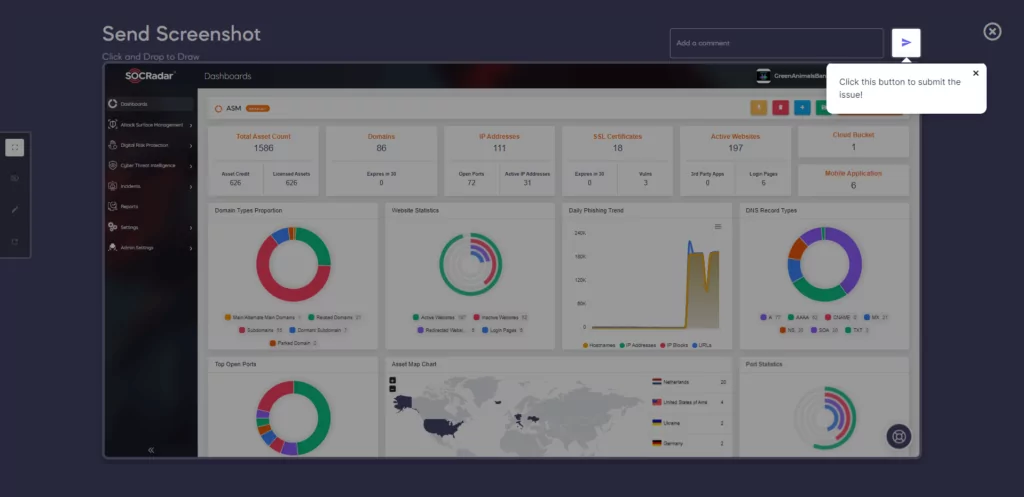 Report an issue initiative with Treemium goes beyond the realm of cybersecurity. We pledge to plant a tree in your name for every bug you report. Your bug submissions contribute to a more secure digital ecosystem and make a tangible difference in creating a greener future.
With each submission, a tree will be planted in your name to symbolize your contribution to our greener future. As a token of our appreciation, you will receive a certificate recognizing your dedication to environmental responsibility.
If you're not already a customer, we invite you to register for free on our platform and explore the countless features available. Discover a comprehensive set of features to give you the upper hand against threat actors and proactively safeguard your organization from critical cyber threats.
Embrace the opportunity to make a difference; join us in building a safer world and growing a greener future!
Become a Treemium Champion and Get a Certificate
The path to becoming a champion of the Treemium initiative is effortless and gratifying. Each issue you submit translates into a tree planted in your honor, symbolizing your commitment to a greener future. To show our gratitude, you will be awarded a certificate recognizing your steadfast dedication to the cause of environmental conservation.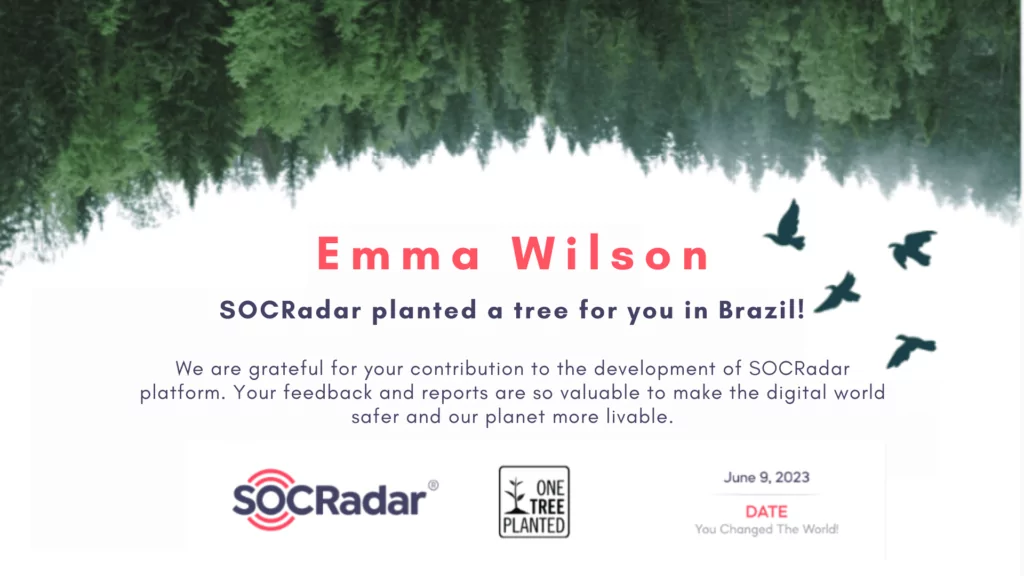 New to SOCRadar?
We welcome you to register for free on our platform and delve into various potent features engineered to outmaneuver threat actors and safeguard your organization proactively from crippling cyber threats.
We invite our valued clientele to embark on this exhilarating journey towards a greener, more secure future. Together, we can shape the digital landscape – one bug, one tree at a time. Keep your eyes peeled for further updates, and gear up to be an integral part of Treemium at SOCRadar!