The MEA Regional DeepWeb Report, which emerged with the research of the SOCRadar analyst team, is now available.
Dark web incidents, hacker forum mentions, compromised credentials, and data exposure findings in the MEA region are included in the report.
Click to view and download the whole report.
What's In the Report?
SOCRadar, the early warning system for information security, analyzes thousands of deep web resources every day, including hacker forums and social channels. According to the deep web activities targeting MEA between September 1 and September 30, 2021, the report includes information in the following categories:
Deep web mentions
Compromised credentials
Malware/bot-infected users
Highly critical data exposure results
Date of the latest exposure
The Country With The Most Deep Web Sharing UAE
Compared to the previous reporting period covering August 2021, the first two countries among the five countries with the most deep web sharing trend were the United Arab Emirates and Iran. In September 2021, Iraq ranked third, Saudi Arabia ranked fourth, and Israel ranked fifth. In the previous reporting period, South Africa, which was listed in the top five in September 2021.
Top Deep Web Threat: Data Sales
After Data Sales, data leaks (22%) and ransomware attacks (18%) were the most significant threats for the MEA region in August, while these rates were 17% and 16%, respectively, in September.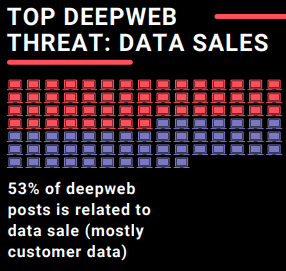 Customer Data Most Affected in MEA
In the threat landscape part of the report, it was revealed that while cyberattacks against the countries in the MEA region took place, customer data was the most affected with 53.7 percent of the data sales.
This value was followed by sensitive data with 46.4 percent.
Out of a total of 314 attack records reviewed from many countries, about 58 percent of data leaks (which accounted for 17 percent of all attacks), second only to data sales, were customer data. After the customer data, sensitive data with 29.4 percent, customer database with 5.9 percent, and SQL database with 5.9 percent were leaked, respectively.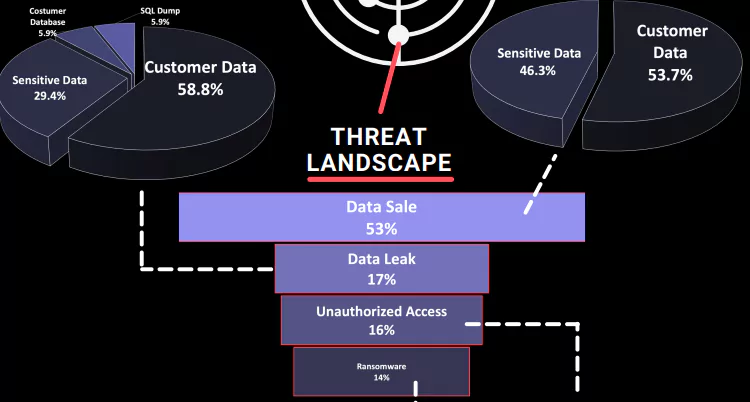 LockBit is the Top Ransomware Group in MEA
According to the September 2021 MEA Deep Web report prepared by SOCRadar, "Unauthorized Access" ranks third among threat landscape with 16 percent. The network makes up 44 percent, the admin panel 25 percent, and RDP 13 percent.
According to the report, the LockBit 2.0 group is most responsible for ransomware attacks in the MEA region.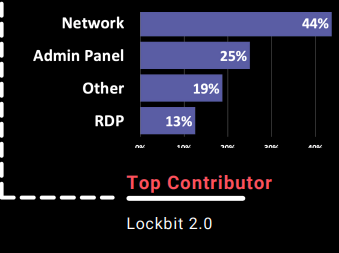 Government Sectors Targeted in Deep Web Most
While the first two sectors in the MEA Region, where the most threats are directed, are the government and IT sectors, as in the previous reporting periods, the Education sector has risen to third place in the report in September 2021. Based on this, we can say that educational institutions in the MEA region constitute one of the most sensitive points for cyber security.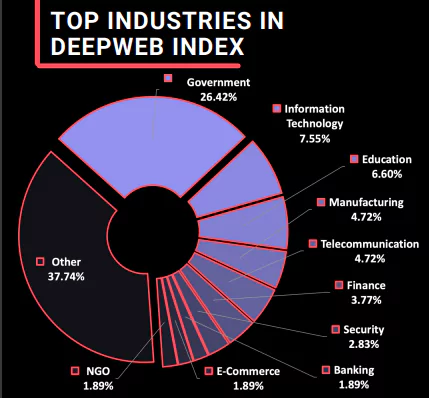 Other important topics highlighted in the report were as follows: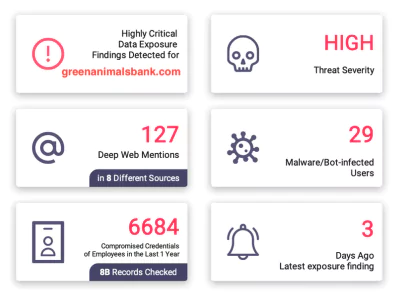 Discover SOCRadar® Free Edition
With SOCRadar® Free Edition, you'll be able to:
Discover your unknown hacker-exposed assets
Check if your IP addresses tagged as malicious
Monitor your domain name on hacked websites and phishing databases
Get notified when a critical zero-day vulnerability is disclosed
Free for 12 months for 1 corporate domain and 100 auto-discovered digital assets. Try for free