Powered by DarkMirror™
We're in the last week of the year. Most of us have already gone to visit our loved ones for a holiday. When thinking, "Oh, now I can get some relief," threat actors come into play, and they disturb the peace.
As you can see, they never take a break. Last week, many data selling and leaks happened on the dark web again.
Here's what happened on the dark web.
Find out if your data has been exposed on the deep web.
Receive a Free Dark Web Report for Your Organization
Data of the US Department of Defense is for Sale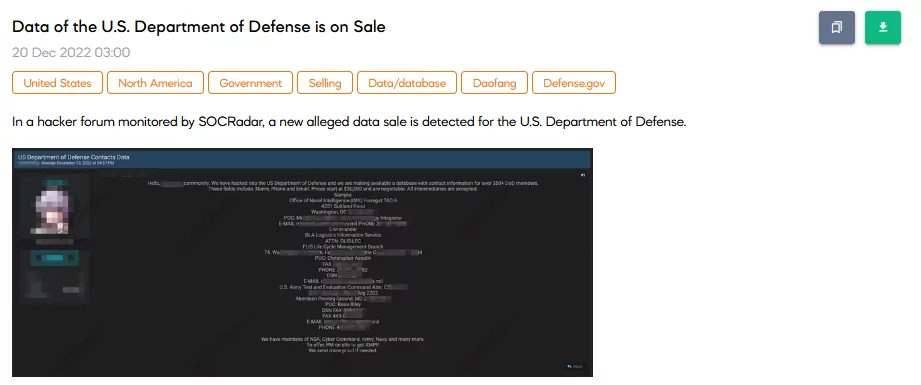 On 20 December, SOCRadar detected a data sale post on a hacker forum. Vendors of the related post are selling data allegedly belonging to the US Department of Defense. According to the explanation, the data breach includes personally identifiable information of 350+ officers in the US DoD. The price tag for the data breach is $30,000.
A Partnership Post on Dark Web is Detected
On 23 December, SOCRadar Dark Web researchers detected a post about recruiting a partner to monetize the 10+ million lines of credit card credentials that the post owners have. The hackers also mention that the new partner will have a cut out of the income between 10% – 40%.
Unauthorized Access to Multiple WordPress Websites is for Sale

On 21 December, SOCRadar Dark Web researchers found a post that sells unauthorized network access to multiple WordPress sites. The vendor claims that all websites in the package can be hacked within a year and a half since it contains many top-class WordPress sides. The access for all these websites is around 0.3 BTC. Considering the recent black hat SEO campaigns, unauthorized access to WordPress sites is highly crucial for threat actors.
Database of Counter-Strike: Global Offensive is Leaked

SOCRadar has noticed a data leak about Counter-Strike: Global Offensive, a popular first-person shooter game by Valve Corporation. According to game statistics, CS: GO has had an average of 500K – 1000+K instantaneous players for the last couple of months.
PII of Brazil Citizens is Leaked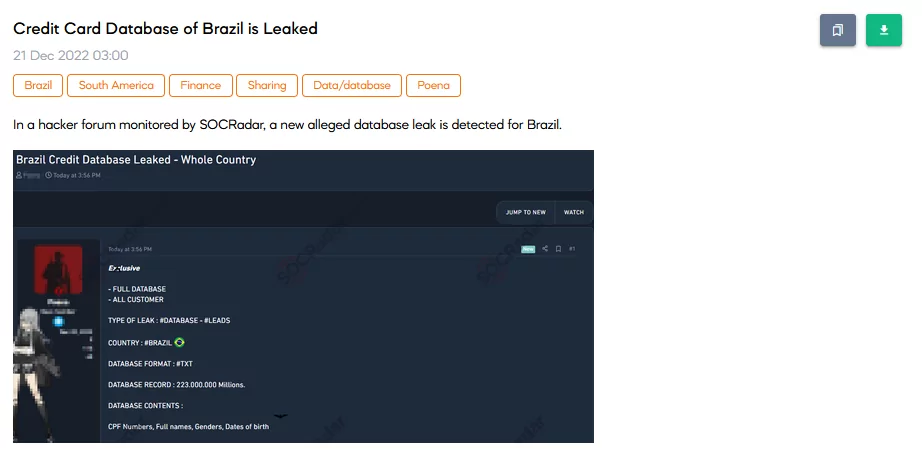 SOCRadar Dark Web team has found a data leak post that contains 226 million individuals' personally identifiable information (PII). According to the latest population on the web, the alleged data breach of Brazilian citizens contains more lines than the total population of Brazil. In the post, it is highlighted that the database contains a CPF number, which is an ID number for Brazilian taxpayers.
Customer Database of BETMGM is for Sale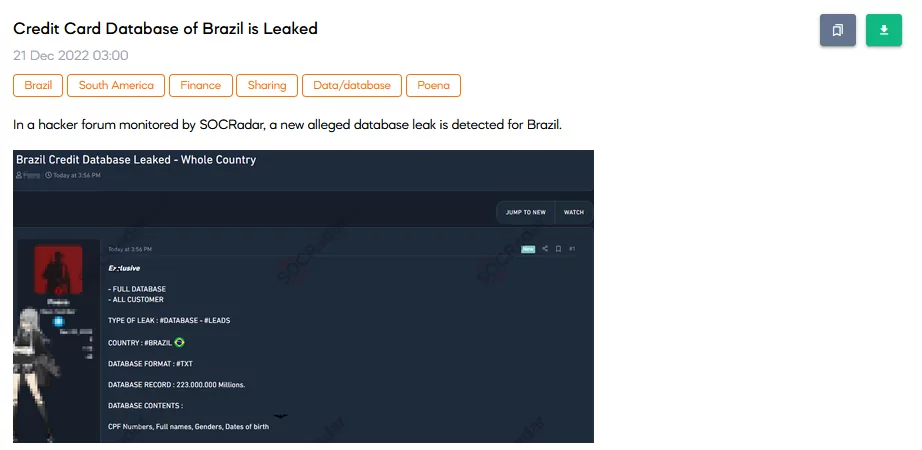 On 21 December, a vending post was detected by SOCRadar. The post notifies the dark web for a customer database sale of BETMGM, which claims to be the world's largest online betting platform. The database contains lots of different information and has 1.5+ lines of data.
---
Powered by DarkMirror™
Gaining visibility into deep and dark web threats can be extremely useful from an actionable threat intelligence and digital risk protection perspective. However, monitoring all sources is simply not feasible, which can be time-consuming and challenging. One click-by-mistake can result in malware bot infection. To tackle these challenges, SOCRadar's DarkMirror™ screen empowers your SOC team to follow up with the latest posts of threat actors and groups filtered by the targeted country or industry.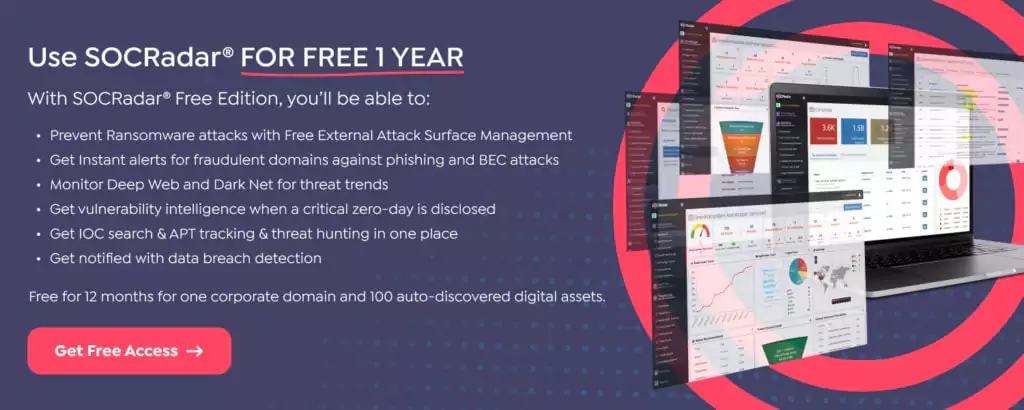 ---