Introducing our weekly Dark Web digest, where we explore the most recent occurrences in the online underworld. Our dedicated SOCRadar Dark Web Team has been hard at work unearthing critical discoveries that demand your attention.
This week's events encompass the sale of sensitive personal documents like IDs and Instagram account information, which could lead to impersonation attacks. We also uncovered a database of British bank leaks and encountered a Fully Undetectable Crypter (FUD) for sale, boasting an alleged 100% success rate.
Without any further delay, let's delve into these stories to uncover more information.
Get your free Dark Web Report now and find out if your data has been compromised.
Sensitive Documents are on Sale

SOCRadar Dark Web Team has identified a post in a hacker forum that a threat actor is claiming to have access to 175,000 ID cards and passports that are available for sale upon request.
Database of British Bank Leads is on Sale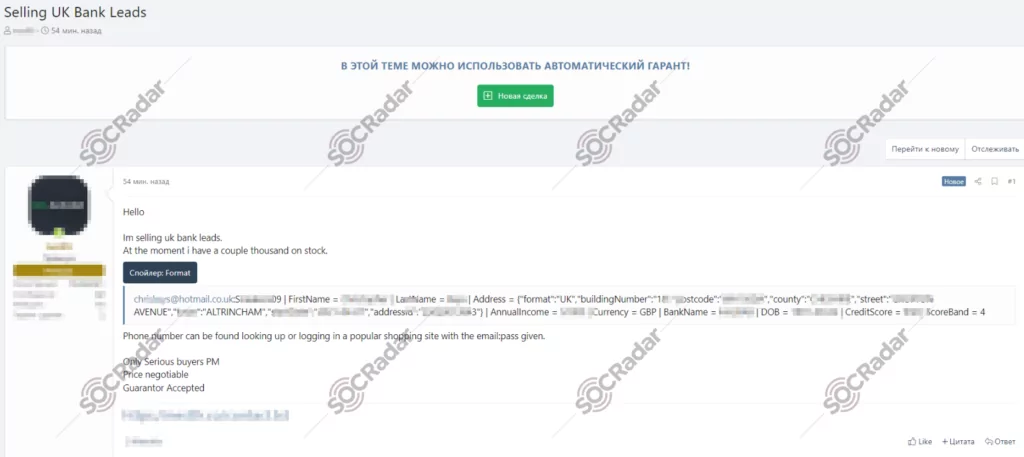 SOCRadar Dark Web researchers have detected a post in a hacker forum that a threat actor is claiming to sell British bank leads. The available data includes e-mail addresses, passwords, first names, last names, addresses, dates of birth, credit scores, currency information, and annual income details. The post suggests that phone numbers associated with these leads can be obtained by looking up or logging into a popular shopping site using the provided e-mail and password combinations.
Database of American Instagram Users is Leaked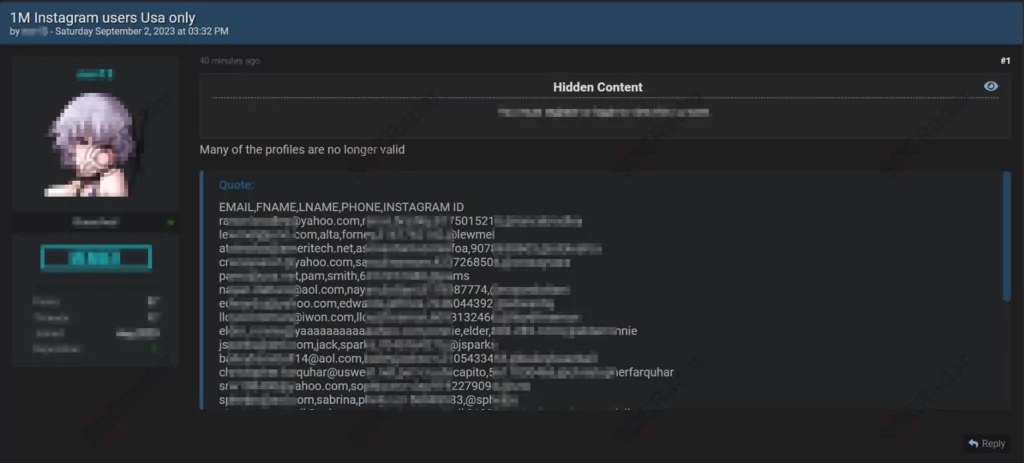 A SOCRadar Dark Web Team researcher has discovered a post on a hacker forum that a threat actor claims to have a new alleged database leak containing information on American Instagram users. The information in the leak includes e-mail addresses, first names, last names, phone numbers, and Instagram IDs.
A New Malware Detected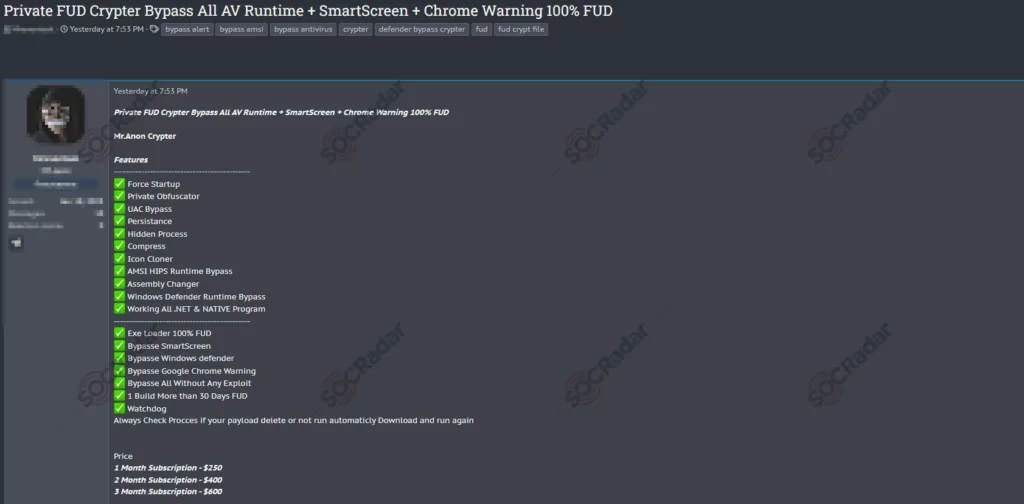 ---
SOCRadar Dark Web Team has detected a post in which a threat actor claims to offer a private FUD (Fully Undetectable) Crypter designed to bypass all antivirus software, Windows SmartScreen, and Google Chrome warnings with a claimed success rate of 100%. This crypter, known as Mr. Anon Crypter, offers a range of features including force startup, private obfuscation, UAC bypass, persistence, hidden process, compression, icon cloning, AMSI HIPS runtime bypass, assembly changer, and compatibility with all .NET and native programs.
The actor also claims that the crypter can load executables (EXE Loader) with 100% FUD, bypass Windows Defender, SmartScreen, and Chrome warnings without the use of any exploits. Additionally, they offer a subscription-based pricing model: $250 for 1 month, $400 for 2 months, and $600 for 3 months.
Powered by DarkMirror™
Gaining visibility into deep and dark web threats can be extremely useful from an actionable threat intelligence and digital risk protection perspective. However, monitoring all sources is simply not feasible, which can be time-consuming and challenging. One click-by-mistake can result in malware bot infection. To tackle these challenges, SOCRadar's DarkMirror™ screen empowers your SOC team to follow up with the latest posts of threat actors and groups filtered by the targeted country or industry.

---