Over the last few years, it has been understood explicitly that preventive cybersecurity technologies are not effective enough to secure an organization's network. Recent major hacks prove how effortlessly cybercriminals can gain internal access to steal Personally Identifiable Information (PII) or Protected Health Information (PHI) such as millions of credit card numbers and medical records from enterprise organizations networks.
What is Managed Detection and Response (MDR)?
Managed Detection and Response (MDR) is an outsourced cyber security service to protect your data and assets if a threat escapes standard organizational security controls. It provides turnkey security solutions for organizations that cannot maintain their own security operations center, including cloud-managed security.
MDR services combine advanced analytics, threat intelligence, and human expertise in incident investigation and response deployed at the host and network levels. Market research firm Gartner predicts that, by 2025, the MDR market will grow to $2.15 billion, up from approximately $1.03 billion in 2021.
It's observed that traditional MSSPs will evolve and focus more on providing threat detection and response services like MDR. Significant MDR vendors include ActZero, Aiuken, Alert Logic, Arctic Wolf, Armor, AT&T, Atos, Binary Defense, Blackpoint Cyber, BlueVoyant, Booz Allen Hamilton, Critical Insight, Cisco, CRITICALSTART, CrowdStrike, CSIS, Cybereason, Cysiv, Datashield, deepwatch, –eSentire, Expel, F-Secure, Fidelis Cybersecurity, FireEye-Mandiant, Fishtech Group (CYDERES), GoSecure, IBM, Kroll-Redscan, Kudelski Security, LMNTRIX, Masergy, mnemonic, NCC Group, NTT, Open Systems, Orange Cyberdefense, Pondurance, Proficio, Rapid7, Red Canary, Secureworks, SentinelOne, Sophos, Trustwave, Verizon, Viking Cloud.
How does MDR work?
Managed Detection and Response (MDR) proactively searches an organization's network and systems for indications of an ongoing attack. It investigates the alerts and determines whether they are actual incidents or false positives via a collaboration of data analytics, machine learning, and human investigation.
Then, its alert triage process organizes the security events list, enabling the most critical to be handled first. Finally, it takes action to respond to a security event within an enterprise organization's network.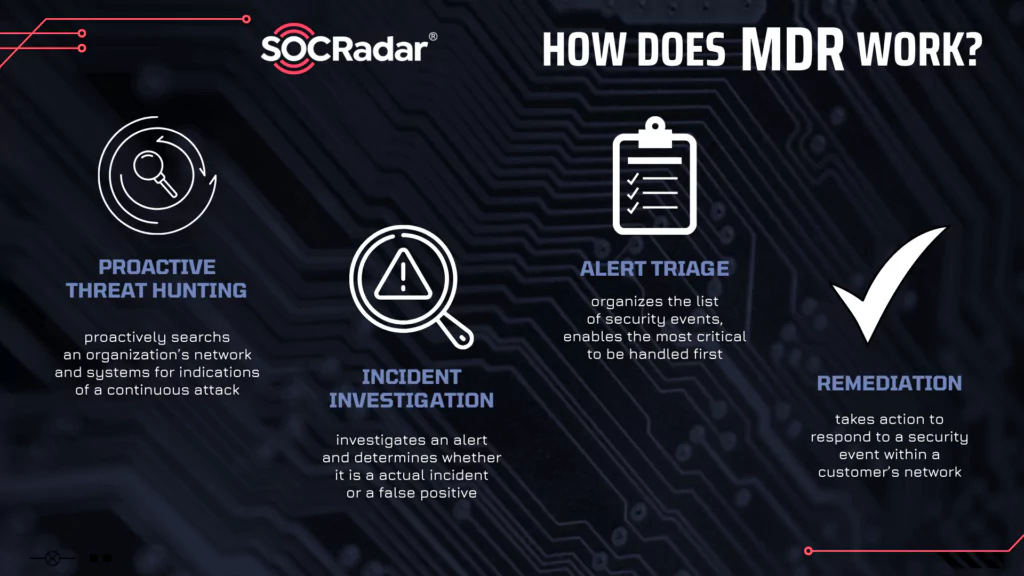 Why do enterprises need MDR?
In the face of overwhelming security threats and attacks, enterprise organizations are also dealing with increasing security budgets and a challenging security job market. The main goal of enterprises of all sizes is to gain more protection, insight, and compliance without adding more tools and people.
Managed detection and response can give a solution to many of the challenges faced by organizations trying to enhance their security maturity and reduce their cybersecurity risk.
MDR provides 24/7 monitoring and advanced communications mechanisms with experienced SOC analysts so that an organization can have experienced security analysts supervise without adding full-time staff and resources. With the expert investigation of alerts and incidents and subsequent actions MDR obtains, enterprises do not have to hire any other tool to identify actual incidents and false positives.
In addition to continuous monitoring and incident investigation, MDR enables organizations to detect and remediate persistent threats through proactive threat hunting and improved threat intelligence based on indicators and behaviors captured from global insights.
References
[1]What is Managed Detection and Response MDR
[2]MDR vs MSSP vs Siem Infısec Acronyms Explained
Discover SOCRadar® Free Edition
With SOCRadar® Free Edition, you'll be able to:
Discover your unknown hacker-exposed assets
Check if your IP addresses tagged as malicious
Monitor your domain name on hacked websites and phishing databases
Get notified when a critical zero-day vulnerability is disclosed
Free for 12 months for 1 corporate domain and 100 auto-discovered digital assets. Try for free