Ivanti, a U.S. IT software company, has resolved an actively exploited zero-day authentication bypass vulnerability identified as CVE-2023-35078. The vulnerability resides in Ivanti's mobile device management software, previously known as MobileIron Core and now referred to as Endpoint Manager Mobile (EPMM).
What is the zero-day vulnerability in Ivanti EPMM (MobileIron) about?
Ivanti's advisory states that the CVE-2023-35078 vulnerability, when exploited, allows an unauthorized, remote actor to potentially access users' personal information and make limited changes to the server. On the advisory, the vulnerability has a maximum CVSS score of 10.0, AV:N/AC:L/PR:N/UI:N/S:C/C:H/I:H/A:H.

This vulnerability's significance lies in the potential data breaches, unauthorized access, and malicious activities that attackers could carry out on affected servers. Prompt patching is crucial to mitigate the risk and protect sensitive data and mobile device management infrastructure.
The company clarified that the vulnerability was not introduced maliciously into their code development process and is not part of a supply chain attack.
However, more information about the vulnerability is available on an Ivanti article that is login-protected and only accessible to Ivanti's customer base.Also, some customers reported that Ivanti asked them to sign non-disclosure agreements when seeking more information about the CVE-2023-35078 vulnerability.
How critical is the Ivanti zero-day vulnerability?
The vulnerability detected in Ivanti EPMM (formerly MobileIron Core) with the identifier CVE-2023-35078 is considered critical. The vulnerability has a maximum CVSS score of 10.0, signifying the highest severity level. It could lead to widespread exploitation and a significant impact on affected systems.
In this case, the vulnerability allows unauthorized remote access to sensitive information and limited server changes, making it highly dangerous for organizations using the affected software. Promptly applying the security patches provided by Ivanti is crucial to mitigate the risk and prevent potential data breaches and malicious activities on vulnerable systems.
Which versions of Ivanti EPMM (MobileIron) are affected by this vulnerability?
The affected versions include all supported versions, including 11.4 releases 11.10, 11.9, and 11.8, as well as older versions and releases. Additionally, it is important to note that the vulnerability was actively exploited by threat actors, making it critical for users of Ivanti EPMM to apply the security patches provided by Ivanti as soon as possible.
If you are using Ivanti Endpoint Manager Mobile (EPMM), it is essential to check the official advisory from Ivanti to confirm if your specific version is affected and to apply the recommended security patches to protect your systems from exploitation.
How to exploit the Ivanti vulnerability? Is there any example of exploit code?
After the first week of announcement of the vulnerability, the proof-of-concept (PoC) code was made publicly available.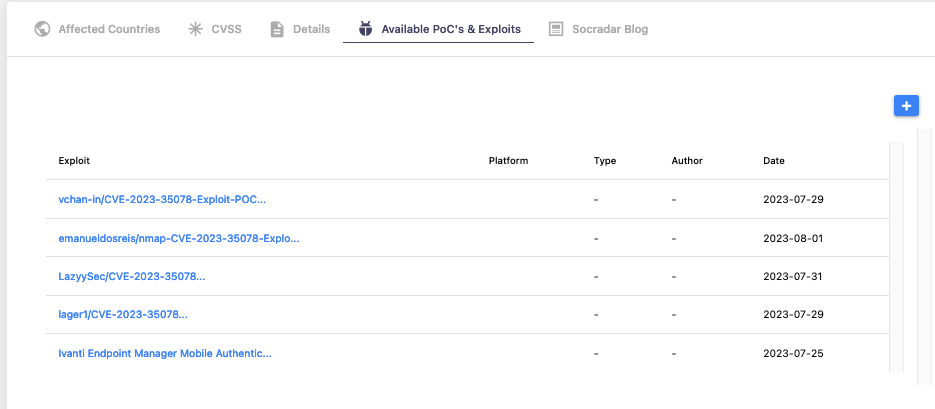 Is there any exploitation activity regarding the Ivanti zero-day vulnerability?
In a private bulletin, Ivanti disclosed that they received information from a trusted source, indicating that a small number of customers, less than 10, fell victim to attacks exploiting the Ivanti EPMM (MobileIron) vulnerability.
A Shodan search by Daniel Card revealed that over 2,900 Ivanti EPMM (MobileIron) user portals are exposed online, with some linked to U.S. local and state government agencies. The majority of exposed servers are located in the United States, followed by Germany, the United Kingdom, and Hong Kong.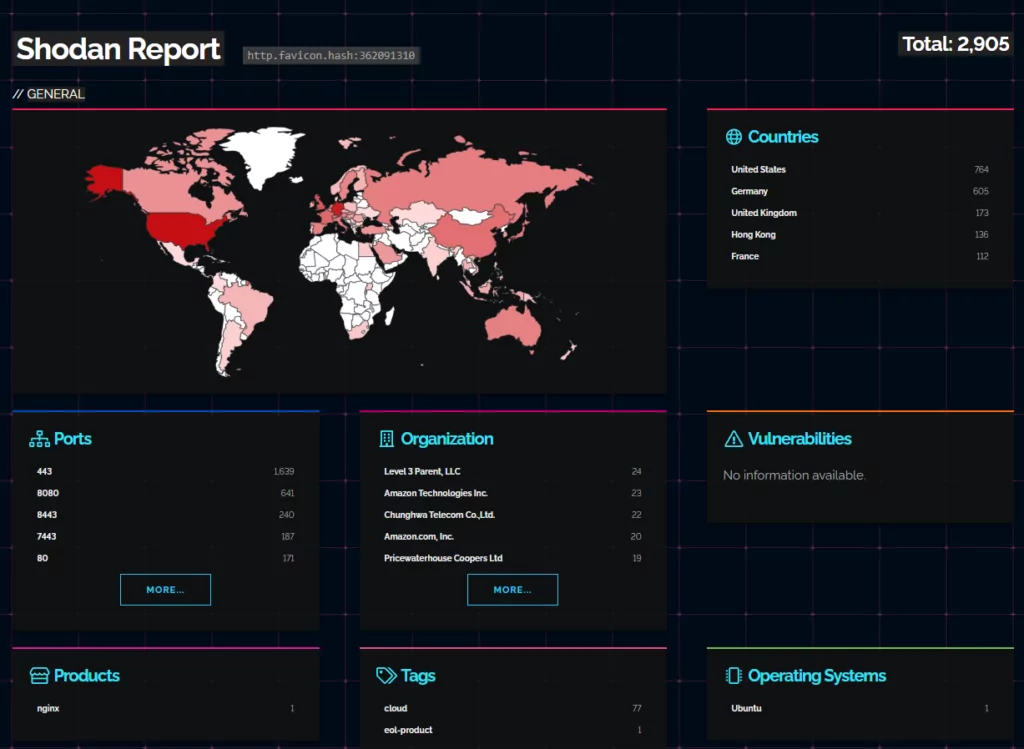 Security expert Kevin Beaumont posted on Mastodon, advising administrators to promptly apply the patches. He emphasized that the zero-day vulnerability is serious and very easy to exploit.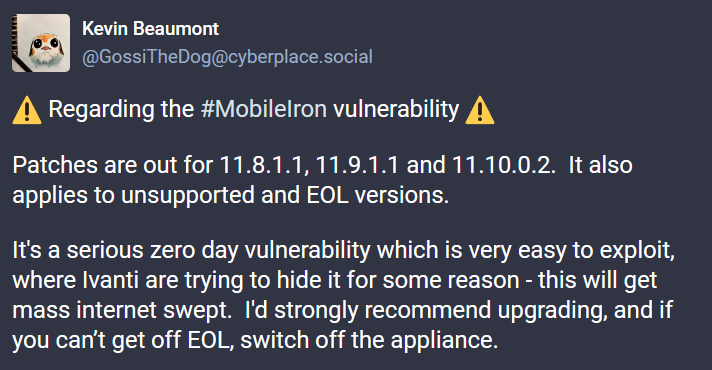 Also, The Cybersecurity and Infrastructure Security Agency (CISA) issued an alert regarding Ivanti's release of security updates for Endpoint Manager Mobile (EPMM).
Who was the first known victim of Ivanti vulnerability's exploitation?
The Norwegian National Security Authority (NSM) confirmed that attackers breached a software platform used by 12 ministries in the country by exploiting the zero-day vulnerability.
Norway's Prime Minister's Office, Ministry of Defense, Ministry of Justice, and Ministry of Foreign Affairs were not affected by the attack. Despite this, the Norwegian Data Protection Authority (DPA) was notified of the incident, which raised concerns that the hackers may have accessed sensitive data on compromised systems.
What is the second vulnerability discovered in Ivanti EPMM? (CVE-2023-35081)
IT giant Ivanti has issued a new advisory revealing the discovery of a second vulnerability affecting its Endpoint Manager Mobile (EPMM) software. The vulnerability, identified as CVE-2023-35081 (CVSS score: 7.2, High), differs from the first vulnerability, CVE-2023-35078, which was previously used by attackers against several Norwegian government agencies.
According to Ivanti's new advisory, the CVE-2023-35081 vulnerability allows threat actors to execute various actions on targeted devices and can be combined with CVE-2023-35078 to bypass administrator authentication.
CISA has also issued its own warning, urging Ivanti customers to promptly apply patches to their devices to safeguard against exploitation of both vulnerabilities.
Ivanti's patch has been bypassed again, how critical is the new CVE-2023-35082 vulnerability?
Researchers at Rapid7 have uncovered a new critical vulnerability while investigating CVE-2023-35078. The new vulnerability is identified as CVE-2023-35082 and affects older, unsupported versions of MobileIron Core (11.2 and below). It currently has a CVSS score of 10.0 on Ivanti's advisory.
CVE-2023-35082 enables remote unauthenticated attackers to access API endpoints on an exposed instance of Ivanti EPMM. By exploiting these endpoints, attackers can carry out various operations, including the disclosure of personally identifiable information (PII) and modifications to the platform. Additionally, attackers can chain this vulnerability with others, like CVE-2023-35081, to enable the writing and execution of malicious webshell files on the appliance.
Since CVE-2023-35082 shares the same root cause as CVE-2023-35078, which involves entries in the mifs web application's security filter chain, researchers consider this new vulnerability as another patch bypass for CVE-2023-35078.
How can you detect vulnerabilities in your system(s)?
CISA and the Norwegian National Cyber Security Centre (NCSC-NO) released a joint advisory titled "Threat Actors Exploiting Ivanti EPMM Vulnerabilities" in response to active exploits of CVE-2023-35078 and CVE-2023-35081, affecting Ivanti Endpoint Manager Mobile (EPMM). In the advisory, they shared mitigation methods.
CISA and NCSC-NO further recommend that administrators utilize the CISA developed nuclei templates to check their systems for these vulnerabilities. Additionally, they should use the NCSC-NO developed checklist to identify any signs of compromise.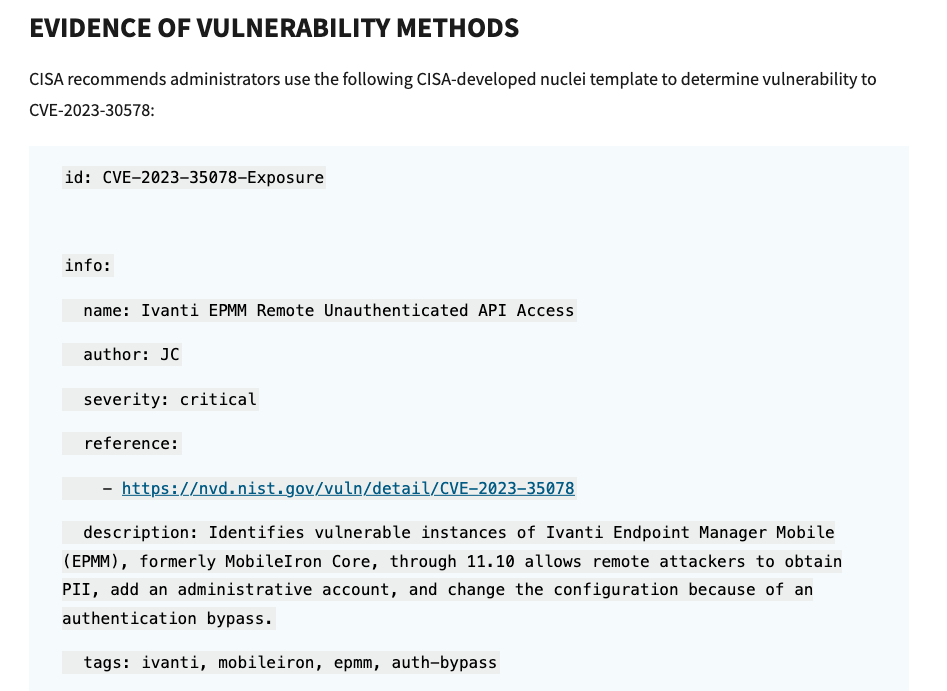 Review the advisory here for more information.
Are there any IOCs that the SOC Teams can use to prevent exploitation of the Ivanti vulnerabilities on internet-exposed servers?
Yes, there are Indicators of Compromise (IOCs) that SOC (Security Operations Center) teams can use to prevent exploitation of the Ivanti vulnerabilities on internet-exposed servers. Some specific IOCs related to the CVE-2023-35082 vulnerability can be found in the Apache HTTP logs stored on the appliance.
SOC teams can monitor log files, specifically the /var/log/httpd/https-access_log file, for entries indicating requests to a targeted API endpoint with /mifs/asfV3/api/v2/ in the path and an HTTP response code of 200. Blocked exploitation attempts will be indicated by an HTTP response code of either 401 or 403.
By keeping a close eye on these log entries, SOC teams can detect potential exploitation attempts related to the CVE-2023-35082 vulnerability. Responding promptly to any suspicious activities can help prevent successful attacks and protect internet-exposed servers from potential compromises.
SOC teams should keep a lookout for additional IOCs released by Ivanti, security advisories, and reputable security sources. Utilizing these IOCs in conjunction with other security measures and best practices can bolster the defense against both CVE-2023-35078 and CVE-2023-35082 vulnerabilities. Please check IoCs shared in Appendix.
How to protect yourself from presence or exploitation of the Ivanti vulnerabilities?
To protect your systems from the CVE-2023-35078 vulnerability in Ivanti Endpoint Manager Mobile (EPMM), formerly MobileIron Core, the primary and most important step is to apply the security patches provided by Ivanti. These patches are specifically released to address the vulnerability and prevent unauthorized remote access and potential data breaches.
Are there any additional solutions other than patching?
In addition to patching, you can take the following measures to enhance your protection:
Monitor for Indicators of Compromise (IoCs): Keep an eye on your system logs for any suspicious activities that could indicate an attempted exploitation of the vulnerability. Pay attention to access attempts related to the vulnerable API endpoints or other signs of unauthorized access.
Restrict Access: Limit access to critical systems and sensitive information. Implement the principle of least privilege, ensuring that only authorized users have access to necessary resources.
Network Segmentation: Consider segmenting your network to restrict the lateral movement of attackers in case a system gets compromised. This can help contain the impact of a potential breach.
Monitor Vulnerability Databases: Stay informed about any new updates or advisories related to the vulnerability. Continuously monitor vulnerability databases and security news to ensure you are aware of the latest developments.
At SOCRadar, our Vulnerability Intelligence is designed to provide you with comprehensive assistance in effectively managing vulnerability issues and prioritizing necessary patches. With our platform, you have the power to effortlessly search for and access detailed information about vulnerabilities, enabling you to stay ahead of potential threats.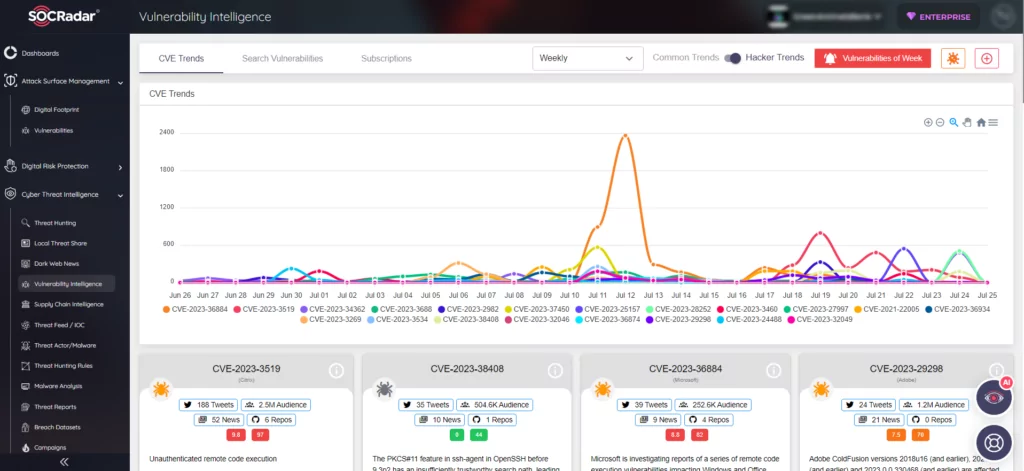 Implement Multi-Factor Authentication (MFA): Utilize MFA for authentication to add an extra layer of security and make it more difficult for unauthorized users to gain access.
Conduct Regular Security Audits: Perform periodic security audits and assessments to identify potential vulnerabilities in your infrastructure and address them proactively.
Our External Attack Surface Management (EASM) plays a crucial role in safeguarding your digital assets. Through this advanced system, we diligently discover and monitor your digital landscape, promptly alerting you to any emerging issues that may pose a risk to your security. With SOCRadar, you can trust that we've got your back, ensuring proactive protection for your online presence.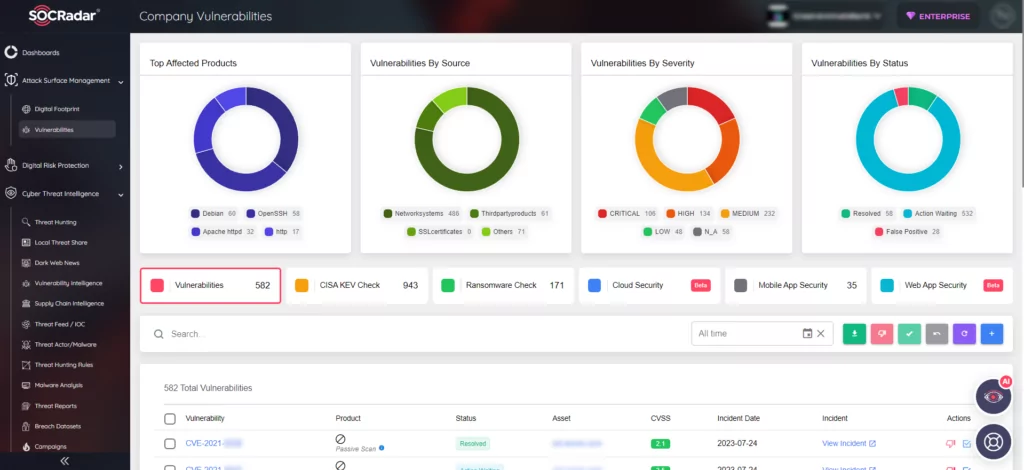 Follow Best Security Practices: Adhere to best security practices, such as regular software updates, strong password policies, and employee security awareness training.
Remember that patching is the most critical and effective measure to address the vulnerability. Applying the provided security patches in a timely manner is crucial to safeguard your systems from potential exploitation and unauthorized access.
Appendix
YARA rules
rule LOG_EXPL_Ivanti_EPMM_MobileIron_Core_CVE_2023_35078_Jul23_1 {
   meta:
      description = "Detects the successful exploitation of Ivanti Endpoint Manager Mobile (EPMM) / MobileIron Core CVE-2023-35078"
      author = "Florian Roth"
      reference = "Ivanti Endpoint Manager Mobile (EPMM) CVE-2023-35078 - Analysis Guidance"
      date = "2023-07-25"
      score = 75
   strings:
      $xr1 = /\/mifs\/aad\/api\/v2\/[^\n]{1,300} 200 [1-9][0-9]{0,60} /
   condition:
      $xr1
}

rule MAL_WAR_Ivanti_EPMM_MobileIron_Mi_War_Aug23 {
   meta:
      description = "Detects WAR file found in the Ivanti EPMM / MobileIron Core compromises exploiting CVE-2023-35078"
      author = "Florian Roth"
      reference = "https://www.cisa.gov/news-events/cybersecurity-advisories/aa23-213a"
      date = "2023-08-01"
      score = 85
      hash1 = "6255c75e2e52d779da39367e7a7d4b8d1b3c9c61321361952dcc05819251a127"
   strings:
      $s1 = "logsPaths.txt" ascii fullword
      $s2 = "keywords.txtFirefox" ascii
   condition:
      uint16(0) == 0x4b50 and
      filesize < 20KB and
      all of them
}

rule MAL_WAR_Ivanti_EPMM_MobileIron_LogClear_JAVA_Aug23 {
   meta:
      description = "Detects LogClear.class found in the Ivanti EPMM / MobileIron Core compromises exploiting CVE-2023-35078"
      author = "Florian Roth"
      reference = "https://www.cisa.gov/news-events/cybersecurity-advisories/aa23-213a"
      date = "2023-08-01"
      score = 80
      hash1 = "deb381c25d7a511b9eb936129eeba2c0341cff7f4bd2168b05e40ab2ee89225e"
   strings:
      $s1 = "logsPaths.txt" ascii fullword
      $s2 = "log file: %s, not read" ascii fullword
      $s3 = "/tmp/.time.tmp" ascii fullword
      $s4 = "readKeywords" ascii fullword
      $s5 = "\"----------------  ----------------" ascii fullword
   condition:
      uint16(0) == 0xfeca and
      filesize < 20KB and
      4 of them or all of them
}

IoCs
NCSC-NO observed the following webshell hash:
c0b42bbd06d6e25dfe8faebd735944714b421388
NCSC-NO observed the following hash of mi.war:
1cd358d28b626b7a23b9fd4944e29077c265db46
NCSC-NO observed the following JA3 hashes used against MobileIron Core:
2d5bd942ebf308df61e1572861d146f6
473cd7cb9faa642487833865d516e578
579ccef312d18482fc42e2b822ca2430
849d3331f3e07a0797a02f12a6a82aa9
8d9f7747675e24454cd9b7ed35c58707
ad55557b7cbd735c2627f7ebb3b3d493
cd08e31494f9531f560d64c695473da9
e1d8b04eeb8ef3954ec4f49267a783ef
e60dc8370ecf78cf115162fbc257baf5
e669667efb41c36f714c309243f41ca7
e84a32d43db750b206cb6beed08281d0
eb5fdc72f0a76657dc6ea233190c4e1c
NCSC-NO observed the following JA3 hashes used against Exchange when tunneling via EPMM Sentry:
0092ce298a1d451fbe93dc4237053a96
00e872019b976e69a874ee7433038754
01ecd9ab9be75e832c83c082be3bdf18
0212a88c7ed149febdefa347c610b248
02be3b93640437dbba47cc7ed5ab7895
03f8852448a85e14f2b4362194160c32
045f8ccdac6d4e769b30da406808da71
04e7f5787f89a597001b50a37b9f8078
070f9fe9f0ec69e6b8791d280fde6a48
07a624d7236cca3934cf1f8e44b74b52
09df72c01a1a0ad193e2fff8e454c9c4
0b28842d64a344c287e6165647f3b3fe
0b8e1211de50d244b89e6c1b366d3ccf
0cb0380cf75a863b3e40a0955b1ada9f
0da24834056873a8cd8311000088e8be
0e1fad8ffaa7a939f0a6cbf9cd7e2fcd
0f6e78839398c245d13f696a3216d840
119f8c9050d1499b6f958b857868b8ce
11c506d5e3fb7e119c4287202c96a930
1336df27f94b25a25acac9db3e61e461
14671c3f8deca7d73a03b74cb854c21d
146caf9bd0153428f54e9ef472154983
14994353f3ea6fd25952a8c7d57f9ecf
151bc875df15d1385e6eb02f9edaba06
15a074a397727b26a846b443b99c20ff
1660f3d882a4311ca013ee4586e01fd9
16a74fc216f8a4ce43466bb83b6d3fd2
188623fdd056c4ed13d1ff34c7377637
19f51486abd40c9f0fc0503559a6c523
1a024e63721c610d2e54e67d62cd5460
1aa7dae8f2ae0a29402ed51819f82db4
1abfdeaadb74a0f7c461e7bab157b17f
1b6720ed0b67c910a80722ce973d6217
1b7d9368c6ce7623fdbc43f013626535
1e0850e10a00c9bbdd5c582ff4cb6833
1ec71612e438cf902913eec993475eb9
206fed3a39d9215c35395663f5bb3307
22cc1b3bc9f99d3a520ae58fee79a0d5
23e3e6fa8b23d9bc19e82de4e64c79e9
253fd4659bf21be116858bc0f206c5b9
276e175d4fe8454c4c47e966d8cb3fa3
289a450c7478dd52a10c6ed2fb47f7e9
2aa8ba7478b1362274666d714df575bc
2beecb6b9e386f29d568229a9953c3d2
2ebc7fdceaa9a0df556e989d77157006
3003024afe64b4e8a5a30825c14bbb12
3082e669dda9d023e2dcd8b9549a84a8
309d33c6f77a3fc75654c44c61596ccd
30a9f568eb3df79352fc587a078623b6
30be84e6b95f44c203f8e7fce7339a8e
3268a5097a543c7dbd82c39a9193b7fe
32775ead3ea1ad7db2f4bea67fe0cabb
34ac9a6ef5d285119abec50fbe41fcfe
34d92552e278710c1e84f0bd8dc3a6b8
361f47a6357cc6e3a9bcdd20cfaaf0e9
3685abc75517e61e47e52e5f2d060f54
3744004013135b9f9a05cb58cda8134d
37d952966ea7e79277803f13d7147544
391a4c2c7541b8b78e2f99bf586e9794
393662e5aa0cb49c5d666a6d10a1ade6
3962b622c5aa815afb803b92aa948424
3b22af324abded2781ed8f6a61f3654f
3b30b4555cc8b4b164ad03cf322cbea8
3bd1bdb5e90b9590a8878bff2ada8204
3be529eb3a7daaf34f963a22188f6139
3dd13faad1c45eb0c23e4567210f7eac
403273b51f91cf3c333695e5532cb2c3
404f56045e436d53ead2177bf957ba39
41854adbc73b0b58e5c566f60bb0df25
43c22dabb1e6d2449a39c2f7e974d537
476e72bbda5b78d188766139889e3038
4898a51256ae7d914a5ffd5695973470
49230c486f0fd383cd301fe162d6a786
4959a611b9885022d81b4bc8e4b1d149
495c6ff7ca0379ad0891bac47917d09a
49d2bd08038dc7dada221008591940f9
4c1b73ec52e6eec0c5d20577fcbc9ef1
4d34db639ba84b11822fb3dac47ed7d1
5244b163f9326a1e5eaa8860f7543f99
539f1a5183800a96228458932f9307f7
5466368d4659f1b1470bcb09e65b484d
549cde6535a884126755fc53f59a820c
555389e92c622b87d3fc395fd8723501
588d0b42e54174a98e1eca59945e8b32
58bc21d305a65c41745327f142f3ac12
59401c9a60449c742d073d93d1b7039a
59eec218522cc5c7743a0d37892a3345
59faf75430e9326d3ae9d231bb3ae8c6
5d0259ca16cfc2d7d1b0fac69f29ab05
5d55026fb84dba91ac01e2095504b1bc
5e35f50c692081fd6c7ddac1272e2d6c
5f4d5965af741bba59b7c8d3425f33dd
6010282004917ecf3900babf61456432
6088c2a04c94cdcd5a283a6d1622ffba
61dee38d2f97220efb1218ad8971e3ab
62ac194f2526eb45485526bca35c8f43
634296a023280d020674c873d0199760
635755dadfab8b92fb502aafb09122db
63fc58be0d7b48eaa34da7f752ae8ae6
6441640409815cfb4bf469e685e1bdb5
646973d1928c401ba80961c12cbf84a2
65eef0a0ee257254ef0418aa57192cfb
66f6a192083a7ab00ae8e0b5cc52e8f4
67a42e2e27ffc26d1f3d0ceb8384afd0
689385f1218e0d4c347595648ca6a776
692f91c0c5e9e93e0a24bd3392887ca1
69ecf52960c8bd9e746dfe9ee19c11f6
6e359f3bbc622e9b1ed36f6e3d521bcf
6e3650528f719fc50988a1f697644832
6ead0d5d3f87911c27f3ae0a75e6b5bc
6f1fa8b444caf0d8238f948279ca74e1
6fb8cdf567dd7d89d53b5771d769cb5f
706b6055658aff067ae370f23831ef6b
708140c311d3d69418f75c928e7535a0
719ec5da8f2153a436ee8567ff609894
7292ef4cdca529071fad97496e1c9439
74871691eac48156ce0da2cfa3ab401a
74cf24f2a66a31c88b6fcfe01f12160c
75e874d8e0a79697633b87ea5e798b1c
76c0d09fed2f33babb0de8ee2c07144c
77a01363fa2b29af25c004da9570e23c
78988c65e9b70e7929e747408d8f0b0e
79c6d12d168b85437384b20eb94e106b
7b4137b4e85f31a81bb5bafeda993947
7b9db1d58326c1fa276ba2a39bcc2617
7cbc7459db5327c26476549f225030f5
7cd727171c2522f51417edeeba4f1791
7e3630c67c802eabb67b108ad4d7ded7
802f5d34c230da40c0912a1c5a9b702b
80bd0f3610f6c4d60584a5be0b8a3016
819030799f0020ed724c2ef3ffaa56c6
8207129585da68066ed08e94216d76ee
821f649d08687e22f96cea99fbb5d3a3
830838cb0620d659405a74401cd72557
833d3201066f5184c874c73a2083c448
840f488b7c0a5d686d1e89908735f354
84301b967a4d9a242466c04901bad691
85c3fac6a9885362c448f434671e362f
883b9fe16e45c388968defc73a5fba7a
8a6b0ba3496eeca39d6d3f9bae830c90
8ad0fd4b78c89bd63b97343fda1eeccb
8b0ae9029974091df12210255aaecad6
8b297f8b219e968932293ee7a8242ca3
8bb1781e756a53cd00d9b2ec670fa21e
8d5515351afdf27b013f96a05bf45147
8fafa73e9985e05d0c1c964da770c567
905967b08bd44cfa60d969229921ac23
9188ef45ea917a91ec9b92b5dd8cd90d
918dfab0333ae15d61f14fd24b5eaaac
922a3272aad17c9eaad733696a4321da
9253399537fad8448f1d4732dd79f6fa
934a8a6528e91caa019acb76e791a71d
95588e0386206fa02912cfcaf18c1220
9610328cdaa4694800c2c93410f8ce82
9622902cc43f4a20d0d686a37e4d8232
96c41e4c4a1812187fb279b9299ad63b
984c4653a563b19c87f264611a6adc01
9980febfaf901d4113a1c473f79d7eb6
9a176d818edff838fc057cea3ee372c0
9ba21c5148913186a5bf877078cbc048
9cfda02ef7e04c469b77f8197a249c17
9d74d395bd2f72a47a5c980e6040df5a
9df128ebe0c82064aa746647883112c9
9e5613533972a9d42d2e3344a4e58566
9ec17429eed5446e3720796ab50d8c60
9f2438aaab4744c4b7b5b7287a783099
9f3bf94572344b36f6ef1689cb30c66e
9fdd7a85b3a4ef8ded73beb3e6218109
a1b732a9af792f75a68ed78d72ffb8f6
a260d836428cdb971bdf147ca6940160
a4f11b1eb659869a0ae70898a4a0e5ee
a596ebbcf438980c880d711315e4fdf1
a80b6a354b493264f37aa39d0d41b5fc
a89df6156eb5a2de196388d4a123b470
a96837fe533247abb7f88000d0216a50
a98cf0a359f430a00f4f3d522f5b6cc0
aa2fe3a253e169b05e1782ca57a688d2
aef0172a2c03f77912de0bbf14aee00f
af06c3e72f2f307515ba549174d8e5a6
b311ab82b30f41b12cb9089d00c4a1ff
b4f31423445b5f13675f205ac997f41f
b50666c9aed1c2f222c56b6e9b326d27
b53f179b3f25f72bb0c7ccf45bf8beee
b57f3e41c03803306b0ee2111f7ef823
b79434613820faf30d58f103c4415a29
b8366aaa5ed51c0dea3fc90ef7e14889
b8f6b0d234a305c25411e83fd430c624
b956ed2b848dabb4e79ab7358233861b
b9ecb08402df0f1f6e1ce76b8ad6e91f
ba4a616c8d4ab9358a82b321d8e618bf
bcd62f3e029f96f62c24d50d2d1402ac
bcf75736d176394f3df69f3e0ef7dd9f
be1f24457141d80206bc2e58f55dc879
c013f308d170aa2eca4a5b0f0bbd3ccb
c0a2fd066c955137036f92da2c3a3ff1
c17b3ec40ed5216e44311138aafaea2c
c262a39f49604f05a5656213f758cd46
c66f36eb180438882133717c3abb5157
c986c7bf720ce1463c3d628d2b3dad01
c9c16287cbbe5a037244e374ba84aecc
cbcd728a2350712b5747cd3447473deb
cbeeb123efe8cf7f842426b673415c28
ccb15eef4287c8efa472915bcb4ec458
ccdddb69e9344a039c4ac9c49a6f2d7b
cd1312be032256a10cf866af3e9afae9
ce0dd163d9e02bfd42d61024523cb134
ceef2e728db1b5ae15432f844eeb66e1
d12d98a0877f6e3c8b5a59f41cc4de9b
d131f17689f1f585e9bfdcdb72a626bb
d173076d97a0400a56c81089912b9218
d255291bb8e460626cb906ebacc670e5
d2cea317778ad6412c458a8a33b964fd
d3cfee76468a9556fd9d017c1c8ee028
d3d72f4c7038f7313ad0570e16c293bf
d485a1b5db2f97dc56500376d677aa89
d662d20507bebc37b99a4d413afa2752
d711d577b9943ab4e2f8a2e06bb963e3
d92e87d2689957765987e2be732d728e
d966c6c822122e96f6e9f5f1d4778391
daee31d7cc6e08ead6afad2175989e1d
dbb293176747fa1c2e03cbc09433f236
dc26ef761c7ec40591b1fe6e561b521d
dc9e6edeb7557bc80be68be15cebb77a
dddfbae77336120febd5ad690af3e341
e1f579227327ebb21cde3f9e7511db01
e3c642432a815a07f035e01308aaa8fc
e54329351788661f2a8d4677a759fc42
e82b7ad2c05f4617efbc86a78c1e61e9
e99cffa2afa064625f09e1c5aca8f961
ea6bd3db104ca210b5ad947d46134aaf
eb277d809a59d39d02605c0edd9333e9
ed82a50d98700179c8ae70429457477a
ef35374f4146b3532f0902d6f7f0ef8c
ef4c4d79f02ac404f47513d3a73e20c7
f05a5a60ad6f92d6f28fa4f13ded952f
f0776dfe17867709fdb0e0183ed71698
f20fbfd508e24d50522eadf0186b03eb
f3d751b0585855077b46dfce226cfea1
f4dd9bb28d680a3368136fb3755e7ea9
f804388f302af1f999e4664543c885a1
f8bcc8f99a3afde66d7f5afb5d8f1b43
f8d6f89aecf792e844e72015c9f27c95
f967460f8c6de1cedb180c90c98bfe98
f9d5cc0cbae77ea1a371131f62662b6b
fa4f1a3b215888bc5f19b9f91ba37519
fdff2bf247a7dad40bac228853d5a661
fe6e7fac4f0b4f25d215e28ca8a22957
fe9de1cdd645971c5d15ee1873c3ff8d
febba89b4b9a9649b3a3bf41c4c7d853
NCSC-NO observed the following user agents communicating with Exchange (OWA and EWS):
Mozilla/5.0 (Windows NT 10.0; Win64; x64; rv:109.0) Gecko/20100101 Firefox/114.0
Mozilla/5.0 (Windows NT 10.0; Win64; x64) AppleWebKit/537.36 (KHTML, like Gecko) Chrome/92.0.4515.131 Safari/537.36 Edg/92.0.902.67
NCSC-NO observed the following user agents communicating with Exchange webshell:
Mozilla/5.0 (iPhone; U; CPU iPhone OS 4_0_1 like Mac OS X; en-us) AppleWebKit/532.9 (KHTML, like Gecko) Version/4.0.5 Mobile/8A306 Safari/6531.22.7
Mozilla/5.0 (Macintosh; U; Intel Mac OS X; en-US; rv:1.8.0.7) Gecko/20060909 Firefox/1.5.0.7
Mozilla/5.0 (Linux; Android 7.0; Moto C Build/NRD90M.059) AppleWebKit/537.36 (KHTML, like Gecko) Chrome/69.0.3497.100 Mobile Safari/537.36
Mozilla/5.0 (Windows NT 6.1; WOW64) AppleWebKit/537.36 (KHTML, like Gecko) Chrome/41.02272.101 Safari/537.36
Mozilla/5.0 (Linux; Android 5.1.1; SAMSUNG SM-J120M Build/LMY47X) AppleWebKit/537.36 (KHTML, Like Gecko) SamsungBrowser/6.4 Chrome/56.0.2924.87 Mobile Safari/537.36
Mozilla/5.0 (iPhone; CPU iPhone OS 9_0_2 like Mac OS X) AppleWebKit/601.1.45 (KHTML, like Gecko) Version/9.0 Mobile/13A452 Safari/601.1
NCSC-NO observed the following user agents communicating with Exchange Autodiscover:
ExchangeServicesClient/15.00.0913.015
Mozilla/5.0 (Windows NT 10.0; Win64; x64) AppleWebKit/537.36 (KHTML, like Gecko) Chrome/92.0.4515.131 Safari/537.36 Edg/92.0.902.67
Mozilla/5.0 (Windows NT 10.0; Win64; x64) AppleWebKit/537.36 (KHTML, like Gecko) Firefox/114.0
Mozilla/5.0 (Windows NT 10.0; Win64; x64) AppleWebKit/537.36 (KHTML like Gecko) Chrome/114.0.0.0 Safari/537.36 Edg/114.0.0.0
NCSC-NO observed the following user agents communicating with EWS (/ews/Exchange.asmx):
Mozilla/5.0 (Windows NT 10.0; Win64; x64) AppleWebKit/537.36 (KHTML, like Gecko) Chrome/103.0.5060.114 Safari/537.36 Edg/103.0.1264.49
Mozilla/5.0 (Windows NT 10.0; Win64; x64) AppleWebKit/537.36 (KHTML, like Gecko) Chrome/92.0.4515.131 Safari/537.36 Edg/92.0.902.67
NCSC-NO observed the following user agent communicating with Exchange (/powershell):