The rise in DDoS attacks poses significant challenges to individuals, organizations, and even entire nations. The impending threat from Anonymous Russia against France, an alarming attack alert from KillMilk , as well as the recent attacks by the NoName hacker group in Lithuania serve as stark reminders of the pressing need for robust cybersecurity measures. The incidents occurred after the latest NATO summit held in Lithuania, which indicates a correlation.
This blog post aims to shed light on recent developments in the DDoS landscape.
Anonymous Russia and UserSec Targeting France
In a recent message within UserSec's Telegram group, it has come to light that Anonymous Russia and UserSec have disclosed their intention to focus their efforts on France.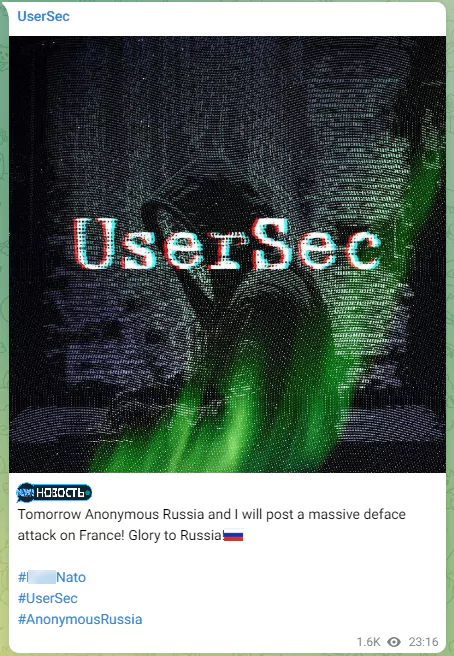 They have made an announcement stating that they successfully hacked 50 French websites, with the disclosure made today at 12:00 PM.
Anonymous Russia primarily focuses on defacing websites, leaking data, and carrying out denial-of-service (DoS) attacks, often in coordination with KillNet.
They have targeted prominent entities such as the European Parliament, U.S. airports, and U.S. government websites during midterm elections. This threat group is highly interactive, consistently sharing and promoting messages from other groups associated with KillNet.
UserSec, which has previously collaborated with KillNet and Anonymous Sudan and also has shown support for the activities of Darknet Parliament, has joined forces with Anonymous Russia for this particular operation.
Attack Alert Issued by Notorious Russian DDoS Group, KillMilk
Of significant concern is the announcement from the notorious Russian DDoS group, KillMilk. They have instructed all their affiliates to be on high alert within the next 24 hours, indicating an imminent attack.
KillNet's founder, KillMilk, departed from the group in July 2022. Nevertheless, KillMilk remains active and maintains an association with the KillNet group. He continues to share KillNet-related announcements on the KillMilk Telegram channel.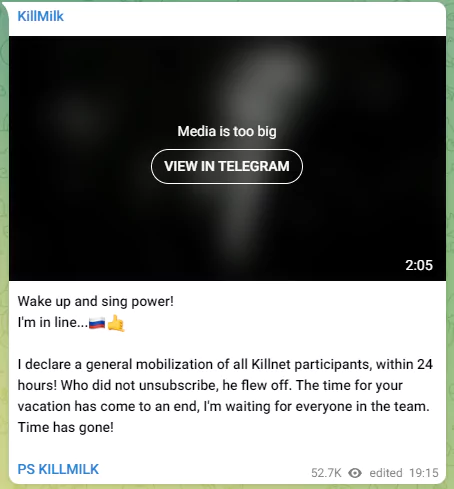 NoName Hacker Group Strikes Lithuania
The NoName hacker group has recently carried out a series of DDoS attacks on prominent Lithuanian websites. Their primary targets include the website of:
Lithuanian magazine Veidas
Kelprojektas
The Lithuanian national association of road carriers, Linava
Lithuanian airport Siauliai
Lithuanian portal for buying air tickets Avia
Lietuvos aidas
The Baltic Times
Stay Ahead of Threat Actors with SOCRadar
Organizations can effectively track and analyze the activities of threat actors such as KillNet, Anonymous Russia, UserSec, and NoName, among many others, using SOCRadar's Threat Actor Tracking. The comprehensive platform of SOCRadar provides real-time updates and actionable intelligence on all monitored threat actors, allowing for proactive defense measures.