Microsoft and VMware cautioned users about a widely spread Chromeloader malware campaign. The malware is said to have evolved and become more threatening.
Microsoft has posted an alert on Twitter about an active click fraud campaign that utilized Chromeloader, attributed to threat actor DEV-0796.
Chromeloader detections peaked in May this year. The malware is a browser hijacker with adware functionalities; it modifies web traffic and promotes unwanted, malicious search results to the user. It has been observed dropping malicious extensions, node-WebKit, and ransomware. As per malware's activity, the user could become a victim of fraud or hacking.

New Variations
A technical report by VMware outlines the various Chromeloader variations that have recently been used.
In an example where the threat actors imitated OpenSubtitles, they switched from the typical resources.bat file to one called properties.bat, which is used to install the malware and establish persistence with registry keys.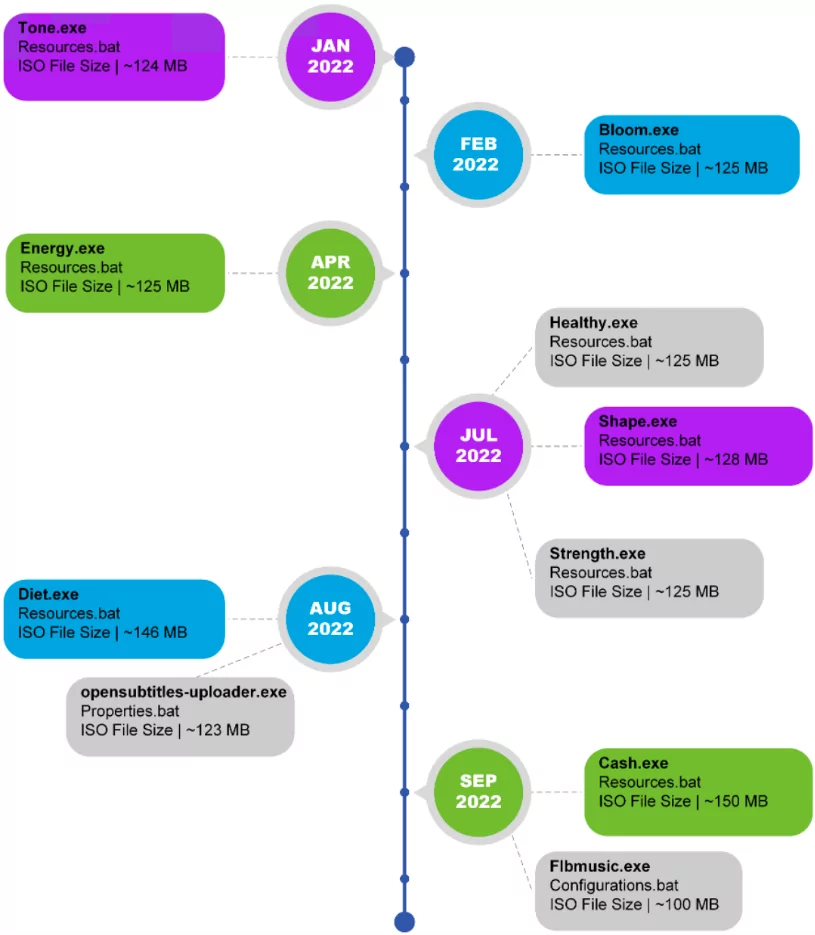 The most recent variant is Flbmusic[.]exe, which impersonates the FLB Music player and has an Electron runtime that enables the malware to load extra modules for network communication and port eavesdropping.
For some variants, the attacks became a little more severe; when the ZipBomb is launched, the malware overloads the user's system with data and destroys it.
Dropping Malware
Malicious advertising, browser reroutes, and YouTube comments are used to spread ISO files that install the ChromeLoader malware. The attack requires user interaction.
Since Microsoft started blocking Office macros by default, ISO files have grown in popularity as a means of spreading malware. Furthermore, ISOs are an effective approach to spread numerous malware files simultaneously in Windows 10 and later versions as, upon double-clicking, they are automatically mounted as a CDROM under a new drive letter.
Four files are frequently seen in ChromeLoader ISOs:
ZIP package holding the malware,

ICON file,

A batch file (often called Resources.bat) that installs the malware

Windows shortcut that runs the batch program

What's worse is that current Chromeloader variations have been observed spreading the Enigma ransomware using an HTML file.
A dated ransomware variant called Enigma uses a JavaScript-based installer and an embedded executable so that it can be started right from the default browser.
Following the completion of the encryption, the .enigma filename extension is applied to the files, and the ransomware drops a readme.txt file giving instructions.
Chromeloader Malware IoCs
Adware hijacks are a typical case. Chromeloader stands out with its prevalence. It is advised to use trusted sources only and never click a URL without ensuring that it is secure.
Check for indicators of compromise to avoid installation of the malware.
C2 Servers:
betasymbolic[.]com

krestinaful[.]com

tobepartou[.]com

tobedirectuke[.]com

eandworldw[.]com

etobepartou[.]com

kfareputfeabl[.]com

blesasmetot[.]com

siwoulukdlik[.]com

sforourcompa[.]com
Installer Servers:
brokenna[.]work

etterismype[.]co

idwhitdoe[.]work

ithconsukultin[.]com

learnataloukt[.]xyz

rsonalrecom[.]co

yflexibilituky[.]co

yeconnected[.]com

ableawid[.]com

airplanegoobly[.]com

baganmalan[.]com

balljoobly[.]com

balokyalokd[.]com

boogilooki[.]com

bookimooki[.]com

carfunusme[.]com

carmoobly[.]com

chairtookli[.]com

chookiebooki[.]com

choopinookie[.]com

ckgrounda[.]com

computermookili[.]com

dubifunme[.]com

dudesurfbeachfun[.]com

exkcellent[.]com

funbeachdude[.]com

ketobepar[.]com

kooblniplay[.]com

letfunhapeme[.]com

lookiroobi[.]com

lookitoogi[.]com

madorjabl[.]com

malanbagam[.]com

mokkilooki[.]com

myeducatio[.]com

nakasulba[.]com

ndinterper[.]com

ndworldwi[.]com

nookiespooti[.]com

oempafnyfi[.]com

saveifmad[.]com

siwoulukdli[.]com

slootni[.]com

sonalskills[.]com

tabletoobly[.]com

toogimoogi[.]com

toukfarep[.]com

uiremukent[.]com

ukrawinrusyes[.]com

utfeablea[.]com

voobmijump[.]com

xoomitsleep[.]com

yalfnbagan[.]com

yalokmalos2[.]com

yescoolservmate[.]com

yourretyeq[.]com

tcaukthw[.]com

tooblycars[.]com

koooblycar[.]com

rooblimyooki[.]com

yooblygoobnku[.]com

playkooblni[.]com

rockslootni[.]com

muendakere[.]xyz

mployeesihigh[.]xyz

adiingsinsp[.]xyz

ajorinryeso[.]xyz

ktyouexpec[.]xyz

learnataloukt[.]xyz

ngwitheaam[.]xyz

ptonnervent[.]xyz

ukmlasttyye[.]xyz

ukseseem[.]xyz

withyourret[.]xyz