MooBot botnet is back for new attacks. The variant of the Mirai malware started a new campaign last month to exploit critical vulnerabilities (CVSS 9.8) in D-Link routers.
MooBot was first identified in December 2021, when it exploits a vulnerability in Hikvision cameras to spread across many devices to build itself a DDoS army. The malware has changed targets, now targeting vulnerable D-Link routers.

Which Vulnerabilities Does MooBot Exploit?
MooBot exploits several old and new vulnerabilities to hack into the routers:
CVE-2022-26258 and CVE-2022-28958 are remote code execution vulnerabilities found in D-Link routers. The vulnerabilities are exploited by writing unknown input in place of "value" and "Device Name" in /lan.asp and shareport.php files.
The botnet malware also exploits old vulnerabilities. CVE-2018-6530 exists in soap.cgi and allows a remote attacker to inject commands into OS. CVE-2018-6530 is discovered to exist in a series of configurations within D-link routers. The oldest exploited vulnerability in the MooBot campaign is CVE-2015-2051, which lets an attacker execute arbitrary commands and is exploited through GetDeviceSettings in the HNAP interface.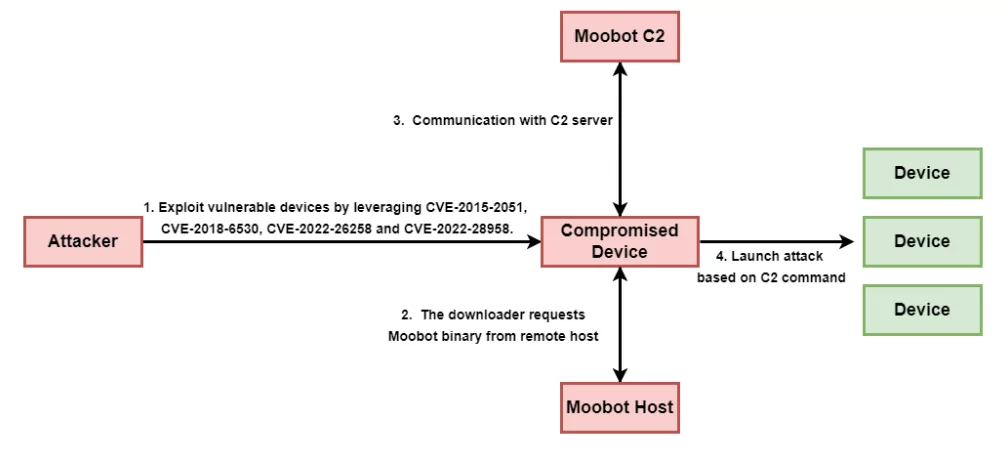 Following the malware's decoding of the configuration's hardcoded address, the newly captured routers are registered on the threat actor's C2 server. The C2 addresses listed in Unit 42's report and those in Fortinet's analysis are different, which is significant because it suggests that the threat actor's infrastructure has been updated.
Depending on the objectives of MooBot's operators, the captured routers participate in targeted DDoS attacks against different targets.
The power of the botnet is rented to anyone interested in disrupting websites and online services since threat actors typically sell DDoS services to others.
Internet speed drops, slowness, overheated routers, and mysterious DNS configuration changes are indicators of botnet infections and may be experienced by users of hacked D-Link equipment.
Recommendations
The easiest approach to prevent MooBot and other botnet attacks is to update your D-Link router's firmware whenever an update becomes available.
D-Link has issued security firmware updates to fix the mentioned vulnerabilities.
To block remote access to the admin panel, you should configure any outdated or unsupported hardware you use.
Suppose you believe you may have already been compromised. In that case, you should reset the device using the associated physical button, change your admin password and install the most recent vendor security updates.
MooBot IoCs
C2 Server:
Malware Host:
hxxp://159.203.15[.]179/wget[.]sh

hxxp://159.203.15[.]179/wget[.]sh3

hxxp://159.203.15[.]179/mips

hxxp://159.203.15[.]179/mipsel

hxxp://159.203.15[.]179/arm

hxxp://159.203.15[.]179/arm5

hxxp://159.203.15[.]179/arm6

hxxp://159.203.15[.]179/arm7

hxxp://159.203.15[.]179/sh4

hxxp://159.203.15[.]179/arc

hxxp://159.203.15[.]179/sparc

hxxp://159.203.15[.]179/x86_64

hxxp://159.203.15[.]179/i686

hxxp://159.203.15[.]179/i586
Shell Script Downloader (SHA256):
rt:

B7EE57A42C6A4545AC6D6C29E1075FA1628E1D09B8C1572C848A70112D4C90A1

wget[.]sh:

46BB6E2F80B6CB96FF7D0F78B3BDBC496B69EB7F22CE15EFCAA275F07CFAE075
Samples (SHA256):
36DCAF547C212B6228CA5A45A3F3A778271FBAF8E198EDE305D801BC98893D5A

88B858B1411992509B0F2997877402D8BD9E378E4E21EFE024D61E25B29DAA08

D7564C7E6F606EC3A04BE3AC63FDEF2FDE49D3014776C1FB527C3B2E3086EBAB

72153E51EA461452263DBB8F658BDDC8FB82902E538C2F7146C8666192893258

7123B2DE979D85615C35FCA99FA40E0B5FBCA25F2C7654B083808653C9E4D616

CC3E92C52BBCF56CCFFB6F6E2942A676B3103F74397C46A21697B7D9C0448BE6

188BCE5483A9BDC618E0EE9F3C961FF5356009572738AB703057857E8477A36B

4567979788B37FBED6EEDA02B3C15FAFE3E0A226EE541D7A0027C31FF05578E2

06FC99956BD2AFCEEBBCD157C71908F8CE9DDC81A830CBE86A2A3F4FF79DA5F4

4BFF052C7FBF3F7AD025D7DBAB8BD985B6CAC79381EB3F8616BEF98FCB01D871

3B12ABA8C92A15EF2A917F7C03A5216342E7D2626B025523C62308FC799B0737
You can find all IoCs here.