The Cybersecurity and Infrastructure Security Agency (CISA) released a summary of new vulnerabilities with a bulletin on October 30, 2023. These vulnerabilities were added to the National Institute of Standards and Technology (NIST), and to the CISA-sponsored National Vulnerability Database (NVD) within the past week.
In this blog post, we highlight critical and high-severity vulnerabilities featured in the CISA bulletin that may impact the cybersecurity community. Some of these vulnerabilities have already garnered attention from various media outlets and are likely to attract the interest of threat actors.
Understanding the current trend in vulnerabilities and addressing them proactively allows you to stay one step ahead of potential threats. Without further delay, let's explore the details of these vulnerabilities.
An Overview of Critical and High-Severity Vulnerabilities in the Bulletin
Apache HTTP Server
The Apache HTTP Server Project is an open-source cross-platform web server software, designed for modern operating systems, such as UNIX and Windows.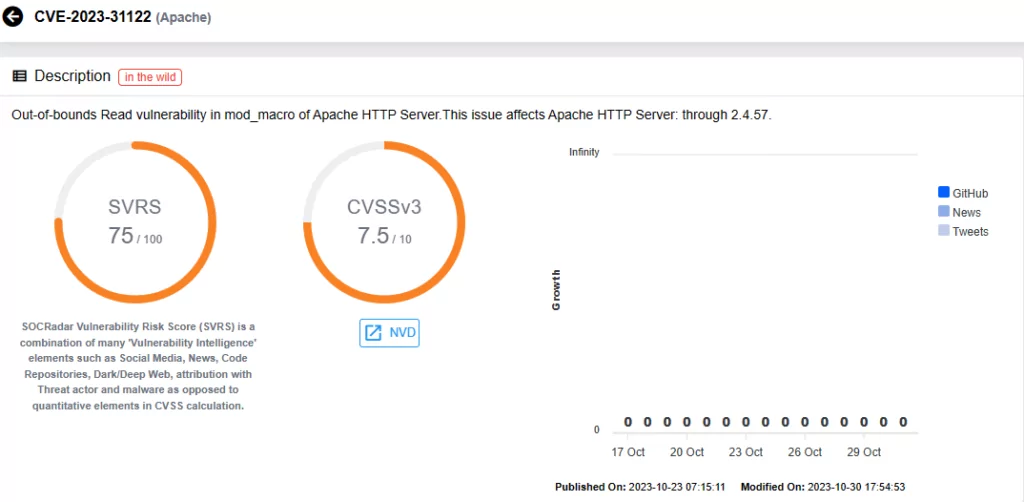 F5 BIG-IP
F5 Networks' BIG-IP is a suite of hardware platforms and software solutions, designed to enhance application performance with a primary focus on ensuring application availability and security.
Recent scrutiny of F5 BIG-IP products unearthed two critical vulnerabilities. The first of these vulnerabilities, identified as CVE-2023-46747, permits unauthenticated remote code execution.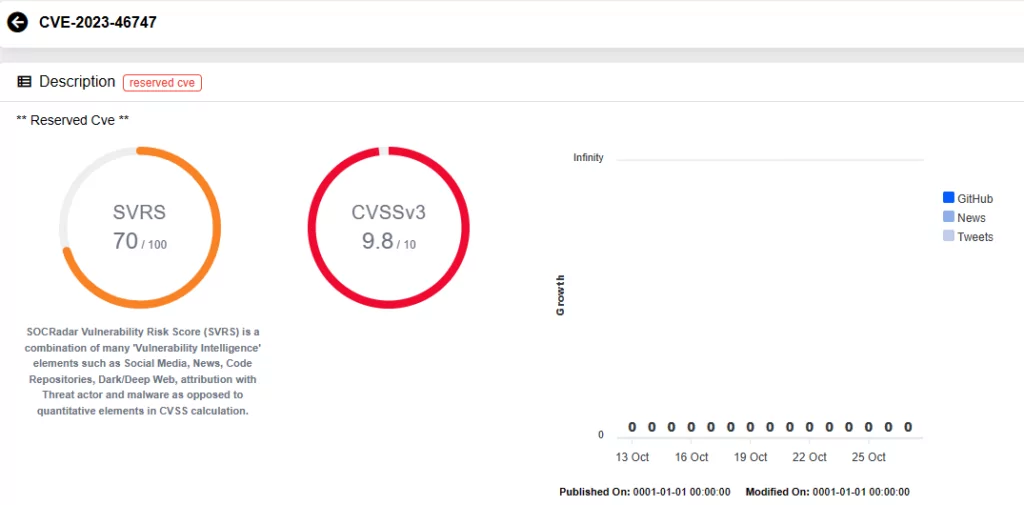 For detailed information regarding this vulnerability, refer to the linked blog post:
Critical Vulnerability in F5 BIG-IP Configuration Utility Allows Request Smuggling, Leads to RCE: CVE-2023-46747
Another vulnerability CISA has listed in the bulletin concerning F5 BIG-IP is CVE-2023-46748.
IBM Cognos Dashboards, Security Verify Governance, Sterling Partner Engagement Manager
IBM has identified several critical vulnerabilities in its software solutions:
IBM Cognos Dashboards on Cloud Pak for Data 4.7.0:
IBM Security Verify Governance 10.0:
IBM Sterling Partner Engagement Manager:
QNAP QUSBCam2
QNAP QUSBCam2, a software enabling USB webcams to function as remotely-manageable IP (ONVIF) cameras, is vulnerable to:
VMware Fusion
VMware Fusion, a suite of Desktop Hypervisor products catering to application developers, IT professionals, and virtual machine enthusiasts, is afflicted by the following vulnerabilities in versions prior to 13.5:
CVE-2023-34045 (CVSS Score: 7.8): A local privilege escalation vulnerability, most notably occurring during installations for the first time or when upgrading. This flaw allows a malicious entity with local, non-administrative user privileges to exploit the system and elevate their privileges to root.
CVE-2023-34046 (CVSS Score: 7.0): VMware Fusion is susceptible to a TOCTOU (Time-of-check Time-of-use) vulnerability during the installation for the first time or when upgrading. A local user with non-administrative privileges can potentially harness this vulnerability to escalate their system privileges to root.
Zscaler Client Connector
Zscaler Client Connector (formerly Zscaler App/Z App) is an application deployed on end-user devices, automatically routing all user traffic through the Zscaler Zero Trust Exchange to enforce policies, access controls, and enhance performance.
The product is affected by several vulnerabilities, with the most critical being a privilege escalation vulnerability, tracked as CVE-2023-28805.
In addition, the product has two vulnerabilities that affect its Windows installers and uninstallers:
Furthermore, a vulnerability specific to macOS was identified:
Lastly, there are several vulnerabilities impacting versions before 1.3.1.6 on Linux:
Additionally, a Windows-specific vulnerability:
WordPress
The bulletin by CISA also includes a multitude of critical and high-severity vulnerabilities in WordPress. These vulnerabilities affect various services and plugins, such as Ad Inserter, Jetpack CRM, Brizy, Security & Malware scan by CleanTalk, Cyr to Lat, Horizontal scrolling announcement, Dropbox Folder Share, Icegram Express, ImageMagick Engine, PluginEver WC Serial Numbers, BEAR, Qwerty23 Rocket Font, Fancy Product Designer, Simple:Press – WordPress Forum Plugin, Soisy Pagamento Rateale, and Essential Blocks.
Most critical of the vulnerabilities in WordPress are CVE-2023-4488, CVE-2020-36706, CVE-2023-4402, and CVE-2023-5576:
To see all the vulnerabilities featured in the bulletin, refer to the official website of CISA.
Utilize SOCRadar XTI to Effectively Combat Security Vulnerabilities
With the Attack Surface Management (ASM) module, proactively monitor emerging vulnerabilities across your digital assets, receive timely threat alerts, and better manage patching efforts to enhance your security posture.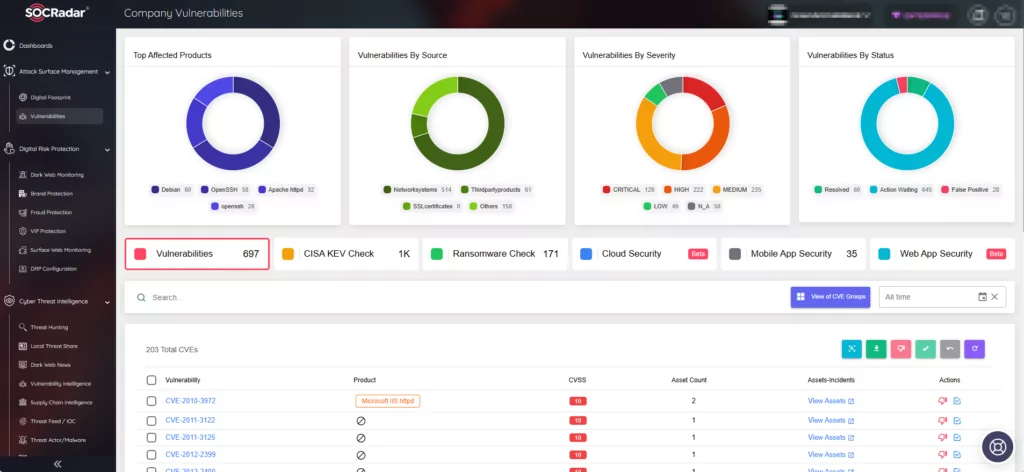 For further insights, updates, and hacker trends related to identified vulnerabilities, leverage SOCRadar's Vulnerability Intelligence. The module provides specific details about vulnerabilities and their SOCRadar Vulnerability Risk Score (SVRS), offering a better understanding of their popularity and potential for exploitation.