In the ceaseless pursuit of fortifying digital landscapes and strengthening cybersecurity ecosystems, SOCRadar is thrilled to announce its official partnership with dns0.eu, a renowned non-profit organization focused on providing secure DNS services.
This alliance will form a data exchange, where SOCRadar will furnish dns0.eu with a malicious domain feed while dns0.eu, in turn, will supply newly registered domains to SOCRadar. This exchange covers more than 10 data types, including Passive DNS and Threat logs. Other data types include:
False positive/negative reports.

Newly Active Domains (NAD).

Newly Observed Domains (NOD).

Newly Registered Domains (NRD).

Newly Observed Hostnames (NOH).

Newly Issued Certificates (NIC).
Both organizations seek to enhance their cybersecurity capabilities by joining forces and providing users with a safer digital experience.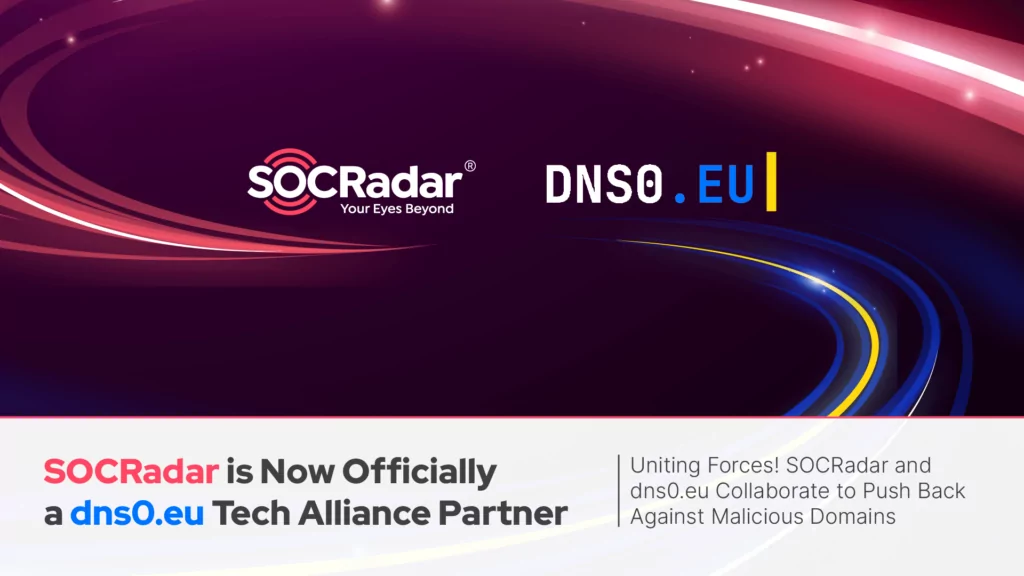 The Importance of Partnering with dns0.eu
This partnership signifies a key step forward in SOCRadar's continued commitment to strengthening its Extended Threat Intelligence (XTI) product. This collaboration amplifies our customers' overall security efficacy and visibility by sharing actionable, contextualized threat intelligence.
The alliance with dns0.eu underscores the importance of self-prevention and third-party risk management in today's increasingly interconnected cyber landscape. For Non-Governmental Organizations (NGOs), leveraging tools like SOCRadar to comprehensively assess their cyber risks is crucial. This collaborative effort with dns0.eu will aid in detecting cyber threats even more rapidly, managing third-party risks efficiently, and safeguarding digital assets more effectively.
From a self-prevention perspective, this alliance facilitates the detection of cyber threats at an earlier stage, allowing for proactive mitigation and response. From a third-party risk management perspective, it provides enhanced visibility into potential vulnerabilities related to an organization's supply chain and third parties, ultimately leading to a more robust security posture.

Who is dns0.eu?
dns0.eu is a non-profit organization dedicated to privacy, security, and internet safety. Their offering includes a secure DNS service, implementing modern DNS protocols which are not susceptible to eavesdropping or tampering, thus providing end-to-end encryption.
dns0.eu focus on shielding users from malicious domains that range from phishing websites to Command and Control (C&C) servers, working tirelessly to reduce the detection-to-protection window.
Moreover, dns0.eu introduces a unique product dubbed 'ZERO', designed to offer hardened security for highly sensitive environments. This feature helps significantly increase the catch rate for malicious domains, particularly during their early, most destructive hours. Their advanced heuristics couple human-vetted threat intelligence with automatically identifying high-risk patterns.
About SOCRadar
SOCRadar is an Extended Threat Intelligence (XTI) tool enriched with External Attack Surface Management and Digital Risk Protection. This helps organizations enhance their security posture and establish an early warning system against cyber threats.
For Non-Governmental Organizations (NGOs), SOCRadar provides a critical tool for assessing and managing cyber risks. By integrating actionable and contextualized threat intelligence, SOCRadar helps NGOs maintain an up-to-date inventory of their digital assets, detect vulnerabilities, and mitigate threats. Our alliance with dns0.eu will further bolster the cybersecurity capabilities available to NGOs, safeguarding their digital assets and ensuring their vital work can continue unhindered in an ever-evolving digital landscape.