IT security company Entrust suffered a cyberattack on June 18. Attackers gained unauthorized access to the company's network to reach internal data. Despite the theft of some files, Entrust's workflow was unaffected. The company later notified their customers about the breach, saying they are still investigating and will provide further information.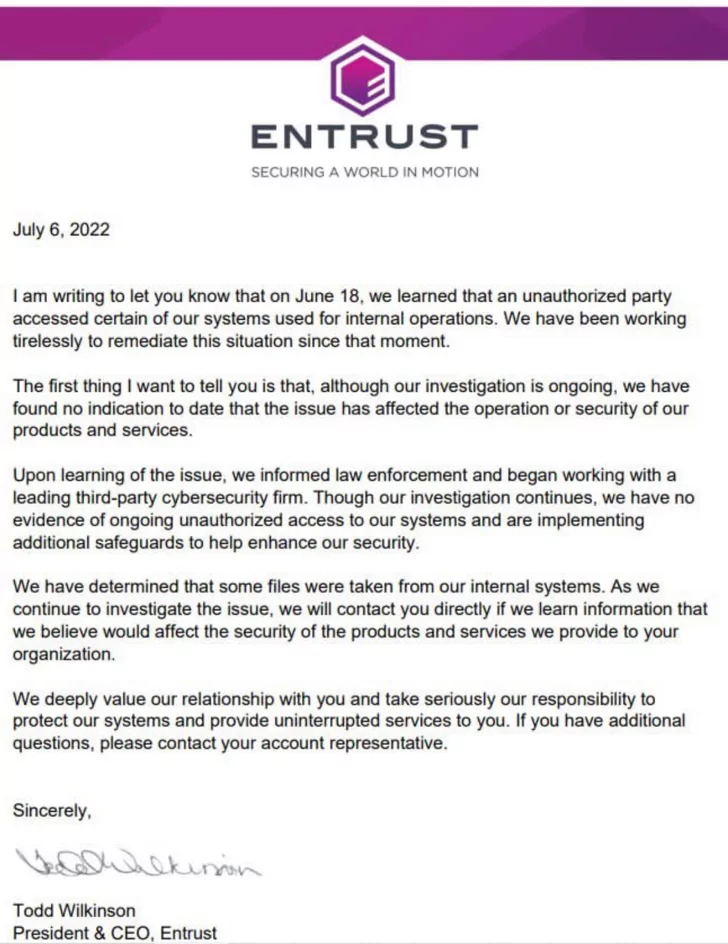 LockBit Claimed They Are Behind the Entrust Attack
Dominic Alvieri, a security researcher, reported that LockBit had published a specific data publication page for Entrust on their leak site and promised to expose all of the stolen information the following evening.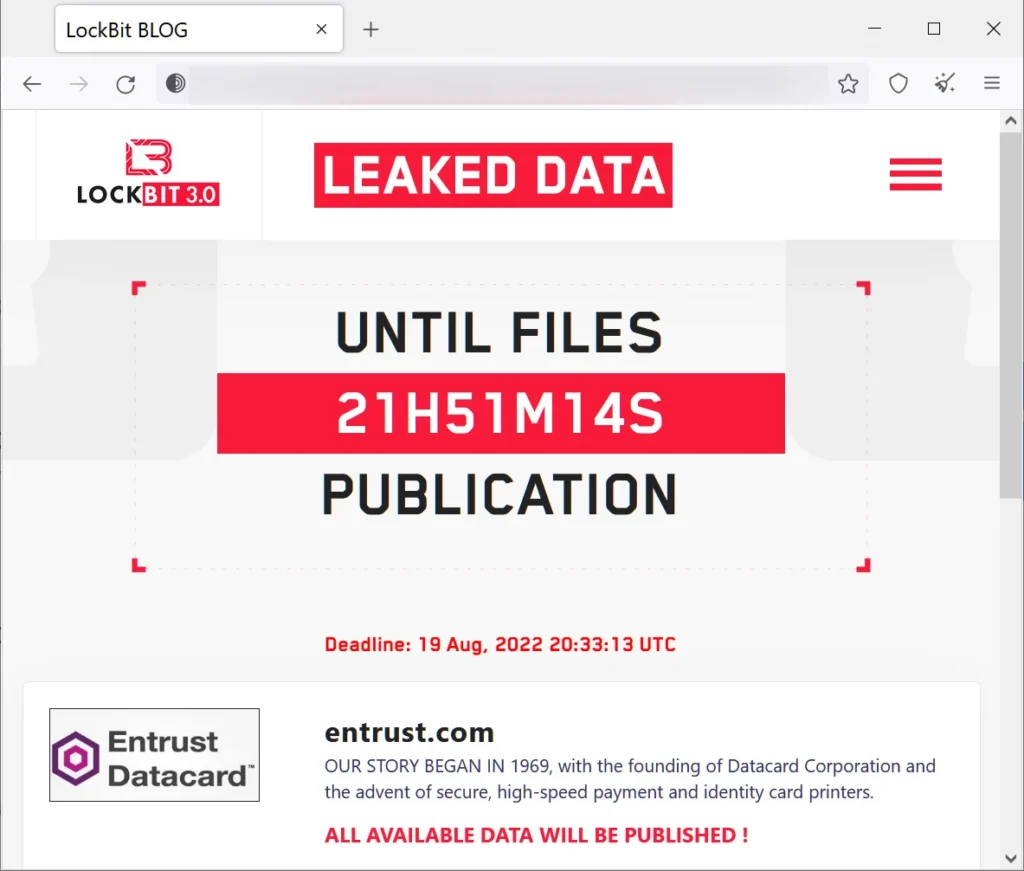 Given that LockBit promises to make all data public, it can be said that Entrust has not engaged in negotiations with the ransomware operation or is unwilling to agree with its demands.
What Has Been Leaked So Far?
On August 9, LockBit began revealing pieces of Entrust's stolen data. The initial leak was only some screenshots that hinted at the documents that would soon be leaked.
According to Alvieri, who has been monitoring the breach, accounting and legal files and marketing spreadsheets were among the information that was exposed.
LockBit's sites went offline a while after they started leaking the data. The threat actors behind the ransomware group claimed it was a DDoS attack related to their controversy with Entrust.
With its public-facing operation LockBitSupp, LockBit is one of the most active ransomware organizations.
LockBit 3.0, which included new encryptors built on the BlackMatter source code, new payment methods, new extortion tactics, and the first ransomware bug bounty program, was launched in June.

Mitigation Methods
It is advised for security and network experts to stay current with the threat actor's development and TTPs, as well as monitor the software and firmware updates done regularly.
Reviewing accounts and privileges is also necessary. Accounts or privileges that are not required anymore should be removed. Implement security measures and have a dedicated SOC team to increase visibility into all digital assets. Ensure you have a backup plan to prevent a disruption in workflow due to any cyber incident, including ransomware attacks.
LockBit TTPs
T1107 – File Deletion

T1055 – Process Injection

T1112 – Modify Registry

T1215 – Kernel Modules and Extensions

T1060 – Registry Run Keys / Start Folder

T1179 – Hooking

T1055 – Process Injection

T1179 – Hooking

T1124 – System Time Discovery

T1046 – Network Service Scanning

T1083 – File and Directory Discovery

T1016 – System Network Configuration Discovery

T1012 – Query Registry

T1082 – System Information Discovery

T1057 – Process Discovery

T1063 – Security Software Discovery

T1047 – Windows Management Instrumentation

T1035 – Service Execution

T1075 – Pass the Hash
LockBit IoCs
SHA256:
0d38f8bf831f1dbbe9a058930127171f24c3df8dae81e6aa66c430a63cbe0509

9a34909703d679b590d316eb403e12e26f73c8e479812f1d346dcba47b44bc6e

39c363d01fb5cd0ed3eeb17ca47be0280d93a07dda9bc0236a0f11b20ed95b4c

80e8defa5377018b093b5b90de0f2957f7062144c83a09a56bba1fe4eda932ce

391a97a2fe6beb675fe350eb3ca0bc3a995fda43d02a7a6046cd48f042052de5

506f3b12853375a1fbbf85c82ddf13341cf941c5acd4a39a51d6addf145a7a51

742489bd828bdcd5caaed00dccdb7a05259986801bfd365492714746cb57eb55

a56b41a6023f828cccaaef470874571d169fdb8f683a75edd430fbd31a2c3f6e

b951e30e29d530b4ce998c505f1cb0b8adc96f4ba554c2b325c0bd90914ac944

c6cf5fd8f71abaf5645b8423f404183b3dea180b69080f53b9678500bab6f0de

d61af007f6c792b8fb6c677143b7d0e2533394e28c50737588e40da475c040ee

f9b9d45339db9164a3861bf61758b7f41e6bcfb5bc93404e296e2918e52ccc10

fd98e75b65d992e0ccc64e512e4e3e78cb2e08ed28de755c2b192e0b7652c80a