IBM has published the Cost of a Data Breach report, which reveals how organizations from different industries are affected by data breaches and set future cybersecurity predictions. According to the report, financial losses incurred by the organizations participating in the research on data breaches reached an all-time high of 4.35 million US dollars. This represents a 13% increase over the last two years.
IBM report states that more than half of the organizations exposed to the data breach had to increase the prices of their products or services due to the loss they suffered. Considering that more than 80% of these organizations have experienced at least one data breach, the magnitude of the impacts and the future consequences can be seen more clearly.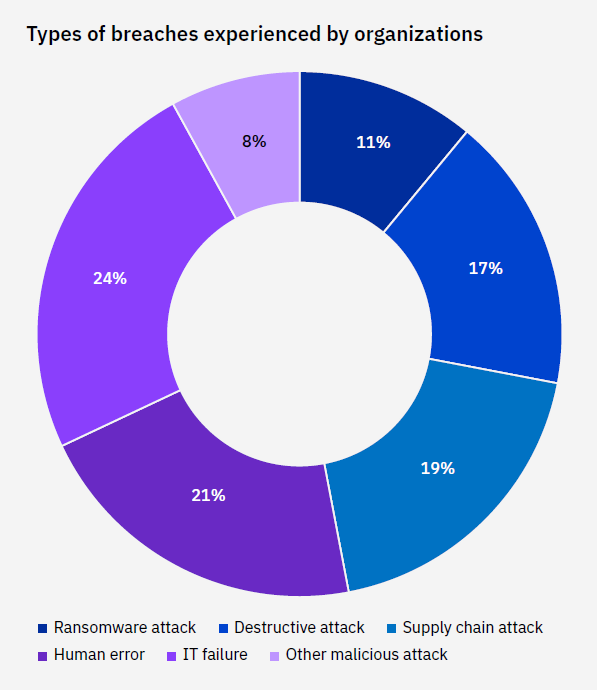 IBM Cost of a Data Breach Report is based on an analysis of data breaches suffered by 550 organizations from March 2021 to March 2022. The report's most striking findings show the increasing need for AI, automation, and third-party intelligence in cyber threat intelligence solutions. While stolen credentials played a significant role in data breaches, a cybersecurity posture powered by AI and automation provided organizations with US$3.5 million in cost savings.
In addition, highlighting the growing role of ransomware attacks in data breaches, the report reveals why organizations should use the Extended Threat Intelligence solution.
Supply Chain Compromises Made Breaches More Costly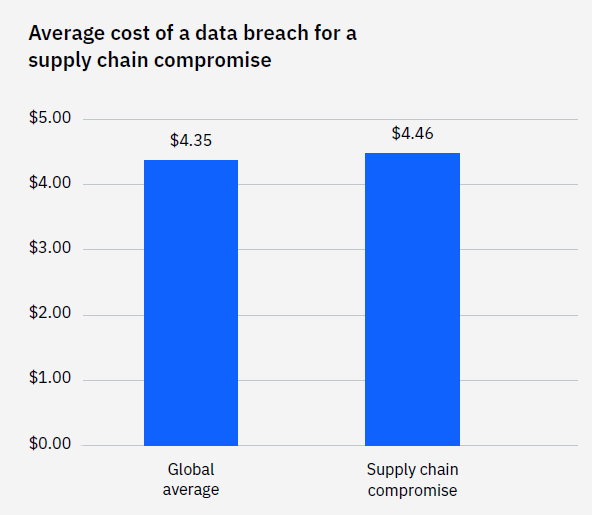 This year, there have been significant supply chain attacks across many industries. In the report, IBM also included supply chain-related data breaches for the first time. Organizations fell victim to a breach because of their business partners. The critical finding about this type of attack is that nearly one-fifth of the total breaches were caused by a supply chain compromise.
The average cost of a supply chain compromise was $4.46 million. This number, which is 2.5% higher than the average cost of a data breach, indicates that more attention should be paid to third-party intelligence.
The supply chain can be as diverse as vendors, providers, channels, partners, intermediaries, contractors, and government agencies. A threat intelligence solution that provides third-party monitoring, such as SOCRadar, can help prevent all these difficult-to-track components from posing a potential risk.
AI and Automation-Powered CTI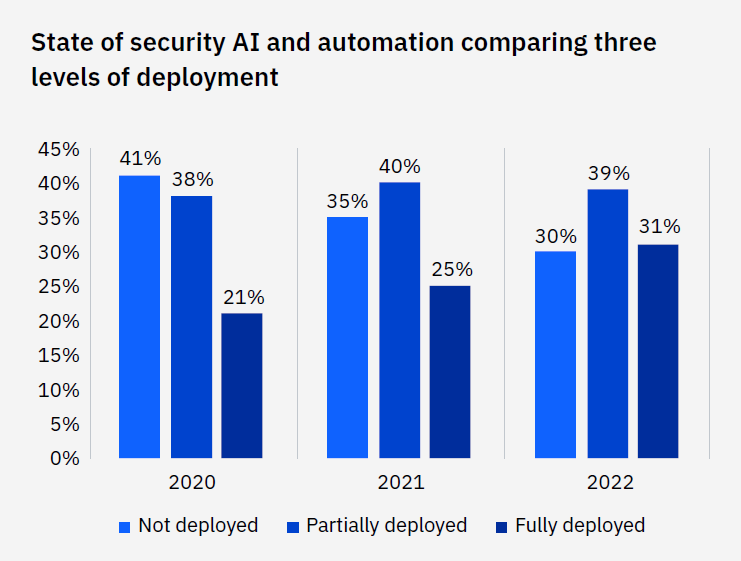 The report shows that organizations using AI and automation-enhanced intelligence solutions save $3.05 million in cost compared to those that don't. Organizations that do not use artificial intelligence and automation can detect a data breach in 323 days, while those that do can detect it in 249 days. Thus, using these technologies in cybersecurity stands out as the most significant cost-saving factor.
Organizations are quickly adapting to these technologies, realizing the advantages of artificial intelligence and automation. While only 59% of organizations participating in IBM's research benefited from AI and automation in 2020, this rate is expressed as 70% in 2022.
Especially in discovering digital assets, AI, ML, and automation processes help organizations. External Attack Surface Management tools such as SOCRadar's AttackMapper, which automatically detects assets without needing any inventory, save time and cost.

Increasing Role of Ransomware in Data Breaches
The ransomware section of the IBM Cost of a Data Breach report underlines that the average cost of a ransomware attack is $4.54 million, excluding ransom. Although this number is less than the 2021 average of $4.62 million, interestingly, the rate of ransomware attacks in data breaches has increased from 7.8% in 2021 to 11% in 2022.
It can be said that 2021 has almost been the golden year of ransomware. Threat actors made headlines with their innovative extortion techniques. The data in the IBM report proves once again that if we do not take drastic measures against ransomware, the problem will become more and more intractable.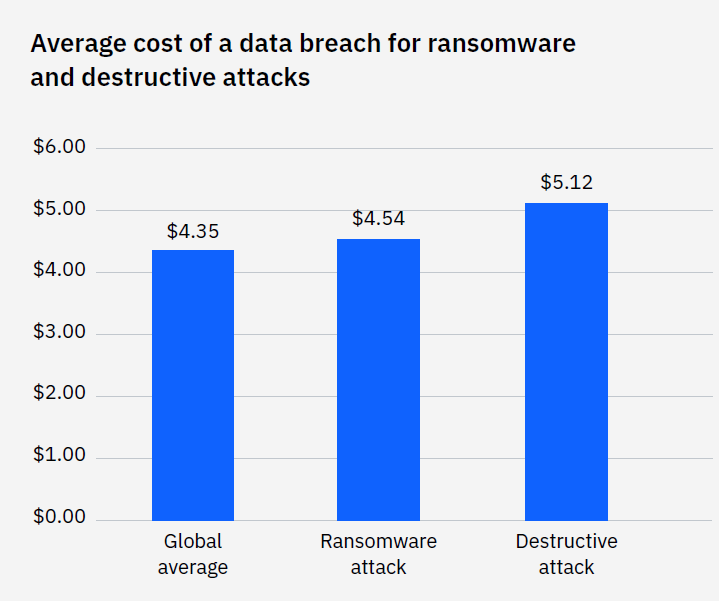 SOCRadar AttackMapper module swiftly detects and prevents ransomware attacks by tracking your assets. To profile present and potential threats, SOCRadar offers in-depth and actionable threat intelligence and helps you keep up with the latest tools used by ransomware gangs and gain crucial insights about their operations.
Stolen Credentials are the Primary Attack Vector
The biggest factor causing a data breach still remains compromised credentials. The IBM report shows that 19% of breaches are based on it. Although this rate, which was 20% in the 2021 research, seems to have decreased, it is still essential with an average cost of 4.50 million US dollars. These breaches, which can take almost 250 days to detect, are the most costly, along with phishing attacks.
Organizations should build more proactive cybersecurity strategies, including cyber threat intelligence, to avoid the risks associated with credential theft. SOCRadar's Dark Web Monitoring module monitors the deep and dark web regularly, allowing organizations to keep track of new combolists and password combinations.
Fast Incident Response Matters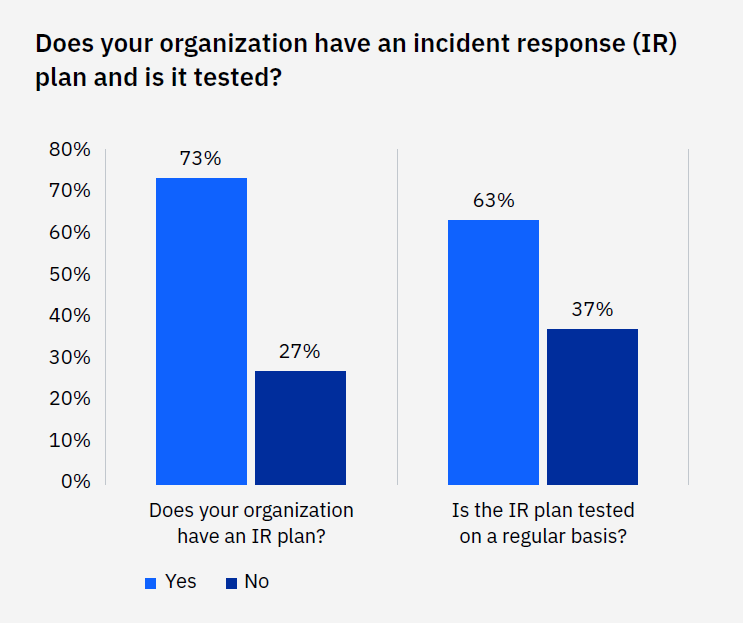 Organizations with incident response (IR) team -and have tested an IR plan- saved an average of USD 2.66 million in data breaches. 73% of the organizations claimed they have an IR plan, and 37% of those that have are not regularly testing their IR. You can gain detailed insights, mitigate risks and accelerate response with a security platform that can advance your strategy. Cyber threat intelligence would provide data to better understand attack patterns and threats to the organization.
SOCRadar provides real-time threat research and analysis and offers a big data-powered threat investigation with the ThreatFusion module. The module covers critical data sources across the surface, deep and dark web forums, and paste sites. The module also provides API-ready executive intelligence feeds that have been gathered from a wide range of sources to offer IOCs of prospective threats and threat actors targeting your industry.