Ursnif (a.k.a. Gozi), a former banking trojan, has been repurposed as a generic backdoor. Threat actors could use the new variant to distribute ransomware.
Mandiant researchers discovered Ursnif's new variant, LDR4, in late June, and they reckon the same actors from the RM3 variant are behind its distribution. It was also discovered that all banking features were removed from the LDR4 variant of Ursnif, and its code has been simplified.
The threat actors behind Ursnif make fake job proposals in emails to carry out the operations, which is their usual scheme. In a previous campaign, the gang impersonated Michael Page's consultants. They offered executive positions to lure victims and deployed their infostealer malware.
Initial Access and Operations of Ursnif
The LDR4 variant is spread via phishing emails containing a link to a website impersonating a legitimate company.
Upon visiting the malicious site, users are requested to complete a Captcha quiz to download an Excel document. A macro code in the Excel document is used to retrieve the malware payload named loader[.]dll from a remote resource. The DLL is signed with legitimate certificates to prevent detection and is packed by portable executable crypters.
After execution, the new malware gathers system service information from the Windows registry and generates a user and a system ID.
An RSA key found in the configuration file is then used to establish a connection with the command and control (C2) server. After that, it tries to get a list of commands to run on the host.
The malware supports the following commands:
| | | |
| --- | --- | --- |
| Command ID | Command Name | Description |
| 0xf880e2be | LOAD_DLL | Load a DLL module into the current process |
| 0xfee861f1 | SHELL_STATE | Retrieve the state of the cmd[.]exe reverse shell |
| 0xc202e685 | SHELL_START | Start the cmd[.]exe reverse shell |
| 0xa5946e4a | SHELL_STOP | Stop the cmd[.]exe reverse shell |
| 0xa04d6355 | SHELL_RESTART | Restart the cmd[.]exe reverse shell |
| 0x5d2295b5 | RUN_COMMAND | Run an arbitrary command |
| 0x5d639645 | EXIT | Terminate |
The built-in command shell mechanism, which establishes a reverse shell using a remote IP address, is not new. Still, unlike earlier versions, it is now embedded directly into the malware binary.
The plugin system has also been removed, as the command to load a DLL module into the current process can be used to extend the malware's capabilities when necessary.
Mandiant identified one such instance as the VNC (virtual network computing) module (vnc64 1[.]dll), which enables LDR4 to conduct hands-on attacks on infected devices.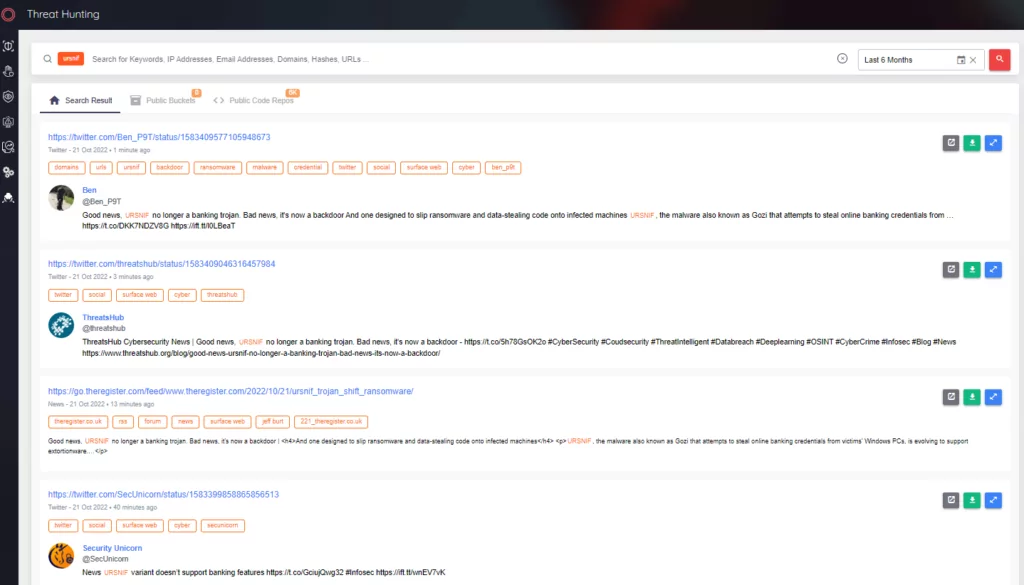 Developers are Moving Toward Ransomware Operations
The code for an initial compromise tool, which allows additional malware to enter a system, appears to have been updated by Ursnif LDR4 operators in the new version.
As researchers discovered a threat actor searching for collaborators to distribute ransomware and the RM3 version of Ursnif, Mandiant says that the developers are probably moving toward ransomware operations.
Ursnif IoCs
Any updates to IoCs can be found on Mandiant's blog.
Malware sample hashes:
360417f75090c962adb8021dbb478f67 [

VT

]

3e0f28bcaf35af2802f45b58f49481be

590d96a7be55240ad868ebec78ce38f2

8c658b9b02814927124351484c42a272 [

VT

]

9f68d1a4b33e3ace6215040dc9fc73e8 [

VT

]

b4610d340a9bff58616543b10e961cd3

baa784967fd0558715f4011a72eb872e [

VT

]

bd4a92d4577ddedeb462a71cdf2fa934

bea60bab50d47f239132890a343ae84c [

VT

]

d38f6f01bb926df07d34de0649f608f6 [

VT

]

d6ef4778f7dc9c31a0a2a989ef42d2fd [

VT

]

d94657449f8d8c165ef88fd93e463134 [

VT

]

eee617806c18710e8635615de6297834 [

VT

]

f4b0a6ab164f7c58cccce651606caede [

VT

]
Malware sample hashes (unpacked):
00b981b4d3f47bcbd32dfa37f3b947e5 [

VT

]

09bc2a1aefbafd3e7577bc3c352c82ad [

VT

]

1b0ec09ca4cb7dcf5d59cea53e1b9c93

3c5f002b46ef11700caca540dcc7c519

498d5e8551802e02fe4fa6cd0425c608

58169007c2e7a0d022bc383f9b9476fe [

VT

]

7808d22a4343b2617ceef63fd0d43651

7eea48e592c4bccbfa3929b1b35a7c0b

89b4dd18bea842fddd021aa74d109ec3

a3539bc682f39406c050e5233058c930 [

VT

]

ac39f1a22538f0211204037cce30431d

c1989d25287cd9044b4d936e73962e35

c7facfffad15a9c84239b495770183bb

cde05576e7c48ca89d2f21c283a4a018 [

VT

]
Domains:
astope[.]xyz

binchfog[.]xyz

damnater[.]com

daydayvin[.]xyz

dodsman[.]com

dodstep[.]cyou

fineg[.]xyz

fingerpin[.]cyou

fishenddog[.]xyz

giantos[.]xyz

gigeram[.]com

gigiman[.]xyz

gigimas[.]xyz

higmon[.]cyou

isteros[.]com

kidup[.]xyz

lionnik[.]xyz

logotep[.]xyz

mainwog[.]xyz

mamount[.]cyou

minotos[.]xyz

pinki[.]cyou

pipap[.]xyz

prises[.]cyou

reaso[.]xyz

rorfog[.]com

tornton[.]xyz

vavilgo[.]xyz
IP addresses:
5[.]182.36.248 (CH) – ISP: STARK INDUSTRIES SOLUTIONS LTD (GB)

5[.]182.37.136 (RU) – ISP: STARK INDUSTRIES SOLUTIONS LTD (GB)

5[.]182.38.43 (HU) – ISP: STARK INDUSTRIES SOLUTIONS LTD (GB)

5[.]182.38.68 (HU) – ISP: STARK INDUSTRIES SOLUTIONS LTD (GB)

5[.]252.23.238 (SK) – ISP: STARK INDUSTRIES SOLUTIONS LTD (GB)

45[.]8.147.179 (SE) – ISP: STARK INDUSTRIES SOLUTIONS LTD (GB)

45[.]8.147.215 (SE) – ISP: STARK INDUSTRIES SOLUTIONS LTD (GB)

45[.]67.34.75 (RO) – ISP: STARK INDUSTRIES SOLUTIONS LTD (GB)

45[.]67.34.172 (RO) – ISP: STARK INDUSTRIES SOLUTIONS LTD (GB)

45[.]67.34.245 (RO) – ISP: STARK INDUSTRIES SOLUTIONS LTD (GB)

45[.]67.229.39 (MD) – ISP: STARK INDUSTRIES SOLUTIONS LTD (GB)

45[.]89.54.122 (SK) – ISP: STARK INDUSTRIES SOLUTIONS LTD (GB)

45[.]89.54.152 (SK) – ISP: STARK INDUSTRIES SOLUTIONS LTD (GB)

45[.]95.11.62 (SK) – ISP: STARK INDUSTRIES SOLUTIONS LTD (GB)

45[.]140.146.241 (MD) – ISP: STARK INDUSTRIES SOLUTIONS LTD (GB)

45[.]142.212.87 (MD) – ISP: STARK INDUSTRIES SOLUTIONS LTD (GB)

45[.]150.67.4 (MD) – ISP: STARK INDUSTRIES SOLUTIONS LTD (GB)

77[.]75.230.62 (CZ) – ISP: STARK INDUSTRIES SOLUTIONS LTD (GB)

77[.]91.72.15 (HU) – ISP: STARK INDUSTRIES SOLUTIONS LTD (GB)

94[.]131.100.71 (FI) – ISP: STARK INDUSTRIES SOLUTIONS LTD (GB)

94[.]131.100.209 (FI) – ISP: STARK INDUSTRIES SOLUTIONS LTD (GB)

94[.]131.106.8 (NL) – ISP: STARK INDUSTRIES SOLUTIONS LTD (GB)

94[.]131.106.16 (NL) – ISP: STARK INDUSTRIES SOLUTIONS LTD (GB)

94[.]131.107.13 (NL) – ISP: STARK INDUSTRIES SOLUTIONS LTD (GB)

94[.]131.107.132 (NL) – ISP: STARK INDUSTRIES SOLUTIONS LTD (GB)

94[.]131.107.252 (NL) – ISP: STARK INDUSTRIES SOLUTIONS LTD (GB)

141[.]98.169.6 (FI) – ISP: STARK INDUSTRIES SOLUTIONS LTD (GB)

185[.]250.148.35 (MD) – ISP: STARK INDUSTRIES SOLUTIONS LTD (GB)

188[.]119.112.104 (NL) – ISP: STARK INDUSTRIES SOLUTIONS LTD (GB)

193[.]38.54.157 (NL) – ISP: STARK INDUSTRIES SOLUTIONS LTD (GB)
User-Agent strings:
Mozilla/5.0 (Windows NT

<os_version>

; WOW64) AppleWebKit/537.36 (KHTML, like Gecko) Chrome/87.0.4280.66 Safari/537.36

Mozilla/5.0 (Windows NT

<os_version>

; Win64; x64) AppleWebKit/537.36 (KHTML, like Gecko) Chrome/87.0.4280.66 Safari/537.36