Cybercriminals are using a new toolkit called AlienFox to steal login credentials and sensitive data from cloud-based email services by scanning for misconfigured servers. The toolkit is available for purchase through a private Telegram channel.
Reports indicate that the malware targets at least 18 cloud services, including well-known web hosting frameworks like Laravel, Drupal, Joomla, Magento, Opencart, Prestashop, and WordPress.
The malware can steal API keys, OAuth tokens, and other authentication tokens once it identifies a vulnerable server.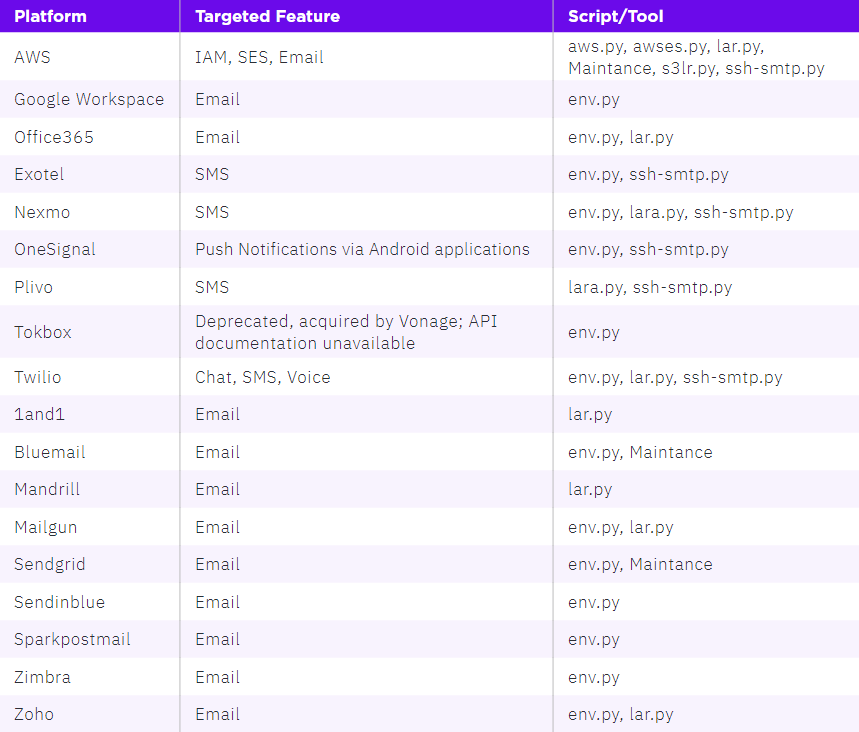 The AlienFox toolkit has been classified as a cloud spammer's Swiss army knife, and it is believed to have been developed by a group of cybercriminals operating in Eastern Europe.
The Three Versions of AlienFox
Researchers have uncovered three versions of AlienFox so far: v2, v3, and v4. With each version, the toolkit enhances its capabilities. Based on SentinelOne's analysis, the versions are detailed below:
AlienFox v2, the toolkit's first known version, extracts credentials from web server configuration or environment files. The s3lr.py script contains the core utility.
Other scripts included are awses.py and ssh-smtp.py. The awses.py script automates activities such as sending/receiving messages and elevating a privilege persistence profile on AWS SES (Simple Email Services) by utilizing the AWS SDK Boto3 Python client. The second script validates SSH configurations on the webserver to find vulnerabilities, and it potentially tries to exploit CVE-2022-31279, a rejected vulnerability in the Laravel PHP framework.
AlienFox v3 has four variations under it, created between February and April 2022. This version includes a Lar.py script, which extracts keys and secrets from compromised Laravel .env files. The script then logs that information to a text file, along with additional information about the server and tags to indicate whether the data was obtained using a configuration parser or a regular expression.
AlienFox v4, the latest version, differs from the previous ones in that each tool is assigned a numerical identifier. The ALIENFOXV4.py script in the root directory acts as a bootstrap for the tool scripts.
Tools 5, 6, 7, and 8 collect target lists. The other tools check if the targets are misconfigured or have a security vulnerability, and they improve the overall functionality of the AlienFox toolkit. There is again a script to focus on AWS and SES. Another tool in version 4 uses the cms.py script to check sites for the presence of web hosting frameworks. There are also cryptocurrency wallet crackers for Bitcoin and Ethereum, as well as an Amazon account checker tool.
Secure Your Cloud Storage with SOCRadar's Cloud Security Module
Organizations should monitor interactions with their cloud services and adhere to the least privilege principle. Following best practices for cloud configuration management and monitoring the condition of cloud environments are also essential.
SOCRadar's Cloud Security Module (CSM) has been developed to enhance the security of customers' cloud storages.
The module can detect the status of cloud buckets, whether they are "public," "private," or "protected," and users are alerted with a "Cloud Bucket Detected" message when new storage is discovered.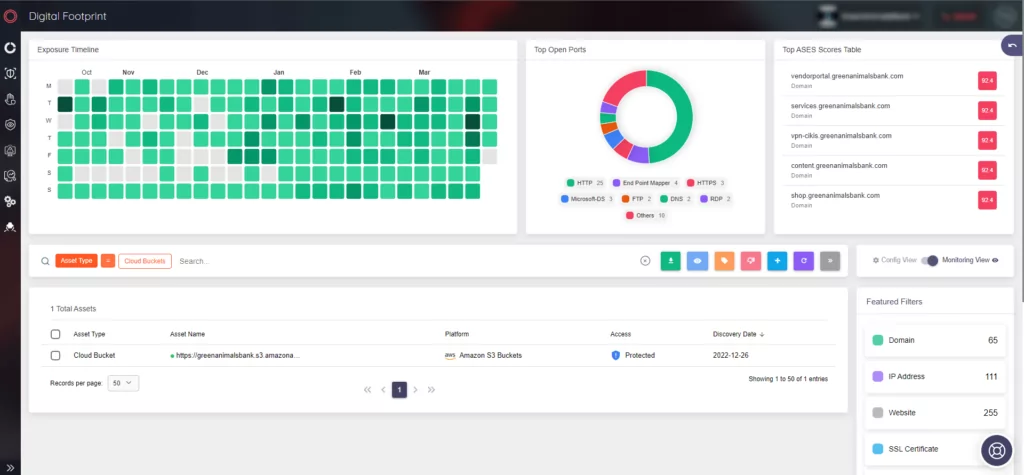 With CSM, the status of users' cloud buckets is constantly monitored, and any changes are alerted to users, ensuring the security of their data.
IoCs
In their report, SentinelOne provided a detailed list of IoCs.
showdenwashere@hotmail[.]com
whm@sending[.]today
root@youez
'User-agent':'Mozilla/5.0 (X11; Linux x86_64) AppleWebKit/537.36 (KHTML, like Gecko)
Chrome/81.0.4044.129 Safari/537.36′
https://rtvsmkqfa3clrvgj6f- 9fd73c.ingress-daribow.easywp[.]com/wp-admin/v1/1.php
https://rentry[.]co/3cii9/raw
SHA-1 hash of an Androxgh0st-related sample
c0184407dcbec911a325d41e9a9ef1dbed524fe5
41a2cab42a08adf93b5ada1eafb75d5b4f496853
3cb5b4182ef6e8174f87c8ed3551f91b72c47370
17592a2fdb8dae9c4c88f1fbf7e9c632129f98df
ab8d480c090ab8be0cdb0ff5bc0f59972845b125
15ade0df5b4e6a82ceec429a2673fd1ed011eb93
aa8be80db30c4f5a49c3e75254ef6d0101c37987
064734bc43ee2d83e8a275293d17fc925620bba1
9381c30e29089639249e67b62f61c6df4869c6c1
fd5228889cd12f343236f7d51c98fab4db6c4763
fd3375553dda2347c0b383d8e800bfe4f93d3af0
f4ef68d3d2b58a58a82e00ebeaaed556e03328af
23abd146befe761337e5155a116138acf81331d9
f5af939480fc86a086bc589047444b1c448ebb09
ac265c12a4f08378e2519e290b0c45a1adc7156f
Of1583b56dd02fc200c7dae0d3c9b32b4278846b
74c4cfa0edae5e87001c901214789cb0f0087031
ec5b2efe8eadfac7ceca545e25f06240bbf16960
9eb13d9a678cd2e78da41563b7461887ce5997b6
25bbda606c72e81fac9abe76e0f00f9cd12770e4
e786fc1fdfcb7be28650383eb33cdf6c90f1d033
8e6e18ba7e251d31b46d17535010a8c583345b23
b3559eeac9a9caa840cc96980fe0bbd1c7da37d3
40df29a738fd5cab0face169d8a8426dff7d2d10
e663e24fc6aadbaae5bbf722a84097a6127f4066
c2f51b44e26e4aca40beb887ac4d36f3e091e26a
4266bdb139ae6d22ddf98501cc3af280aa488b42
329328dc57acece8c47ab5c73f7b9c7e4e09981a
fc08c15dfd6074d80e1f8d777fb49f8c14b4af20
aa4672621f81f601882ad13f26d37dc8218bb06a
07289c56e65a98a85bc794374949aae98b819823
4ab401d4c490460fd457151f643b5ec7e594cd41
7848e53133f4470c29e33ee6dd87f8f326c5fa38
7d7bad6282531521b9103817a38bff3a34b89428
15129436f5bab6c3eea9b2dfc4d0f0043438e013
15aec55e56225700766d79b6fb9d212cced21951
SHA-1 hash of a sample setting an AWS admin persistence profile
ebdc60f33d22c4256ca6ab4058059db1d618ec11
894fd799168f9ff11e74ee37d5bec35387feef24
28de7d7fcd18471f53737fd8a3df3a23a34cf758
3ddb8dc53b6151ea036db3d2a5f34e5f5b39e044
ceda47dd1aacc515d8bdda04299ab1ebf1ba0d73
23abd146befe761337e5155a116138acf81331d9
ac265c12a4f08378e2519e290b0c45a1adc7156f
b8dc12cc600aced9d34c463c5bf5edb53db605fb
45a0675088afdcf2ec059510fc2a4905957c2a69
SHA-1 hash of an AlienFox ZIP archive
c3464926cf2075595c77dc5b3fbcf1f014c8046b
fc0479a3d1188384613f437f28e28614a6118e94
5c9993e5d7468551c60e6dab488eccea7f4ef007
ece7e6727d2daa254e4d4a6be62744d6f3a2a2ef
afb7b010bafb9f7faf2b528f128ff24da94e0190
959e377131762ccb879c36c53e3b71473d3b72fd
48afb7ac8fdf6a8da47601806a8028c61dad2eb7
Yara Rules
rule cw_androxgh0st_strings
{
meta:
author = "Alex Delamotte @ SentinelLabs"
description = "Rule based on Androxgh0st file contents."
reference = "https://s1.ai/AlienFox"
strings:
$a = "asu = androxgh0st().get_aws_region(text)" ascii wide
$b = "nam = input('\x1b[1;37;40mInput Your List : ')" ascii wide
$c = "def jembotngw2(sites):" ascii wide
$d = "def nowayngntd():"
ascii wide
$e = "def makethread(jumlah):"
ascii wide
condition:
any of them
}
rule cw_boto_broad_persistence
{
meta:
author = "Alex Delamotte @ SentinelLabs"
description = "Detect (Boto3 OR samples referencing Telegram channels) AND AWS persistence login
profile."
reference = "https://s1.ai/AlienFox"
strings:
$a = "boto3.client('ses'"
$a1 = "https://t.me"
$b = "arn:aws:iam::aws:policy/AdministratorAccess"
$c = "iam.create_login_profile(UserName="
condition:
($a or $a1) and ($b or $c)
}