[Update] September 1, 2023: Sandworm targets Ukrainian military in new campaign, see the subheading: "Sandworm Targets Ukrainian Military with "Infamous Chisel" Malware."
Threat actors range from teenagers eager to earn quick cash to state-sponsored actors with agendas behind their operations. The agendas of these state-sponsored groups may include espionage activities on neighboring countries or attacks against critical infrastructures of opposing nations. Russia is one of the nations with a high number of APT (Advanced Persistent Threat) groups to mobilize against their targets. Among them is Sandworm, which was involved in the Russia-Ukraine war. Sandworm is one of the more active and dangerous APTs in cyberspace. Just like their namesake from the famous Dune series by Frank Herbert, they pose a significant danger to the safety of people, especially with their objective of targeting critical infrastructures.
Who is Sandworm?
Sandworm, also known as ELECTRUM, Black Energy, and VOODOO BEAR, is a pernicious APT that has been attributed to Russia's General Staff Main Intelligence Directorate (GRU) Main Center for Special Technologies (GTsST) military unit 74455 by the US. They have been actively playing a role in cyberspace for Russia's strategic benefits since at least 2009, conducting many major attacks against multiple countries and causing billions of dollars in damage. They mostly rely on spear phishing to deliver malware and leverage from zero days.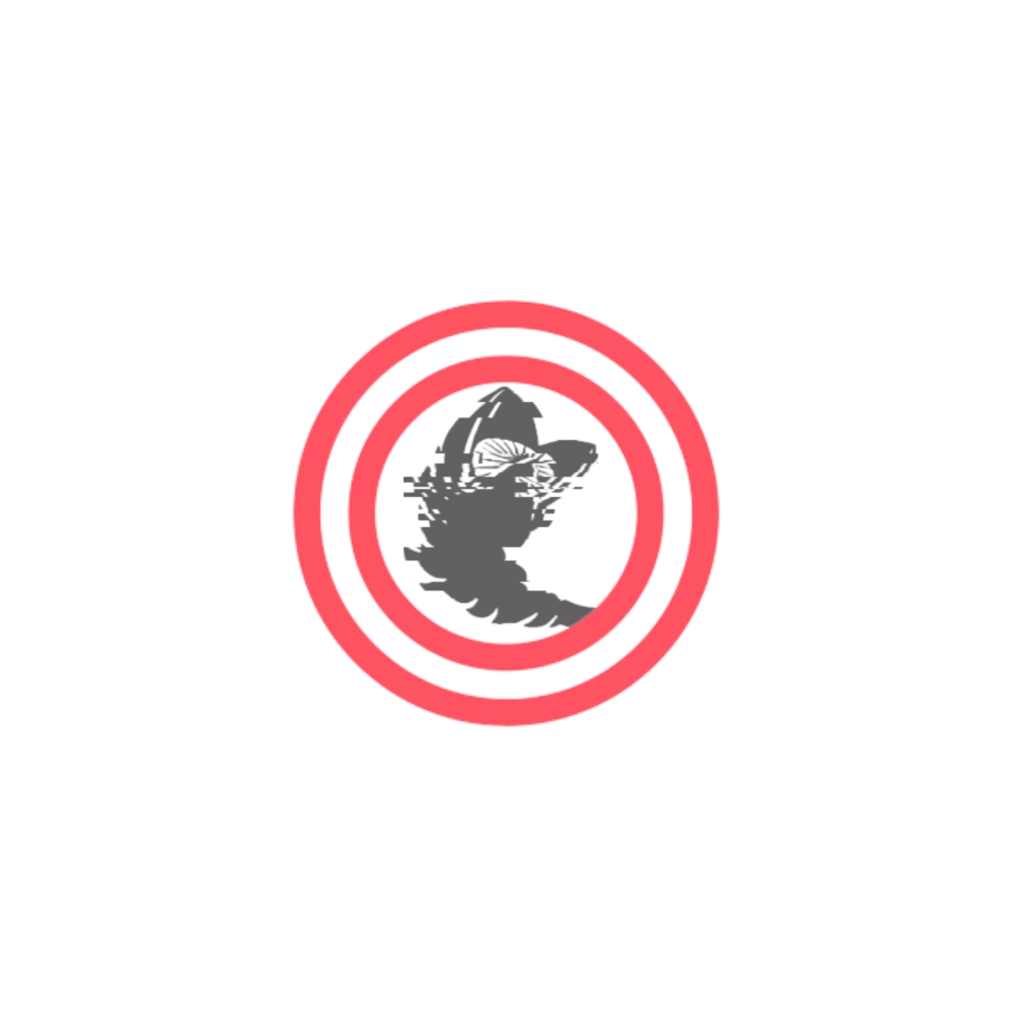 Who are Sandworm's Targets?
Researchers observed the Sandworm conducting malicious activities across Europe, North America, and Asia. They primarily target Industrial Control Systems (ICS) in critical areas such as energy & utilities, national security, international affairs, and telecommunications around the globe. However, since their emergence, under Russia's strategic objectives, their main target seems to be Ukraine. In the last decade, they have performed multiple high-impact attacks against Ukraine on critical infrastructures.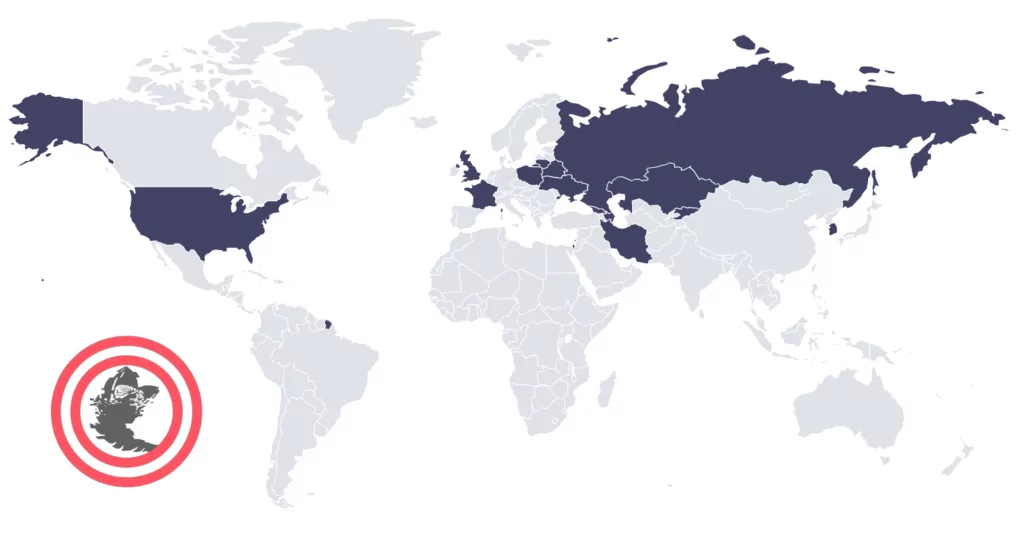 What are the Motivations Behind Sandworm's Attacks?
With the Russian invasion of Ukraine, there was a substantial increase in cyberattacks in the region. Critical infrastructures were affected, and the Russian cyber forces targeted top-secret information. The cyber forces used to diminish the morale of the Ukrainian citizens through defacements or other destructive attacks on the critical infrastructures of Ukraine, such as DDoS attacks on government portals.
The war was not the beginning of cyber attacks on Ukraine by Russia. The origins of the Russian attacks can be pinpointed to even a decade earlier. The first recorded Russian cyberattacks against Ukraine happened during the mass protests in 2013. The war amplified the attacks in number and magnitude. Sandworm was one of the front runners of the Russian cyber forces targeting Ukraine during this decade, and they still are.

SOCRadar tracks the Russia-Ukraine Cyberwar as a campaign. In SOCRadar Labs, you can find and track the events.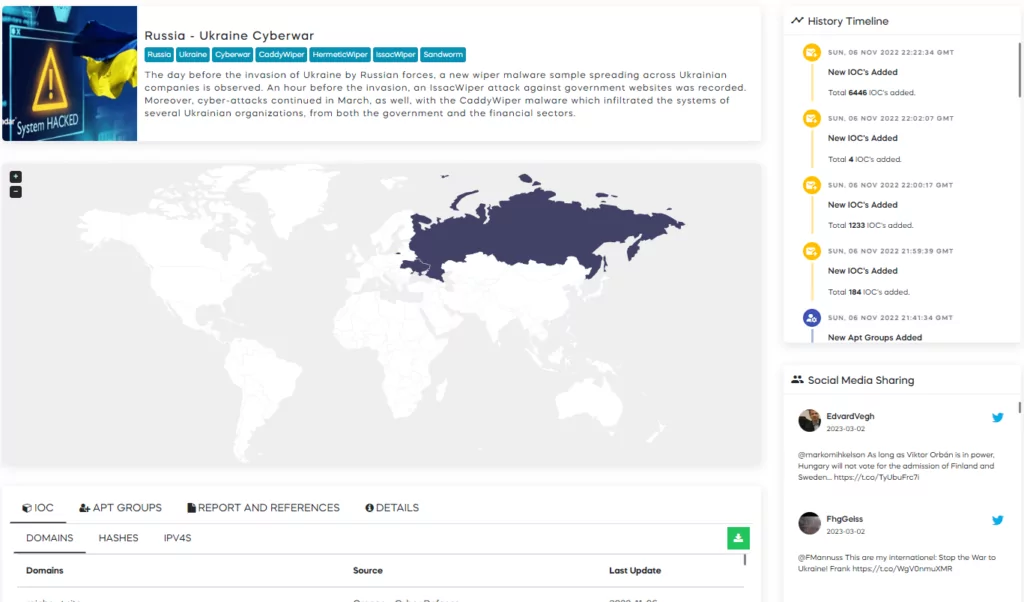 How does Sandworm Operate?
Sandworm, through its operation lifetime, has multiple records of attacks on ICS. The group is affiliated with two of the first four types of known ICS-targeting malware, "BlackEnergy" and "Industroyer." Both targeted Ukrainian critical infrastructures. They did not stop there and developed "Industroyer2" ICS-targeting malware and used it against Ukraine. However, this time they added another layer with the inclusion of "CaddyWiper," "ORCSHRED," "SOLOSHRED," and "AWFULSHRED." The aim was to hamper the recovery process and destroy disks on the targeted machines. In another attack in 2017, they deployed "NotPetya" as a wiper on Ukraine, which is considered a skewed version of "Petya" ransomware.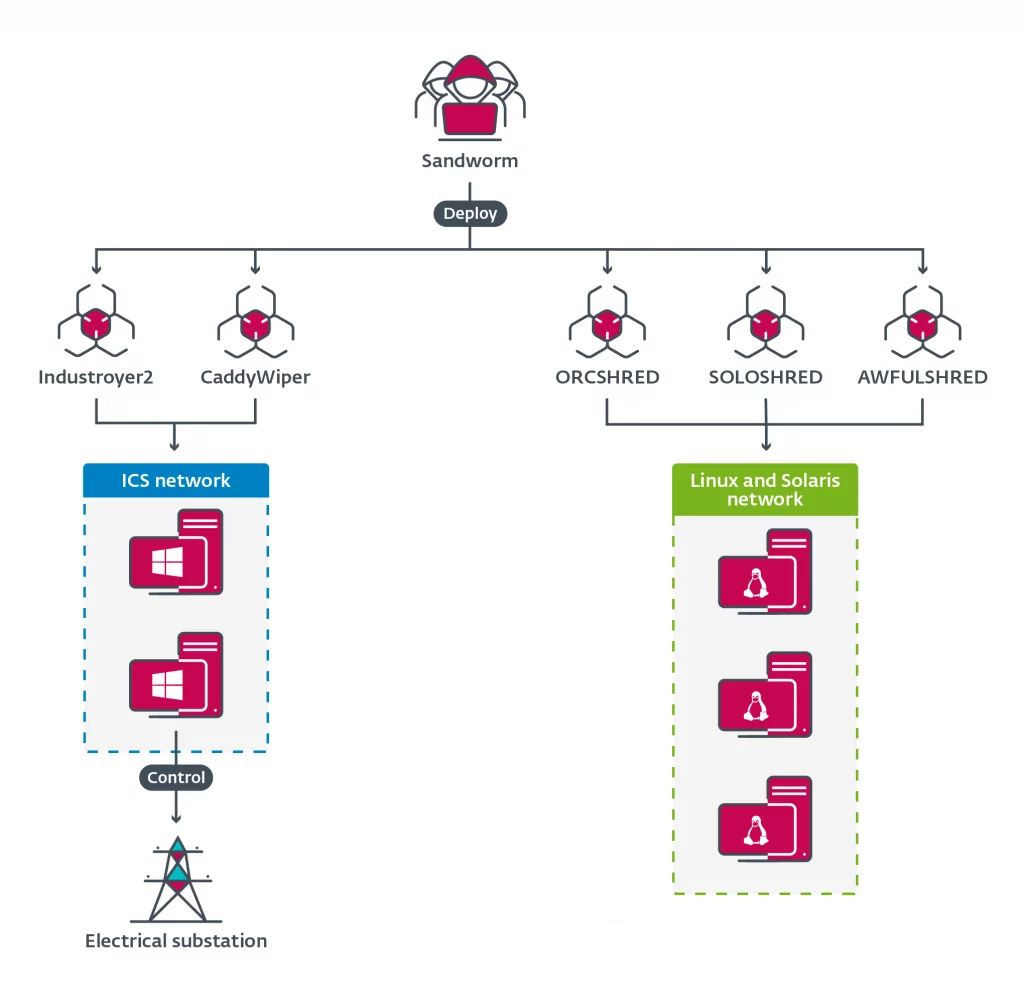 Even though it is their main area, Sandworm does not only manage ICS attacks with malware and altered versions of ransomware as wipers. They started to deploy legitimate ransomware such as the "RansomBoggs" and "Prestige" against organizations in Ukraine and other countries. These attacks are attributed to Sandworm because RansomBoggs' PowerShell script is nearly identical to the deployment of Industroyer2. The same script, POWERGAP, was also used to deliver CaddyWiper.
Which Tools Does Sandworm Use?
BlackEnergy
BlackEnergy is a malware toolkit used by criminal and APT actors since 2007. Although initially designed to create botnets to conduct Distributed Denial of Service (DDoS) attacks, its use has evolved over the last decade to support various plug-ins. It is a well-known malware leveraged by Sandworm in multiple attacks. Variants include BlackEnergy 2 and BlackEnergy 3.
Industroyer
Industroyer is a sophisticated malware framework designed to disrupt ICS, particularly components used in power grids. Sandworm used Industroyer and its variants in multiple attacks targeting power grids in Ukraine. This is the first publicly known malware specifically designed to target and impact operations in the electric grid. Variants include Industroyer2.
KillDisk
KillDisk is a disk-wiping tool designed to overwrite files with random data to render the OS unbootable. Sandworm first used it in attacks against Ukraine in 2015 as a component of BlackEnergy. Since then KillDisk has evolved into stand-alone malware used by Sandworm and other threat actors.
NotPetya
NotPetya is an altered variant of Petya encryption malware. NotPetya acts as ransomware. It irrecoverably destroys data and disk structures on compromised systems. Sandworm used it in the 2017 worldwide attacks causing 10$ billion in damage. NotPetya also contains worm-like features to spread itself across a computer network using the SMBv1 exploits EternalBlue and EternalRomance.
Olympic Destroyer
Olympic Destroyer is malware that renders infected computer systems inoperable. It acts as a worm spreading across networks to maximize its destructive impact. Sandworm used it against the 2018 Pyeongchang Winter Olympics.
CaddyWiper
CaddyWiper is a wiper malware designed to damage target systems by erasing user data, programs, and hard drives. Sandworm used it in attacks on Ukrainian government agencies before the Russian invasion.
Other tools that are potentially associated with Sandworm can be found on SOCRadar.

Sandworm Targets Ukrainian Military with "Infamous Chisel" Malware
CISA recently released an analysis of a new mobile malware named "Infamous Chisel," which has been linked to the activities of the Sandworm threat actors. Multiple agencies – the UK NCSC, US NSA, CISA, FBI, NZ NCSC-NZ, Canadian Centre for Cyber Security, and Australian ASD – have confirmed that Sandworm has employed the Infamous Chisel malware in a campaign targeting the Ukrainian military.
Infamous Chisel is composed of various components designed to target Android devices. The malware enables remote access and data exfiltration while facilitating persistent access to infected devices through a backdoor accessible via a TOR hidden service and Secure Shell (SSH).
When deployed on an infected device, the malware performs periodic scans, actively seeking information and files identified by predefined file extensions. According to information in CISA's report, the malware scans specific file directories for potential exfiltration every 86,000 seconds, roughly equivalent to once a day. Furthermore, it is capable of scanning the local network, collecting data concerning active hosts, open ports, and banners.
Utilizing the malware, threat actors can extract data from compromised devices using the Secure Copy Protocol (SCP) for file transfer. This data encompasses a mix of system information, as well as specific application details and configurations relevant to the Ukrainian military.
The Infamous Chisel malware lacks obfuscation and stealth techniques, with components of low to moderate sophistication. This makes the malware ineffective in concealing malicious activity, but threat actors may not find it necessary as many Android devices lack host-based detection systems.
Refer to CISA's report for more information on the Infamous Chisel's components, IoCs, and TTPs.
Conclusion
When the Russian invasion of Ukraine began on February 24, 2022, many security researchers predicted that Russia would use all of its cyber capabilities to complete its mission. In light of all the information in the article, it is clear that Russian cyber warfare capabilities are undeniably devastating and have been used in the war. Yet, they were not as effective as the previous attacks. If we look at the attacks attributed to Sandworm, such as the 5 year-long cyber espionage activity, we can see that their previous attacks were more sophisticated and harmful. This situation might be the result of two main factors. One is that Ukraine received tremendous help outside its nation to prevent Russian cyberattacks. The other one is that large-scale destructive attacks require extensive preparation and patience, which means time is needed. But in war, the time is short for these sophisticated attacks.
What are the Security Recommendations Against Sandworm?
ICS is the main target of the Sandworm APT group. So, ICS should have minimal internet dependency. They must be put behind firewalls and isolated from the external network.
SOCRadar tracks threat actors continuously and gathers IOCs for the tracked actors. You can feed security devices like firewalls, IPSs, or SOAR solutions for better security against potential threats.
Cybersecurity researchers detected that Sandworm leverages phishing to gain initial access in some cases. Train your staff to raise security awareness to prevent potential phishing attacks.
Sandworm used ransomware or wipers in some of its attacks. Back up your data to prevent further damage and reinstate the affected systems rapidly.
Keep an eye on the external attack surface of your environment. Make sure to patch all the critical vulnerabilities and not leave any vulnerable ports open. SOCRadar can aid you in this endeavor with its External Attack Surface Management.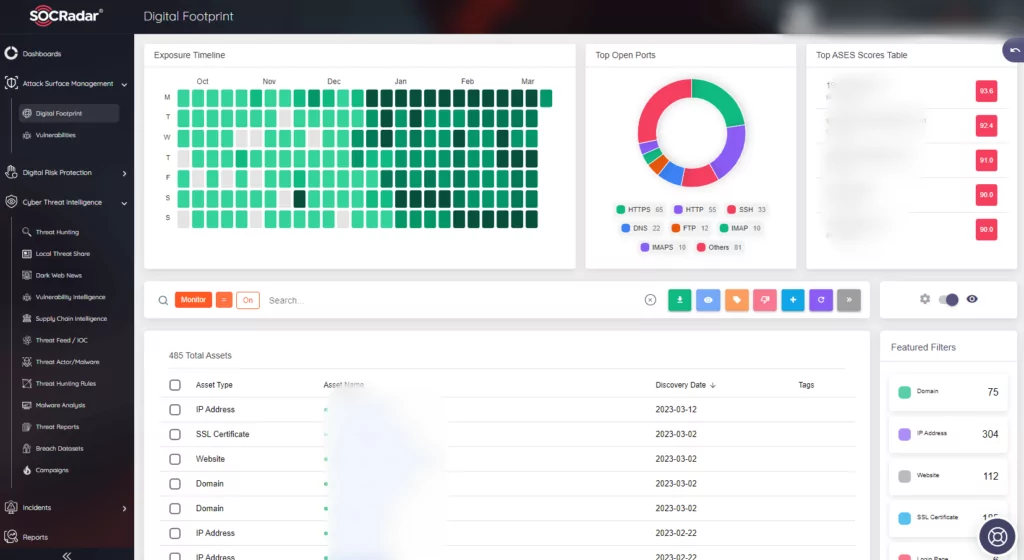 MITRE ATT&CK Techniques
Techniques – Enterprise

ID

Reconnaissance

Active Scanning: Vulnerability Scanning

Gather Victim Host Information: Software

Gather Victim Identity Information: Email Addresses

Gather Victim Identity Information: Employee Names

Gather Victim Network Information: Domain Properties

Gather Victim Org Information: Business Relationships

Phishing for Information: Spearphishing Link

Search Open Websites/Domains

Search Victim-Owned Websites

Resource Development

Acquire Infrastructure: Domains

Acquire Infrastructure: Server

Compromise Infrastructure: Botnet

Develop Capabilities: Malware

Establish Accounts: Social Media Accounts

Establish Accounts: Email Accounts

Obtain Capabilities: Tool

Obtain Capabilities: Vulnerabilities

Initial Access

External Remote Services

Phishing: Spearphishing Attachment

Phishing: Spearphishing Link

Supply Chain Compromise: Compromise Software Supply Chain

Trusted Relationship

Valid Accounts: Domain Accounts

Execution

Command and Scripting Interpreter: PowerShell

Command and Scripting Interpreter: Windows Command Shell

Command and Scripting Interpreter: Visual Basic

Exploitation for Client Execution

User Execution: Malicious Link

User Execution: Malicious File

Windows Management Instrumentation

Persistence

Account Manipulation

Create Account: Domain Account

Server Software Component: SQL Stored Procedures

Server Software Component: Web Shell

Defense Evasion

Deobfuscate/Decode Files or Information

Impair Defenses: Disable Windows Event Logging

Indicator Removal: File Deletion

Masquerading: Match Legitimate Name or Location

Obfuscated Files or Information: Software Packing

System Binary Proxy Execution: Rundll32

Credential Access

Brute Force: Password Spraying

Credentials from Password Stores: Credentials from Web Browsers

Input Capture: Keylogging

Network Sniffing

OS Credential Dumping: LSASS Memory

Discovery

Account Discovery: Domain Account

Account Discovery: Email Account

File and Directory Discovery

Remote System Discovery

System Information Discovery

System Network Configuration Discovery

System Network Connections Discovery

System Owner/User Discovery

Lateral Movement

Lateral Tool Transfer

Remote Services: SMB/Windows Admin Shares

Collection

Data from Local System

Command and Control

Application Layer Protocol: Web Protocols

Data Encoding: Standard Encoding

Ingress Tool Transfer

Non-Standard Port

Proxy

Remote Access Software

Web Service: Bidirectional Communication

Exfiltration

Exfiltration Over C2 Channel

Impact

Data Destruction

Defacement: External Defacement

Disk Wipe: Disk Structure Wipe

Endpoint Denial of Service

Techniques – ICS

ID

Initial Access

Exploit Public-Facing Application

External Remote Services

Spearphishing Attachment

Remote Services

Execution

Graphical User Interface

Command-Line Interface

Scripting

Persistence

System Firmware

Valid Accounts

Evasion

Masquerading

Lateral Movement

Lateral Tool Transfer

Command and Control

Connection Proxy

Inhibit Response Function

Block Command Message

Block Reporting Message

Device Restart/Shutdown

Impair Process Control

Unauthorized Command Message
References