The new version of Raccoon Stealer has been released. The first version was first seen in 2019 and served as MaaS (malware-as-a-service.) The malware ceased operations on March 25, following the death of one of its key developers in the Russia-Ukraine war.
The new version of Raccoon Stealer has been reintroduced with an announcement on the Telegram channel. Claiming in the announcement that the new version is "much faster and more convenient," the threat actors stated that the malware is "fully automated" and that operations can be carried out "with just a few mouse clicks."
What Features Are In The New Version Of Raccoon Stealer?
According to the threat actors' statement, Raccoon Stealer is now a malware with both loader and stealer functions and focuses on cryptocurrency wallets.
All the features are:
Lists installed applications and identify those using

credentials

: browsers, crypto wallets, emails, etc.

Steals passwords, cookies, and

credit

cards

from identified applications.

Targets desktop

cryptocurrency wallets

and wallet extensions like Electrum, Electrum-LTC, Ethereum, MeraMask Wallet, ElectronCash, Atomic, Jaxx, Binance, and TronLink.

Stores the

stolen data

in RAM for later sending to the threat actor's command and control center.

Runs on both 32-bit and 64-bit operating systems.

Extracts files from all disks, install executables (cmd, dll, exe), emulates, and downloads other executables.

Captures screenshots and records keystrokes.

Exploits fingerprint systems using Windows Registry and WinApi functions.

How is it Working?
According to Sekoia's analysis, the new version of Raccoon Stealer is written in C/C++ using WinApi. The malware can download legitimate third-party DLL files from the C2 server. The configuration of C2 servers and string expressions goes through RC4 encryption and Base64 encoding.
An example attack scenario for the new version of Racoon Stealer is as follows:
Loads DLL files dynamically.

Establishes a run-time dynamic connection with WinApi functions.

Performs Base64 decoding and RC4 decryption of string data.

Performs deobfuscation for C2 servers.

Performs mutex and user authorization checks.

Performs fingerprinting and data spoofing.

Retrieves configuration settings from the C2 server.

Downloads malware and installs legitimate third-party DLL files.

Collects information such as CPU, RAM, OS version, screenshot, system information, browsers, and crypto-wallets from the infected device.

Sends the collected information to the C2 server.

Cleans files created by the malware.
The data collected by Racoon Stealer is sent to the C2 server in a file via a POST request as a new request for each new data. Security researchers have determined that the malware does not use defense evasion techniques such as anti-analysis and obfuscation.
Network Communication
Raccoon Stealer uses a Tor-based C2 server to perform data extortion. Each executable of the malware is linked to client-specific signatures.
The malware sends a POST request to the C2 server containing the machine ID, username, and configuration ID. The server responds with the malware configuration:
Application to target

URLs containing legitimate third-party DLLs

Tokens used for data extraction

File grabber configuration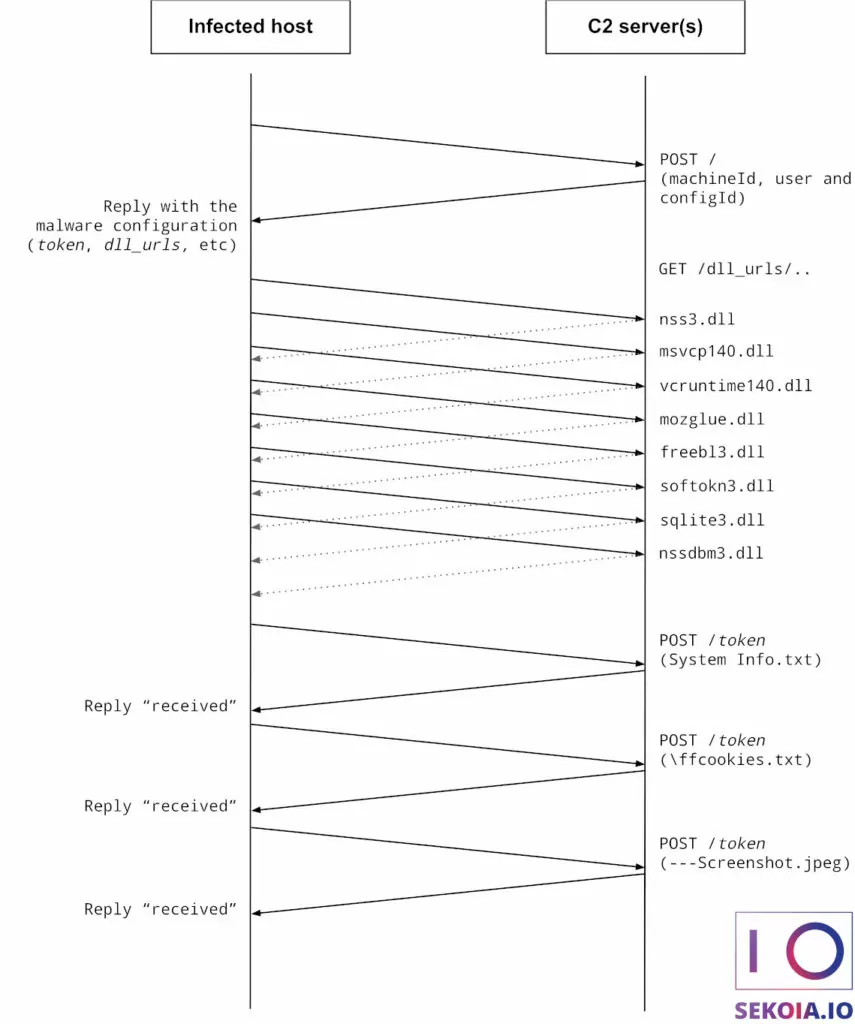 After examining the samples of the new version of Raccoon Stealer, cyber security researchers revealed that although many changes have been made to the malware, the main working logic has not changed much.
Considering the unfinished coding and functions such as analysis interruption compared to the first version, Raccoon Stealer is expected to be upgraded regularly in the future.
MITRE ATT&CK TTPs
| | | |
| --- | --- | --- |
| Tactic | Technique | Description |
| Defense Evasion | T1140 – Deobfuscate/Decode Files or Information | Decodes strings and the C2 configuration in the malware using RC4 and base64. |
| Defense Evasion | T1027 – Obfuscated Files or Information | Uses RC4-encrypted strings. |
| Credential Access | T1539 – Steal Web Session Cookie | Harvests cookies from popular browsers. |
| Credential Access | T1555.003 – Credentials from Password Stores: Credentials from Web Browsers | Collects passwords from popular browsers. |
| Discovery | T1083 – File and Directory Discovery | Lists files and directories to grab files through all disks. |
| Discovery | T1057 – Process Discovery | Lists the currently running processes on the system. |
| Discovery | T1012 – Query Registry | Queries the Windows Registry key at HKLM\SOFTWARE\Microsoft\Cryptography\MachineGuid to retrieve the MachineGuid value. |
| Discovery | T1518 – Software Discovery | Lists all installed software for the infected machine, by querying the Windows Registry key at HKLM\SOFTWARE\Microsoft\Windows\CurrentVersion\uninstall |
| Discovery | T1082 – System Information Discovery | Collects OS version, host architecture, CPU information, RAM capacity and display device information. |
| Discovery | T1614 – System Time Discovery | Collects the time zone information from the system. |
| Collection | T1119 – Automated Collection | Scans the disks and automatically collects files. |
| Collection | T1005 – Data from Local System | Collects credentials of cryptocurrency wallets from the local system. |
| Collection | T1113 – Screen Capture | Captures a screenshot of the victim's desktop. |
| Command and Control | T1071.001 – Application Layer Protocol: Web Protocols | Uses HTTP for C2 communications. |
| Command and Control | T1041 – Exfiltration Over C2 Channel | Exfiltrates data over the C2 channel. |
| Command and Control | T1105 – Ingress Tool Transfer | Downloads legitimate third-party DLLs for data collection onto compromised hosts. |
| Execution | T1106 – Native API | Has the ability to launch files using ShellExecuteW. |
| Defense Evasion | T1055.001 – Process Injection: Dynamic-link Library Injection | Has the ability to load DLLs via LoadLibraryW and GetProcAddress. |
| Defense Evasion | T1407 – Download New Code at Runtime | Downloads its next stage from a remote host. |
Raccoon Stealer IoCs
SHA256 (Raccoon Stealer v2)
03a8531989aeeec1befecbba4f3ee218309306224bd22b7e52104537e32bacd6

056a3022c5e70d112e82844d1101e1a591b02960ae0609f06e9930a3f3bd6efa

084754ed1f495ee48a0bfe70b6b5c33ed17bfa129ad03356356ff3a5bf3c46f0

0adc96946d9806969375212cfd5012f93cb205c1008b935f6886ba0ffe7fe262

0bc3aa6b692b3873dfdd6942fb0eaba7aab391f1d154df80be1193aa792df0c2

0fb5b0562e81ae2a89f61b25cca023adf7f370fe049508c96c6bcf898a63e4d7

20ca741b731753f1bc981bfceb747dc8f4afb2aeb8694de63114a53d23812161

2c7563c76c710a3988c14b8246fd8864c37c08b723b0a24e0f4aa876cc5f73c8

40daa898f98206806ad3ff78f63409d509922e0c482684cf4f180faac8cac273

494df1513b13c70b1472282b80bdf1a9399ae0d16a90275a5c9fe7cfda6afd0d

502f0a6587cf2d084e98f5edc12192e1ca37515bdf7364511415d615be2e6aa7

516c81438ac269de2b632fb1c59f4e36c3d714e0929a969ec971430d2d63ac4e

567bd8dd69485d8f79edad514e54c085af1490dcc5461a01ee79e57e138b9b10

59d74f7e172a2ee14e5e43b9704ac95428b28741f1dbadbf5c9279dd37a11f86

61d8e542a34f41b5675daf924a6c21322f0a6aaad9a888b23357c85d29a8f87a

6697604c88f0fbb05a6848915d1800eb9a77b607e834c6a01e2bf4a076955a91

672fea64c92edc4d937d3132577b65813738bfddeab6a6b3ef35e6fa4b987009

6dfd4a12437cf38a4ecdb24891dbff464602fcbe435cf6c15a643637d7f4e1b0

6e5d7b8bc69145a2b65b4be1a2d66a8dbc579e54c09660c4070c5667192864bf

6e7e69cd1c9b24f6a36870ec5ae6c31c69022fb48d3fdf59bcda5c1528bc9c04

6f4e7b117124a1b5a27dfd9a7a3e03b46e84000a992e1029f0cfb62bb77fc3f3

7503d528db92b909ad05d65379e6aae008dfaa3664bcac252d34d7a9f25b2db9

7c09a54191495c699c04be9e0e2d97cf91d9c4346a37ad751416a2db52636de2

83fd32cace2c2f243a713f93918dafd5458af296d55edd293cf5b8b927466dc7

9014f5d4a597cdec4ec2d10bf73883b4f0106f62c9938a8c6a59e506b1203e2b

909875959dd07c5aeb345d5f93e662329866e862eb8bb18d0727aa4d9c72e6eb

99834c9981535b584040fef84af159e5e584927aac4a6a57001ba5ecf1e869c4

9d66a6a6823aea1b923f0c200dfecb1ae70839d955e11a3f85184b8e0b16c6f8

9e5035f075d6aef29ad158c591adf669324a17442c575c6946c5a7f279705f47

a25fd13894644550fa9ca60a046813031e5189d4abe4bbd68ed9e6dcfc85d698

a988a4f3652eaa34b874080da1cbb70223bac6760e318064f4f23b69bf823330

ab3d8c58a33fd90eca17dc079eb05469bbe535b16eb653810f134df888e230ce

ae46253a19c9e846c405b3926655efead40d8f873fef008f896019f34d486dfe

b7104e1420fbcdd4a78b02069f32d4882d38203dcb5f73509b60cc1567dac437

c6f111e1b32229232af8af25d714ef8f77e30bbc122c0600076bb42cbe46e22b

c7ee80a9387a941d13738ab069f8f055e14ea8bdb12403a81e0166b098fce032

cddc1e15fcfcb29cfcb3631f1d478640d228fd9ea38c01d347833567970d04e3

ce29b09c57bdd0df33b7d45abe0047952fc009dbc1b5b43351aa6dad751ba262

d2831378b440b653984e58ba82bd670f30eca0e4f23f14c248c50780883d32c3

e2b87b9ea8bb2bf835cb064845ff863253f3eedb4a88122598eee52c9579b203

f051b93953919cbf673b16ba995a3c1aa58e59dcc256b9eaf1cdd2f6b3c7dfd2

f6d5c0f3f6c5cd498b605e06c6bf49a66c7cbbedf3480cb3a95229b4dc91e81d

F97835279804b62e667211706cce813179e2571634880770862a5f759fa17c11
For other IoCs, please check sekoia.io Community GitHub.
IoCs (May 2021)
SHA256
012e382049b88808e2d0b26e016dc189f608deea9b6cc993ce24a57c99dd93d1

18c27b85f26566dd782171e00ea5b5872546b23526cca0ebb185caca35fdec93

24499fbfd8a2b2663899841f3cf424b60d60c26351b5d491fd475adf9e301256

3c5120a6e894b64924dc44f3cdc0da65f277b32870f73019cefeacf492663c0e

40175d0027919244b6b56fe5276c44aba846d532501e562da37831403c9ed44e

624b7ae8befcf91dbf768d9703147ac8f9bd46b08ffe14a75c77e88736bf07d0

75c3a83073d9b15d4f47308b5d688f1ec07422419e3bd54e78f6ef8683d42e5c

8815b21c44c22aec31f7fa6e69dcb83a60c572f8365ff02b5c6f12154e01a4c2

97e95e99fd499ec45a7c1d8683d5731ce5e7a8fb8b710622e578cd169a00d8d9

a2420c7f0c7bf5d3c0893aff6b7440a09c0531632434d2bbb6f8ed98b04317b9

bfb37c9adc809e880f56dd10898b5425242330d6e2fa69e014a98e6dc18ce416

caf3eca514de58e215b5e9f568f748293be64a3c82e15c2f905903cd9bfacc1c

de7ccff53ca27db1ed1e3e0d0df07f2e3364ec6b7e60622dc7726cba56831eb7
Domains
telete[.]in
telecut[.]in
tgraph[.]io
tttttt[.]me
telegram[.]cat
telegram[.]services
tlgr[.]org
xn--r1a[.]click (т[.]click)
xn--r1a[.]link (т[.]link)
xn--r1a[.]live(т[.]live)
xn--r1a[.]site (т[.]site)
xn--r1a[.]website (т[.]website)
IP Addresses
195.201.225[.]248
95.216.186[.]40
URLs
hxxps://telete[.]in/jiocacossa
hxxps://tttttt[.]me/kokajakprozak
hxxps://tttttt[.]me/antitantief3
hxxps://telete[.]in/baudemars
hxxps://telete[.]in/bpa1010100102
hxxps://tttttt[.]me/brikitiki
hxxps://tttttt[.]me/ch0koalpengold