DNS converts easy-to-remember domain names into numeric IP addresses determined by the primary network protocols of the computer services and devices to be accessed. The DNS system, which can be considered a database, saves users the trouble of learning each website's IP address.
Attackers can manipulate communication between clients and servers by exploiting vulnerabilities in the DNS system and redirecting traffic as they wish. Common DNS attacks are as follows:
Zero-Day-Exploit

DoS attacks

DNS hijacking

Cache poisoning

Man-in-the-middle attacks

DNS Amplification

Why is DNS Monitoring Important?
DNS monitoring is required to check the security of DNS servers regularly, ensure that there are no exploitable vulnerabilities, and be aware of any changes that may occur in the DNS system.
An effective DNS monitoring process includes monitoring whether there is a mismatch between received and provided IP addresses, monitoring SOA record and serial number (as a change in DNS entry will change the serial number), monitoring MX and SRV records, monitoring NS records, and root servers, monitoring DNS slowdowns (against possible DNS overflow attacks).
As a result of this monitoring, it is determined whether the organization will be affected by a faulty DNS, and an alarm about potential attack attempts is generated.
Security solutions for automatically monitoring DNS can be helpful for organizations. DNS security software includes tools for categorizing websites, classifying users, grouping devices, and customizing usage policies. These tools can block known botnet servers, filter unwanted content, and correct domain typos. They also use filters to redirect end-user web traffic based on malware signatures and potentially dangerous websites.
Here is the list of top 10 DNS Threat Analysis and Monitoring tools.
Best DNS Threat Analysis and Monitoring Tools
Comodo Secure Internet Gateway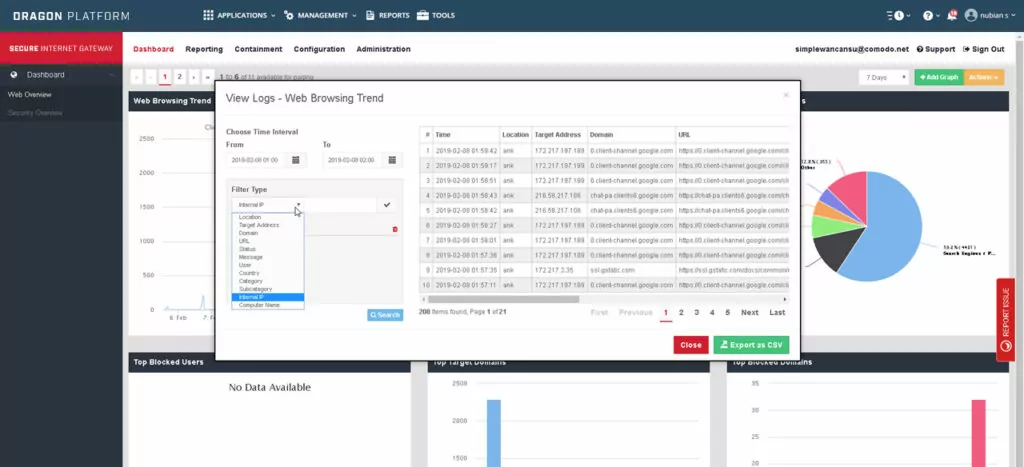 ComodoSecure Internet Gateway (CSIG) is a web filtering solution for organizations that offers comprehensive, DNS-based security for networks of all sizes. Comodo scans all inbound and outbound web traffic in real-time to protect against the most recent threats. Advanced reporting, custom B/W lists, and a detailed policy manager that allow you to create location-specific policies are also included in CSIG.
Cloudflare

Cloudflare DNS is a service with a fully redundant architecture designed for 100% uptime and advanced security features such as unmetered and unlimited DDoS mitigation and DNSSEC. Cloudflare load balancing reduces latency and improves application availability by redirecting traffic away from harmful origins and dynamically routing it to the most available and responsive server pools.
Palo Alto Networks DNS Security
Palo Alto Networks DNS Security service provides real-time protection by implementing policies to prevent DNS-based attacks. Incorporation with Palo Alto Networks Next-Generation Firewall (NGFW) offers automated protections, stops attackers from avoiding security measures, and eliminates the need for separate tools or DNS routing changes.
Shared threat intelligence and machine learning (ML) quickly detect threats hidden in DNS traffic. Cloud-based security is delivered instantly and scales infinitely to all users.
DNSFilter
DNSFilter is a cloud-based, AI-powered content filtering and threat protection service that requires no software installation. DNSFilter employs Webshrinker, a proprietary AI tool, to continuously scan over 180,000,000 websites and determine their purpose and content type. It alerts customers to sites that may contain malware, ransomware, malvertising, or scams and allows them to block them.
DNSFilter engages a multi-pronged security approach, resulting in robust threat intelligence. Users can block Malware and Phishing sources, as well as next-generation threats like Botnets and Cryptomining.
Webroot DNS Protection

Webroot DNS Protection can assist organizations in maintaining network control and the security, privacy, and visibility required to protect IT infrastructure and users, including those working remotely. Its primary goal is to provide a highly secure, private, resilient, and manageable internet connection.
Webroot BrightCloud® Internet Threat Intelligence is automated filtering to block specific requests to undesirable, dangerous, or malicious internet domains, including encrypted DNS over HTTPS (DoH) requests. The filtering process stops most internet threats before they can infect networks or endpoints.
Cisco Umbrella DNS-layer Security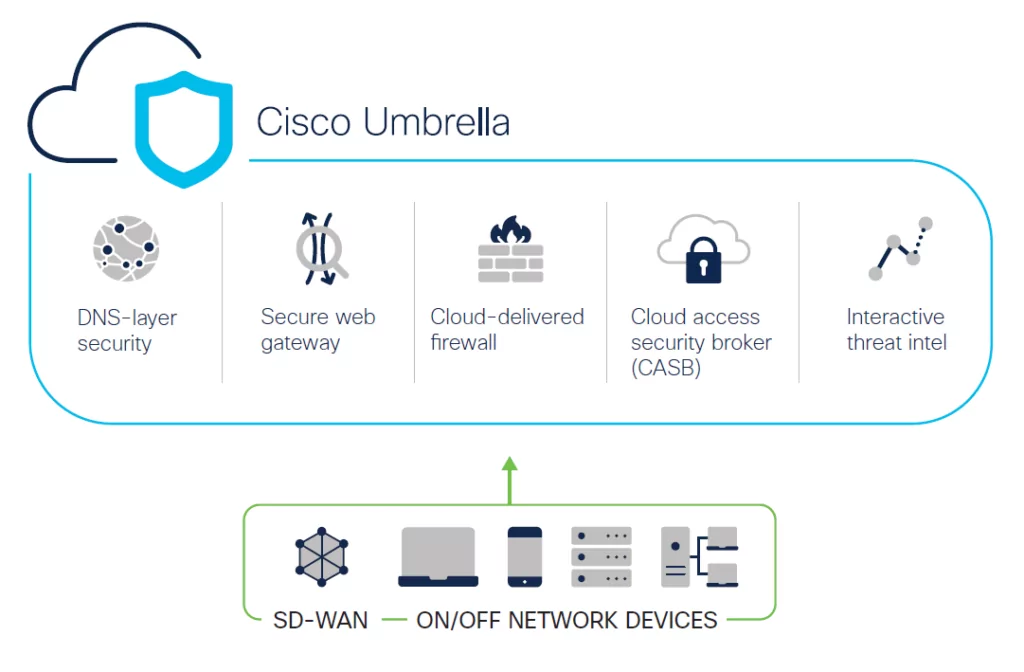 Cisco Umbrella DNS-layer security utilizes the Power of Machine Learning to stop threats across all ports and protocols. Organizations can detect malware earlier and prevent callbacks to attackers if infected machines connect to their network.
Risk domain requests are routed to a selective proxy for further URL and file inspection. Umbrella offers visibility into cloud apps used across the organization, allowing them to quickly identify potential risks and block specific applications.
Umbrella's carrier-neutral data centers use Anycast routing, ensuring requests are sent to the fastest available data center with automatic failover.
DNS Spy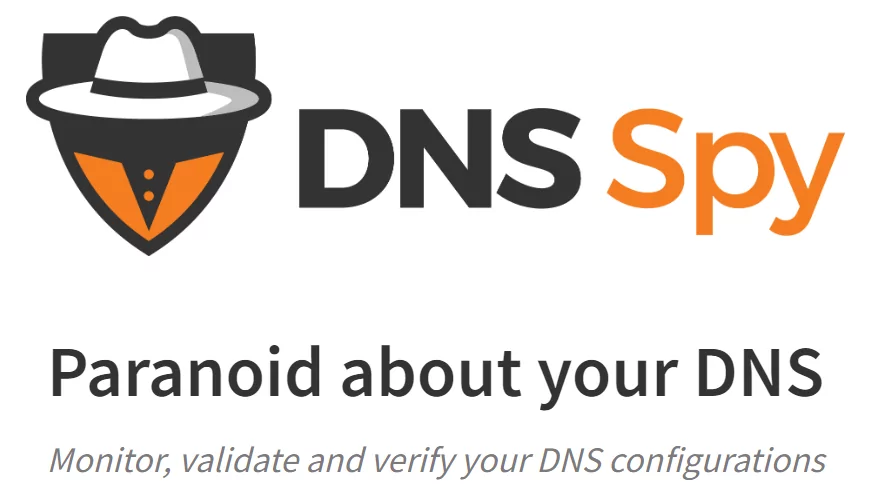 DNS Spy can assist organizations in monitoring their domains for DNS changes, receiving notifications when a record changes, keeping a detailed history of each DNS record change, being notified of invalid or RFC-violating DNS configurations, and rating their DNS configurations.
Organizations can also back up their DNS records, ensure that all of their nameservers are in sync, and use DNS zone transfer (AXFR) support with 2 Factor Authentication option.
UpTrends
UpTrends DNS monitoring provides domain name verification. Directly monitor the DNS query to confirm that the domain name is still directing traffic to the IP address of the desired web server. UpTrends Verifies A (PIv4) and AAAA (IPv6) records, aliases (CNAME), SMTP mail server mappings (MX records), DNS zone delegates (NS records), and SOA serial numbers. Monitor, diagnose, receive notifications, and access reports on DNS server performance worldwide. Reports are easily shared with the entire team.
WebTitan DNS Filter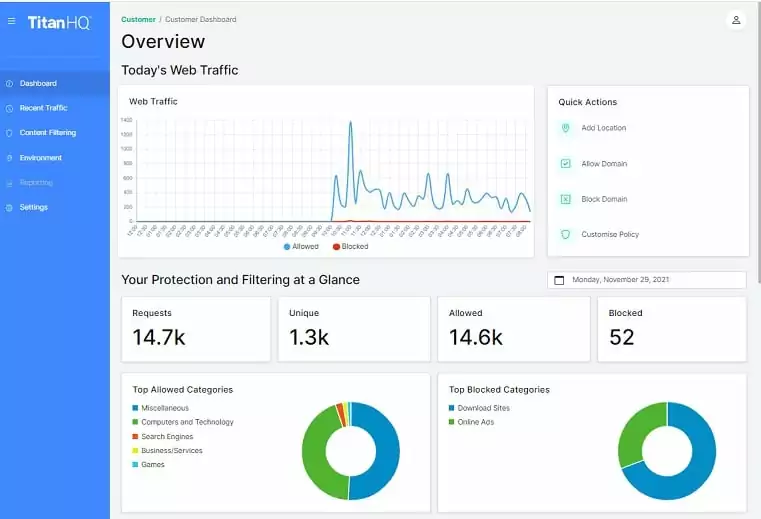 WebTitan DNS Filter is a cloud-based web filtering solution that allows users to be monitored, controlled, and protected online. There is no need for on-premise software or end-user client software. Cloud-web filtering solutions enable users and data to be protected from evolving threats by adapting to the internet.
WebTitan DNS Filter protects users from online threats by blocking access to dangerous website categories such as malware, phishing, spam, and advertiser sites. WebTitan enforces corporate web usage policies by restricting access to undesirable categories.
DNS Check
DNS Check is software that compares the indicated DNS records that should exist with what name servers return. If the DNS records match, the check passes. Otherwise, the check fails, and DNS Check notifies and offers details on why the failure occurred.
Detectable issues include unresponsive name server, the wrong IP address returned, missing DNS record, duplicated DNS records, wrong MX record preference produced, mismatched forward and reverse DNS records, IP addresses removed from SPF record, out of sync name servers, and invalid SPF record. DNS Check is commonly used to control DNS Records and Name Servers, Share DNS Records, and Troubleshoot DNS Records and Name Servers.
DNS-based cyberattacks might have harmful consequences due to the interruptions they cause. DNS monitoring is a critical component of IT infrastructure for preventing DNS-based attacks. DNS security solutions can monitor the structure and identify attacks impacting server performance and network continuity.